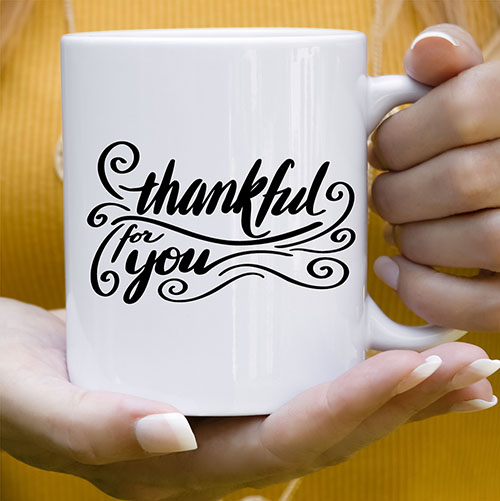 I love celebrating holidays and events with people. Sometimes it is family, sometimes it is friends, and sometimes it is some of both. Which is why I love Thanksgiving – it is all about food and celebrating with people you love. And Friendsgiving is an extension of that. Where friends who are like family get together to enjoy good food and good company.
If you're putting together a Friendsgiving celebration, you'll want to check out these SVGs created with Friendsgiving in mind.
This "Thankful for You" SVG is perfect for putting on mugs, napkins, or place settings for all of your Friendsgiving guests. You can get this free SVG file by signing up for the newsletter below.
And, if you're looking for other great Friendsgiving ideas, check out all these other great Friendsgiving themed SVGs.
Thankful for Friends
Friends Welcome, Family by Appointment
Friendsgiving – less drama, more fun
Friendsgiving: Thanksgiving Without The Drama
Friends are the family we choose
Give without expectation
Friendsgiving- Where friends become family
Thankful Blessed and Kind of a Hot Mess
Friendsgiving
WTF: Wine, Turkey, Friends
Friendsgiving Squad
Our Friends are our Family
In everything give thanks
happy friends giving
Giving Plate
thankful for you