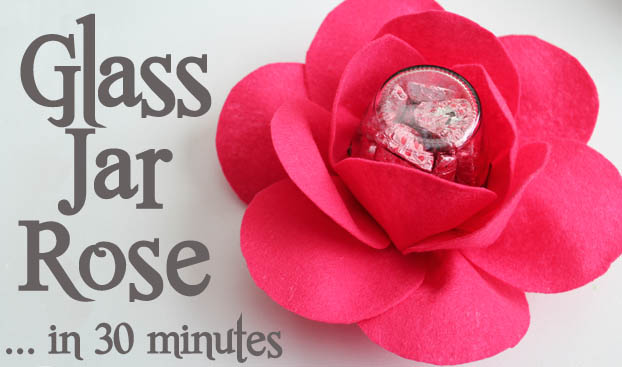 Remember those Hershey Kiss roses we made as kids? Those roses are about to be replaced with the latest in DIY Valentine's Candy giving – the giant Glass Jar Rose… which can be made in 30 mintues or less! You can fill the jar with your favorite Valentine's candy, whip up the rose, and be ready to impress! These big felt roses look great as part of a place setting or on their own.
They are simple to make with just a few supplies… I'll show you how: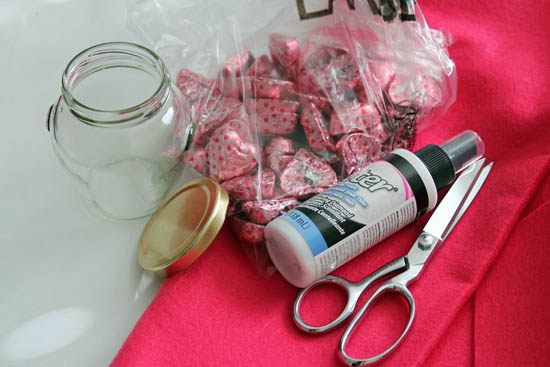 Supplies:
Glass Jar with lid (the Honey Pot from Freund Containers is the perfect shape) updated: I used the "10 oz 314 ml" size – those are 3.8″ tall.
Chocolates or other candy
Rose colored Felt (1/2 yard cut off the bolt is enough for 4 roses) Pink, red, or white are all great choices.
Green Felt (a small piece is fine)
Scissors
Hot Glue Gun
Shimmer Spray (optional)
Lid that is 4 3/4″ in diameter (a Sour Cream lid works great)
Start by using the lid as a template to cut 12 felt circles from the rose colored felt, and one green circle. I cut a double-layer of felt, cutting out 2 circles at the same time.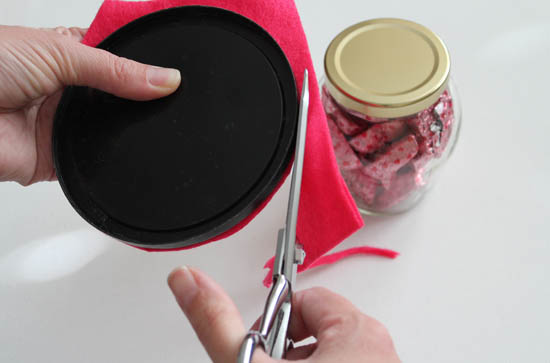 I folded one edge of each circle, overlapping an area about an inch wide. I put hot glue between the layers to secure them, and then hot glued the petal to the edge of the lid.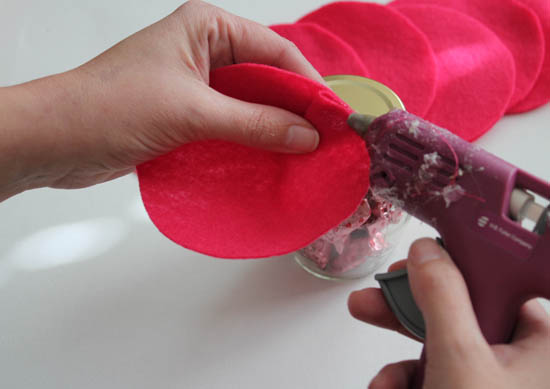 note to self: I really need to get a more photogenic glue gun.
I started out with three petals, evenly(ish) spaced around the jar.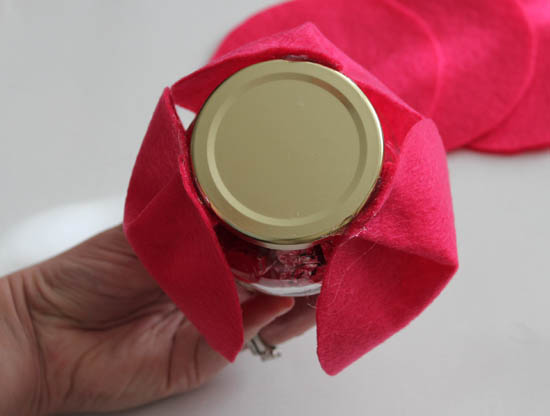 For the next layer of 3 petals, I only overlapped the circle about 3/4″. I put these petals between the first 3.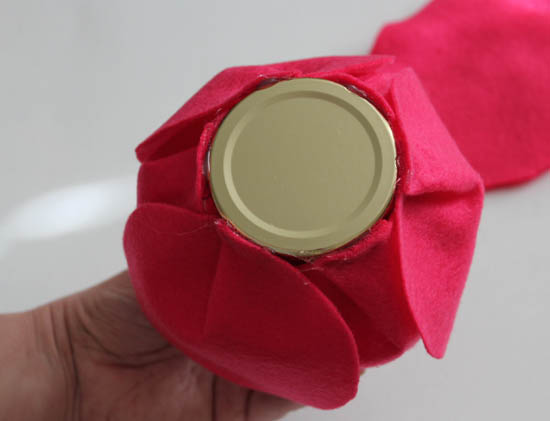 For the final 6 petals, I overlapped the felt a 1/4″, and evenly spaced them around the jar.
Then it was time to cover the lid, I folded my green circle of felt in half.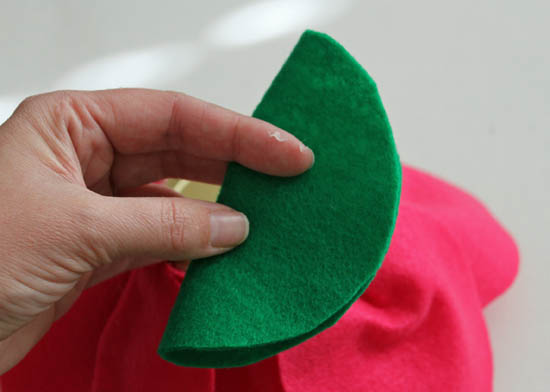 I then folded it into thirds, and cut a wedge out of the top. The deepest part of the wedge should only go in about 1/4″.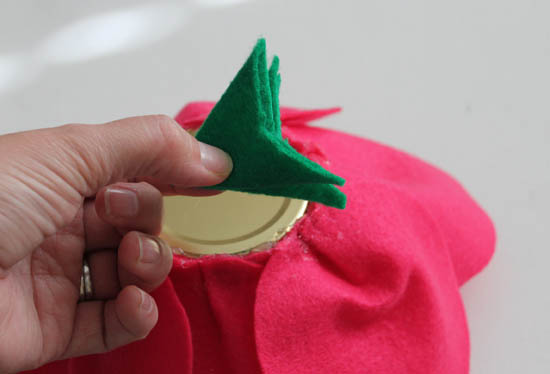 I unfolded the circle and glued it to the top of the lid. I added a dab of glue to the end of each of the green points as well to secure them.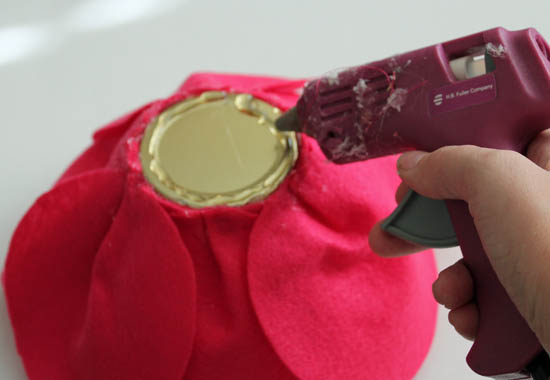 After turning it over and playing with the petals, I added one last touch with a little shimmer spray.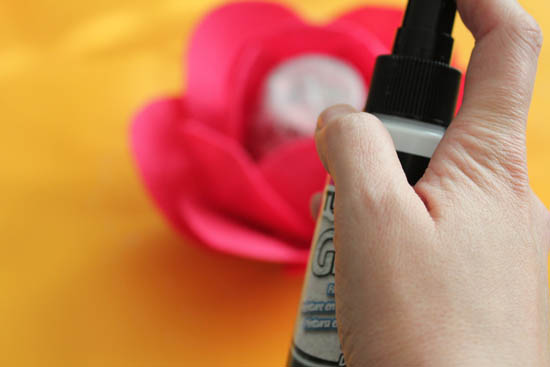 … and I haven't even told you the best part yet! Since all the petals are glued to the lid, you can still twist the lid off the jar, snack on the candies, and use the rose again and again!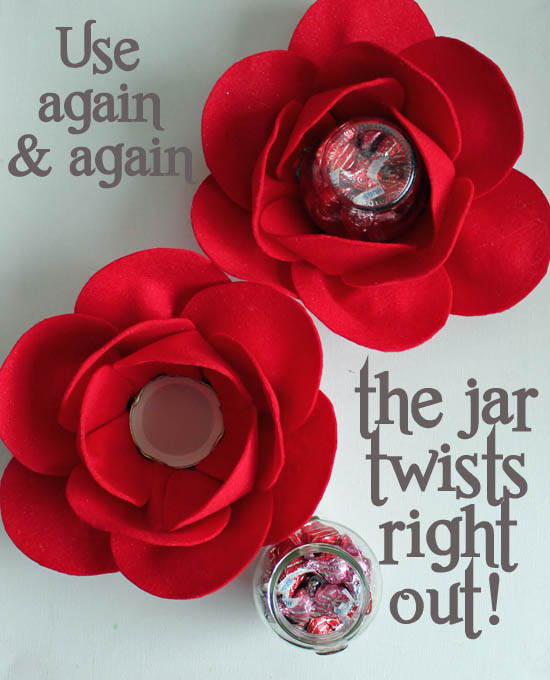 If you wanted to get really fancy, you could have a cute little message glued to the inside of the lid. Like a sweet bonus when they go to snack on their treat!
These were super simple, and would look great at place settings for a dinner party.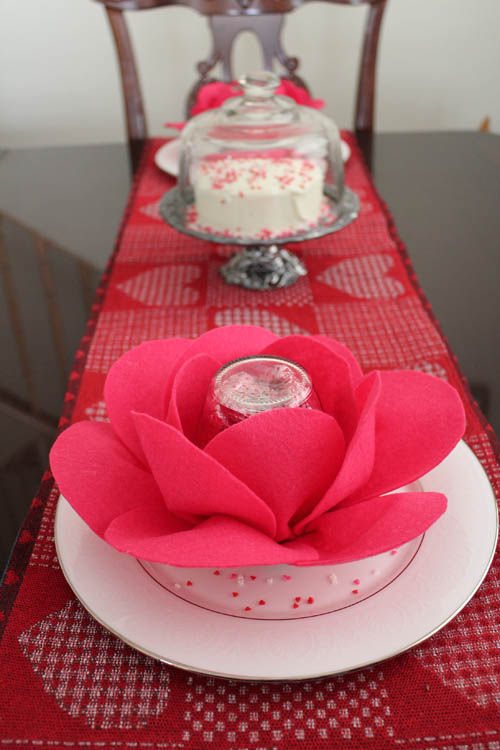 Or at Valentine's breakfast. Or as a sweet gift to a friend on Valentine's day. Even if you told them, they wouldn't believe you made it… and in just 30 minutes!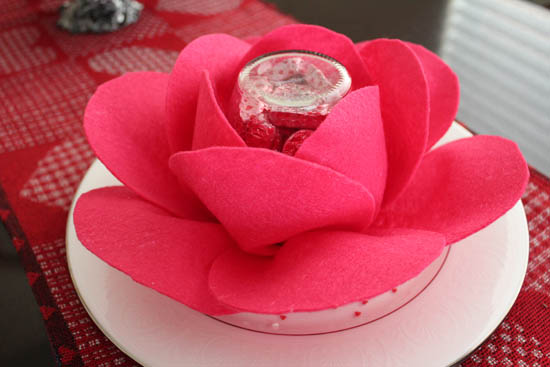 The little honey pots from Freund Container really are the perfect shape for this project! If you'd like to make these, you can search your pantry for a similar jar, order the jars yourself, or enter this giveaway to win $100 gift certificate to Freund Container so that you can buy your own glass jars! They have lots of options when it comes to containers!
And if you want more fun ideas to do with jars, plus a second chance to win a $100 gift certificate to Freund Container, check out my friend Home Cooking Memories who is sharing awesome Mason Jar Valentine's Gifts!
Freund Container & Supply is the largest distributor of glass bottles, containers and wholesale packaging supplies online… Freund offers over 5000 items in stock every day, 98% same day shipping and low-price guarantees. Take a look at Freund's wide selection of jars, tins, bottles and vials for all your crafting and food related needs!
I picked these jars from Freund Containers, and was sent them free of charge for this post.
a Rafflecopter giveaway