I ran by my local Dollar Tree the other day, and picked up some awesome goodies. I grabbed a couple tea towels, and a spool of grosgrain ribbon. For this apron, I used one towel, and half of the ribbon, making a cute little apron for Little Moore. Not only did I whip this baby together in less than 30 minutes – it only cost me $1.50 to make! Woot!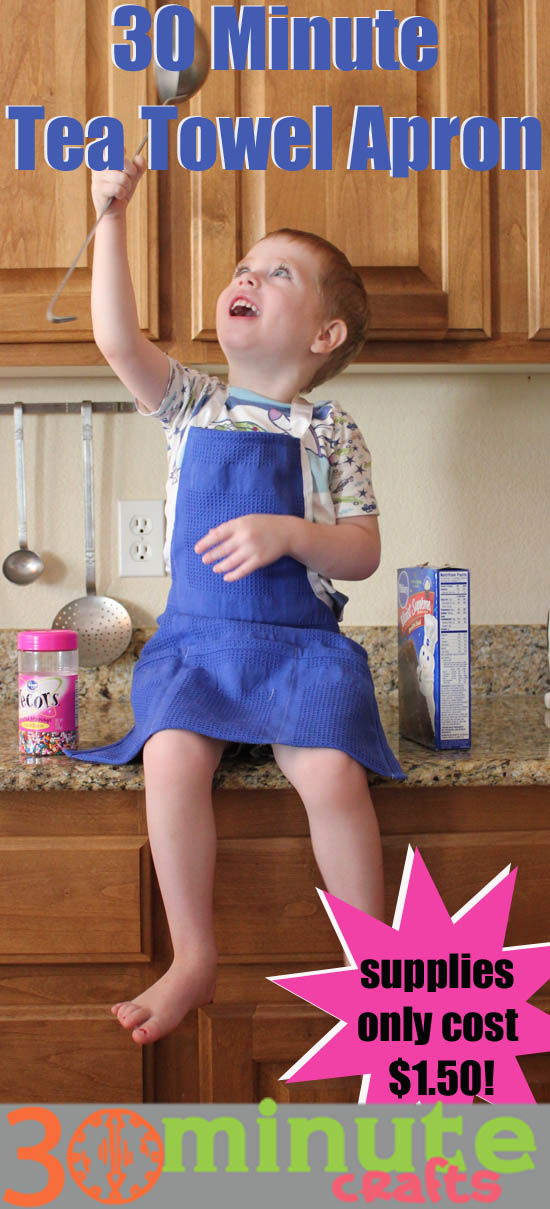 The apron was a big hit – he refused to take it off to go to bed! Eventually, I was able to get it off of him… I didn't want to risk him getting tangled in the ribbon and possibly hurt himself.
I'm really happy with how the apron turned out, and will have to go pick up some more towels and ribbon. There's a certain Southern California Baking Momma with 2 little boys that love to help out, and I have a feeling these would come in handy. Especially for the older of the two who has decided that when he grows up, he wants to be a "boy cake decorator." Too cute!
Start out with a towel and some grosgrain ribbon from your local $1 and under store.
For my practically-3-year-old, I measured in 4″ on the top, and 7″ down the side. I drew a line down from the top, and in from the side, then traced the curve of the ribbon spool where the lines met. With the towel folded in half, I cut this armhole out of both layers.
Using the grosgrain ribbon folded in half, and leaving 12″ of ribbon loose at the top (neck) of the apron, I pinned all the way around the curved edge, the fold covering up the raw edge of the towel.
When I got to the curve, I just stretched the towel more-or-less straight, and kept pinning the folded ribbon.
I stitched the ribbon on, close to the edge of the ribbon, but not too close. I wanted to make sure that my stitching caught both the top and the bottom of the ribbon.
I then folded up the bottom of the towel, and stitched straight lines down each side, and then two extras in the middle to make segmented pockets in the front.
Instead of folding over the raw ends of the ribbon and stitching down (which is an option), I just trimmed them with pinking shears to prevent them from unraveling.
I'm off to whip up some more of these!