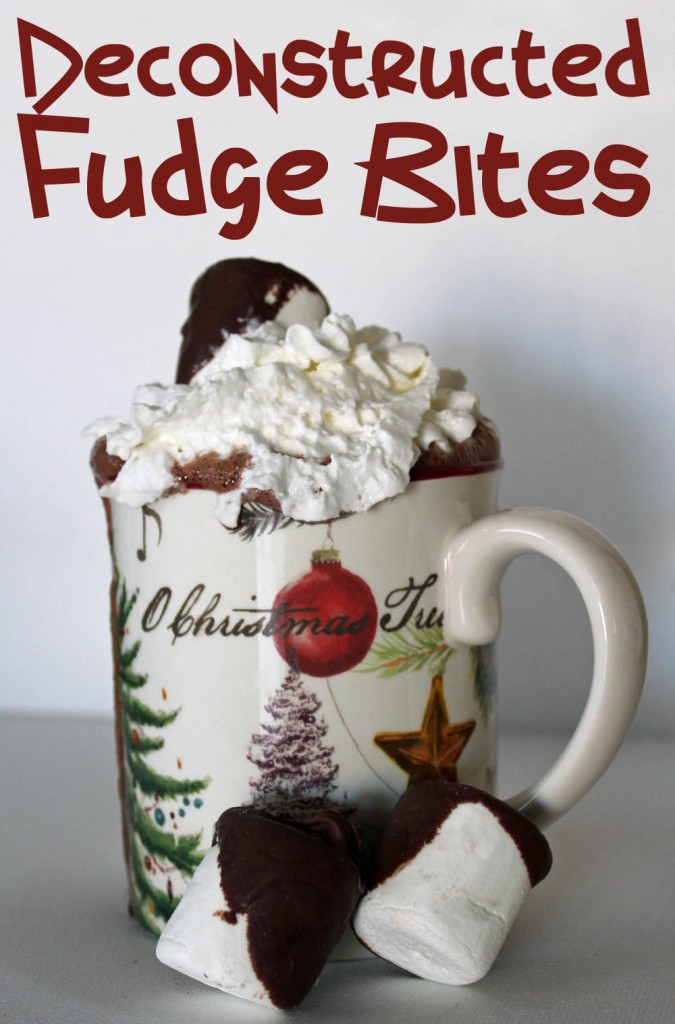 These Deconstructed Fudge Bites aren't entirely deconstructed. But they are yummy, and they taste like real fluffy fudge – without all the work! The secret is using milk chocolate. Fudge has sweetened milk in it, and using milk chocolate instead of  semisweet makes all the difference.
Here is what you need:
Milk Chocolate Chips (must be MILK Chocolate)
Large Marshmallows
Directions:
Melt the Milk Chocolate Chips in a double boiler (just a bowl set on top of a pan with water – the water should not touch the bottom of the bowl). The chocolate goes in the top bowl, and slowly melts.
Stir occasionally, to get the chocolate fully melted.
Dip each marshmallow into the chocolate, and set aside on parchment paper, wax paper, or a plate.
Allow to set. This will take a couple hours. Be patient. Do NOT put in the fridge or your chocolate will not set right, and have funny marks all over it.
Once the chocolate is set (4-6 hours, depending on your room temperature), put in a sealed container to keep the marshmallows from drying out.
Enjoy! As you chew, the marshmallows and chocolate come together, so it tastes like real, yummy fudge! You can pop these chocolate covered marshmallows into cocoa, or just eat them as they are.

I've partnered with a BUNCH of other bloggers to share over 50 sweet treats with you today! Make sure you check below to see all the other sweet treats!