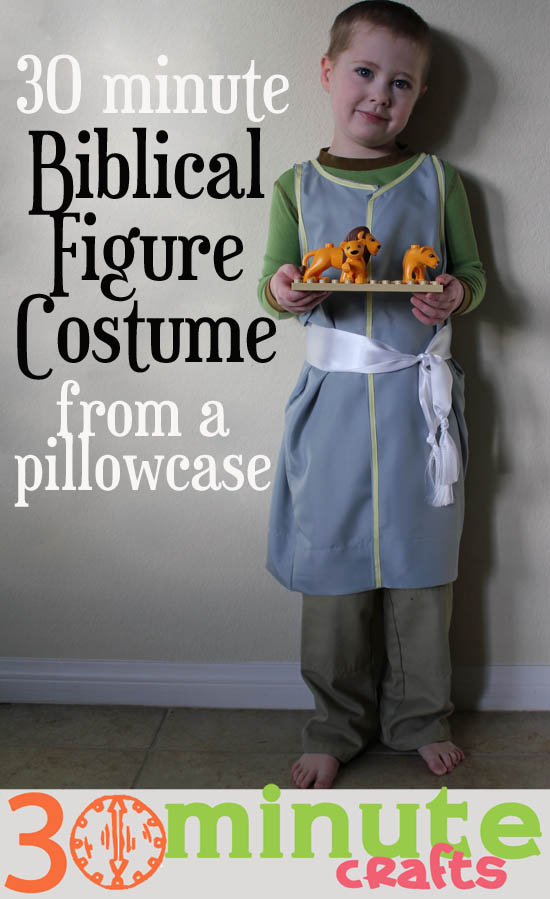 Making a biblical robe costume for a child couldn't be easier when you use a pillowcase as the base. Depending on the size of the pillowcase you begin with, you can make the costume for preschool or grade-school aged children. This biblical robe can be accessorized to become any number of famous biblical persons. Here we added lions for a Daniel in the Lion's Den costume. With a stuffed lamb and a slingshot, this costume becomes David from David and Goliath. Print the 10 Commandments onto grey cardstock, and the costume is Moses. Add a crown of Thorns and you have a Jesus costume… there are so many ways to change this basic biblical robe to represent whatever biblical person your child is dressing up as.
My son needed to dress up as his favorite person from a bible story for school. After briefly considering sending him to school in a white t-shirt and khakis with a felt fig leaf pinned to the front, I whipped up this biblical robe costume for him to wear over khakis and snug-fitting pajama top. Using a pillowcase as the base meant no hemming, and minimal sewing.
To make a fast biblical costume, you'll need:
Pillowcase in your choice of color
One spool of grosgrain ribbon
Several feet of wide satin ribbonChild's t-shirt (for measuring purposes)
Sharp sissors
Clothes for the child to wear under the costume.
I started with my pillowcase. A standard-size pillowcase worked great for my 3.5′ tall 4-year-old. If your child is taller, you may want to use a King-sized pillowcase. I folded it in half with the opening at the bottom, and laid my t-shirt on top, also folded in half.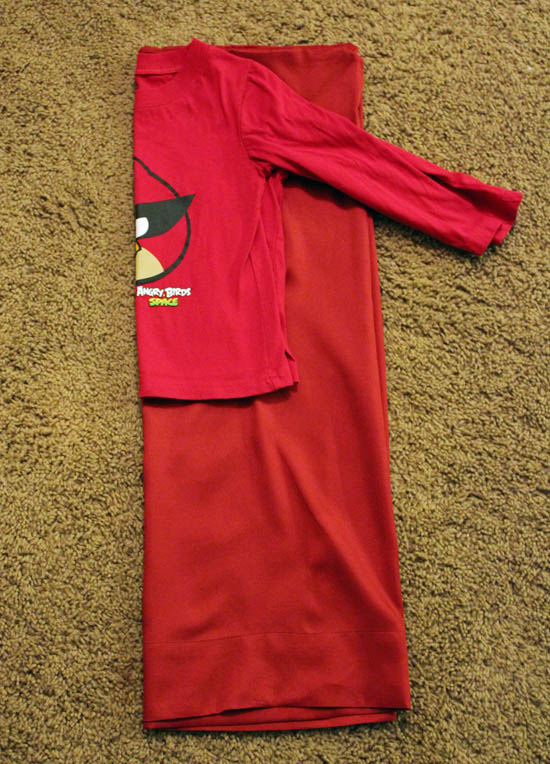 Using sharp scissors, I cut based on the back neckline of the t-shirt through all 4 layers.
I moved the inner layer out of the way, I cut based on the front neckline of the t-shirt through 2 layers.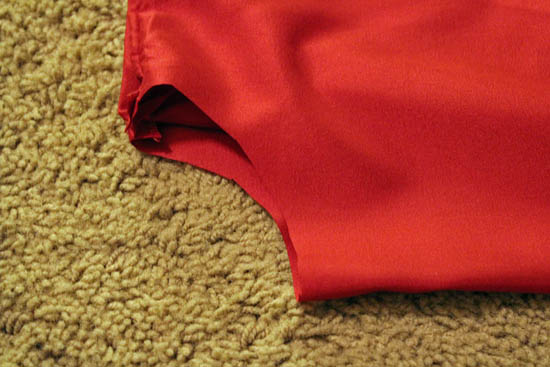 Then I cut from the bottom to the neckline, cutting just through a single layer.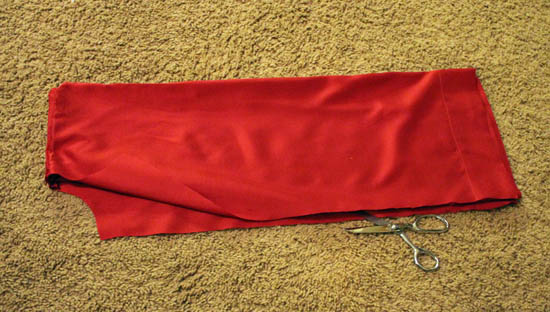 Now it was time to sew. I used a zig-zag stitch to attach grosgrain ribbon to all the raw edges. I tried with a single and a double layer of ribbon, and found that a single layer works best (a double layer is shown in the picture). I folded over the raw edge, covered it with the ribbon, and allowed the raw edge to be stitched down with the ribbon. Ironing this raw edge over before stitching may be easier than trying to free-hand it at the sewing machine, depending on your level of experience. How far you need to fold over the fabric depends on the width of your ribbon.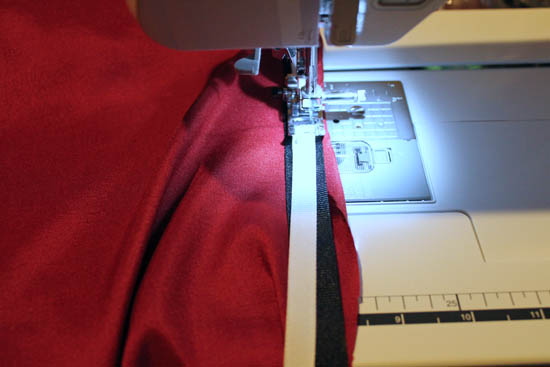 Then I made the sash. I cut a piece of the wide satin ribbon about 4″ longer than I wanted the finished sash. To give the illusion of tassles, I tied an overhand knot at each end, about 3″ away from the raw edge, then frayed the ribbon up to the point of the knot to create a "tassle" on each end.
It was that easy to make the bible character costume for my son! I made a second for him to bring to school just in case another parent wasn't able to come up with a costume. I could see making several of these in different colors for a young Joseph, shepherd, drummer boy and Three Kings to wear as costumes in a Nativity or Christmas play. They are so fast and easy to make!