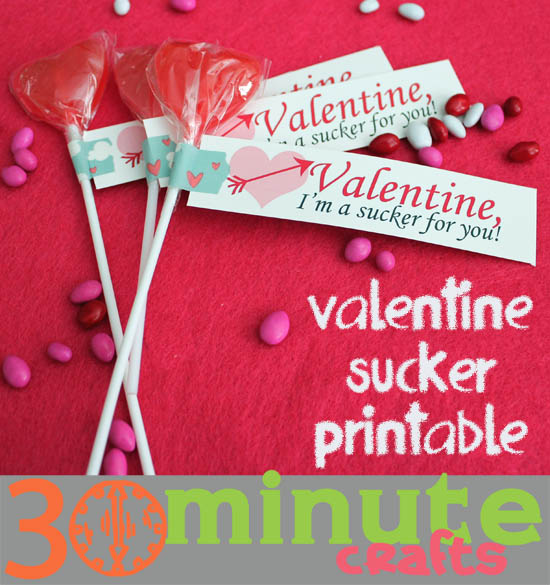 My son and I are working on Valentines for his preschool class. For Valentine's Day I love both candy and corny sayings. And these Valentine's Day Suckers are great for gifting around Valentine's Day! This little "Valentine, I'm a sucker for you" printable has that covered. You can print and cut them and either punch a hole in one end to tie the label to the lollypop stick, or you can use washi tape like I did to stick it to the sucker.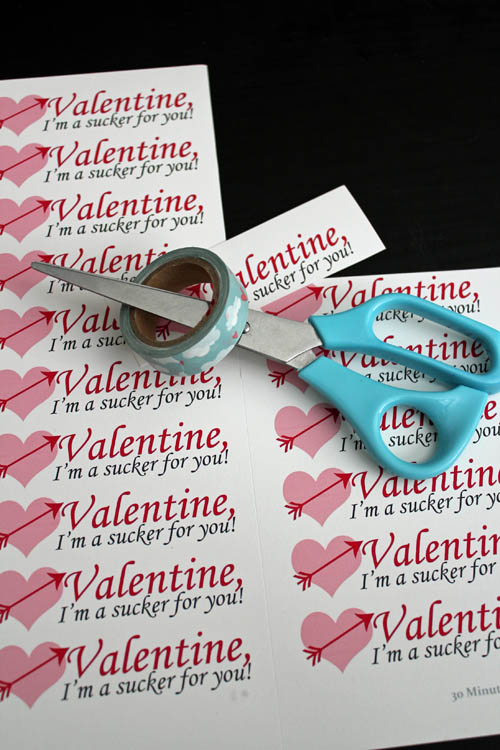 You can get this Valentine's Day Suckers printable tag … I have it all set up for you as a PDF if you'd like to download it and whip up your own Valentines! Just sign up for our email list, and we'll send you a link to the file download:
Once you print out the tags – and this page has a lot of tags per sheet, so you'll only need to print a page or two – you can cut them out with scissors or a paper cutter. Then attach them to the sucker. I used cute Valentine themed washi tape for these, but you can use a dab of hot glue to attach the tag to your sucker, or you can punch a hole in the tag to put the sucker stick through. You could also tie them in place with a cute ribbon. If these will be transported to school by your child, pick the most sturdy option!
Have a fabulous Valentine's day – enjoy these days of making Classroom valentines for your kiddos – the days are long, but the years are short! Before too long, you won't have an excuse to whip up cute valentines for Valentine's Day!
Check out all these other fabulous printable valentines:
Slime Printable Valentines
Marvel Avengers Valentines
Valentine's Heart Bookmark