This post is also part of a week-long series of "Craft Lightning" projects – crafts that take 15 minutes or less. Check back later today, and all week long, for more Craft Lightning ideas!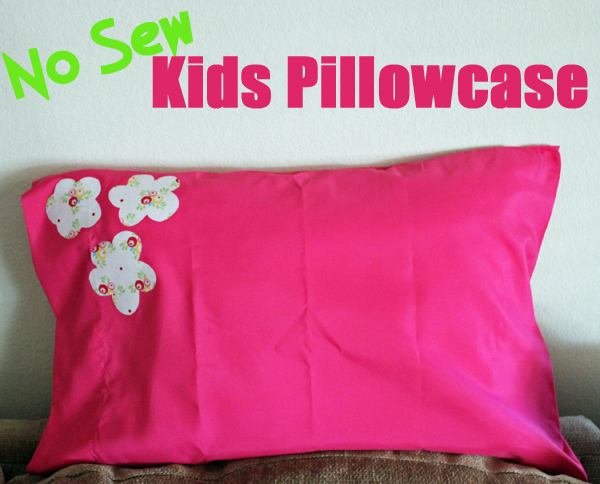 Recently, I was asked to participate in the Colgate Champions for Kids program, and choose an organization to donate children's Colgate toothpaste and Toothbrushes to. I knew exactly what I wanted to pick. I wanted to take those toothbrushes and toothpaste and turn them into care kits for some of the kids at the Koret Family House.
The Koret Family house is a large house on in San Francisco. I stayed there, with my aunt and young cousin when the older of my two cousins was diagnosed with Leukemia 3 years ago. When L was first diagnosed, he spent over a month in the hospital, most of that confined to one room. He was 6, very sick, and his mom stayed by his side as much as possible. But that left the younger cousin, F, at home over an hour away with a self-employed dad that needed to work. He was suddenly ripped from his mom and his very sick brother. I went up to San Francisco and stayed in the Family House with him for several weeks. Each day I was able to pull him and my son in a red wagon up the hilly streets to the hospital so that he could see his mom and brother. I was able to do laundry, cook dinner, shower, and sleep. It was like a homier version of a hotel, but without the expense. I've always been thankful for the small bit of normalcy that the Family House was able to provide for my 4 year old cousin while his brother was sick.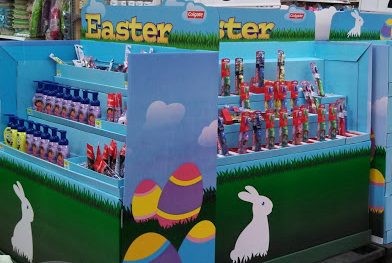 To make these care kits, I started by heading to WalMart. I needed:
Colgate Toothpaste (I chose Sponge Bob and Dora the Explorer)
Colgate Toothbrushes (again, same characters)
Fun kids cup
Pillowcases
Heat N Bond Ultra
Fun Fabric (on Hand)
Making the pillowcases was super easy. I ironed the Heat N Bond to the wrong side of my fabric, and then cut out some fun shapes.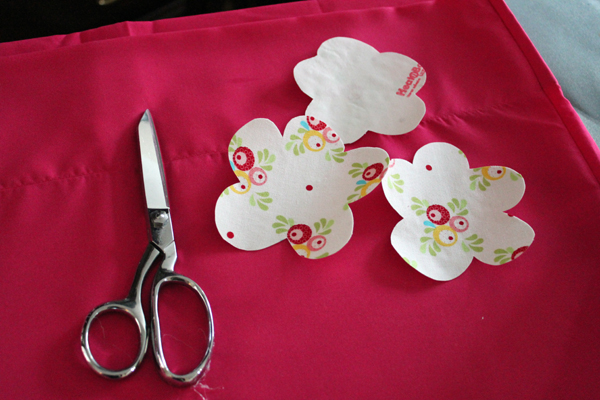 I then peeled the paper backing off of the Heat N Bond and ironed it to one end of the pillowcase. The Heat N Bond Ultra is permanent, and will keep the fabric on through multiple washings.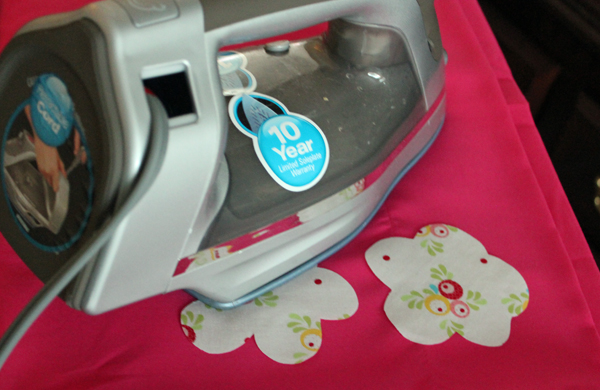 I folded up my pillowcase and tucked it into the kids character cup along with the toothpaste and toothbrush.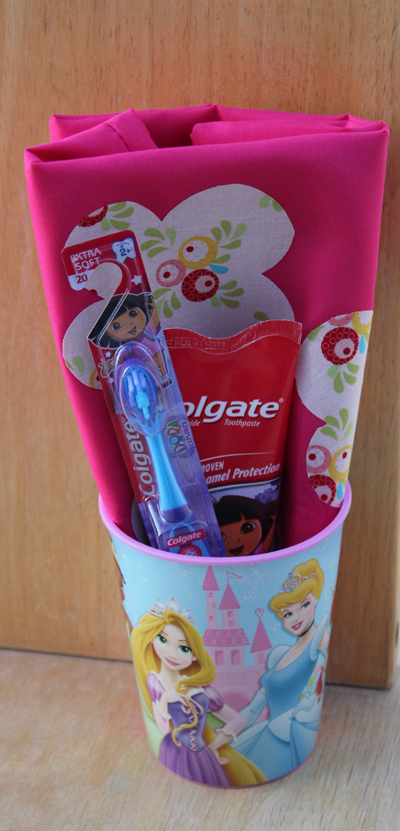 Then they were all set to mail! I'll add plastic bags around the cups so that nothing shifts too much in shipping. Normally, I bring reusable bags to the store, but every now and then I forget, and end up with plastic bags that always seem to pile up! I like using them as padding when packing boxes.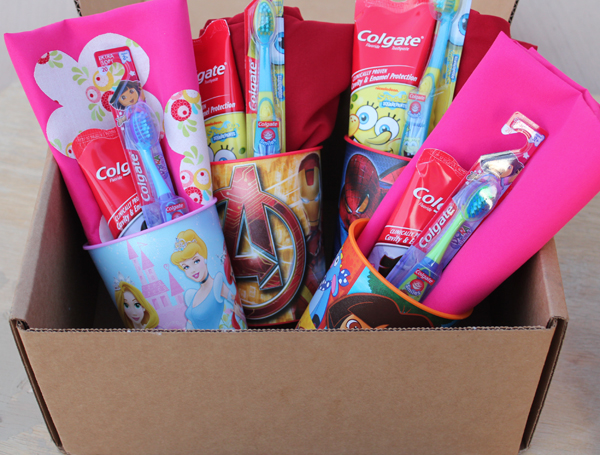 I love that these kits will help give some normalcy to some kids who find themselves at the Family House. When you or your sibling is sick, and you find yourself in a strange place far from home, it is nice to have some fun things that can be "yours". Though the house provides linens, a fun pillowcase made by someone who knows how tough it can be, with some new toiletries, might make the stay feel more like a fun adventure. Thanks, Colgate, for being committed to Bright Smiles, Bright Futures… and to kids everywhere.
If you would like to learn more about the Champions for Kids program, you can "like" Colgate on Facebook, or follow them on Twitter.
Disclosure: I am a member of the Collective Bias® Social Fabric® Community. This shop has been compensated as part of a social shopper insights study for Collective Bias® Colgate and Champions for Kids #cbias #SocialFabric