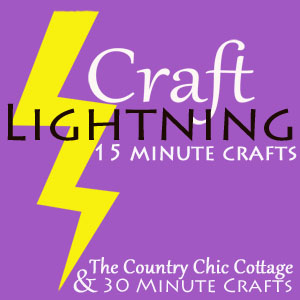 It is time to shake things up around here! I'm teaming up with Angie from The Country Chic Cottage again this week for 5 days of lightning fast crafts! All week each of us will share a new quick craft in the morning, and do a round-up of quick crafts from some of our friends around the web in the afternoon/evening.
We like to do this several times a year to show that there really is time to fit crafting into your life. Craft Lightning takes 15 minutes or less, and we include all kinds of crafting mediums – painting, sewing, jewelry, home decor, and more!
We love having everyone join in on Craft Lightning, so if you are a blogger with a quick craft you'd like to share, please share it below. Maybe we'll feature some of these projects!
If you link up here, we'd love it if you added the Craft Lightning button to your post!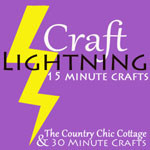 <center> <a href="https://30minutecrafts.com" target="_blank"><img src=" https://30minutecrafts.com/wp-content/uploads/2013/05/craft-lightning-button-150.jpg" style="" border="0" /></a>