My boys both loved puzzles as babies. Figuring out where things go, and how to put them there is an essential part of learning hand-eye coordination. It also helped them learn patience. Trying to get those puzzle pieces into place can be frustrating! Kid puzzles make for great gifts.
I love these custom photo kid puzzles – the idea of adding a little extra layer of personality to the puzzles with family photos is so clever! How cute is this idea? The puzzle looks like a normal puzzle until you lift up the pieces… and then hidden underneath are fun family snapshots! A great way to play peek-a-boo with far away family members!
This is also a great DIY project to give as a gift to a friend who "expects" a crafted or handmade gift… when you don't have time to make something from scratch. You could even clean up and repaint thrifted puzzles for this project!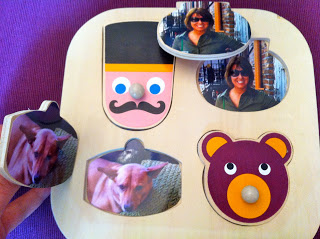 Pin this to use as a baby shower or first birthday gift… but be sure to pin from the original source!