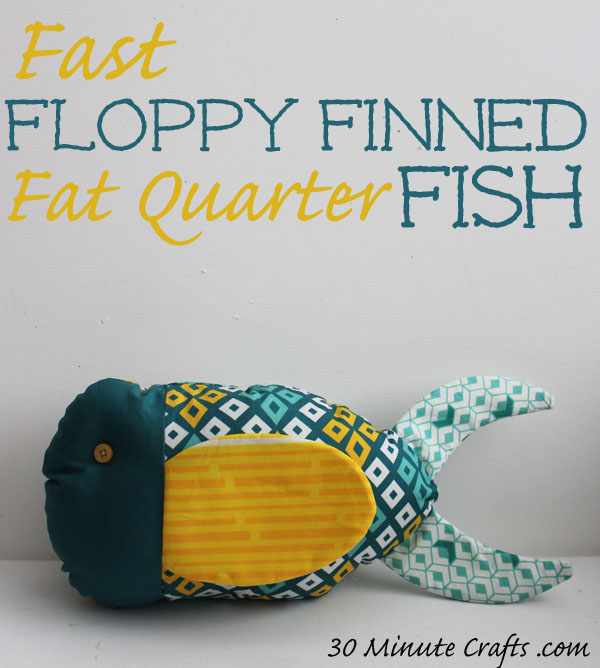 I met up with Modern Yardage when I went to SNAP in April, and fell in love! They have designers create awesome fabric designs, and then they custom print them for customers. If you want yardage, half-yards, fat quarters… they print out what you need, and mail it off to you (super quick)! I was looking through their panel options and fell in love with this scallop panel and coordinating fabrics!
MAKE SURE YOU SCROLL DOWN TO THE BOTTOM OF THIS POST – I'M GIVING AWAY FREE MODERN YARDAGE FABRIC!!
I just knew they were destined to become a fish. A fast, floppy-finned, fat quarter fish. If you want to make your own fish, you can… and it is so simple to make, it requires no pattern at all! Yup, you're free to add your own style to this little fish as you stitch him up! And the more wonky you cut the pieces as you make him… the more modern he is going to look!
Along with the panel, you need:
3 coordinating fat quarters
scraps of batting
Polyfil
2 coordinating buttons
Note: all seam allowances should be about 1/4″, but this tutorial is very forgiving – making it a great project for a novice stitcher!
Start by folding your panel in half, matching up the scallops, pinning, and then stitching just inside the printed circle.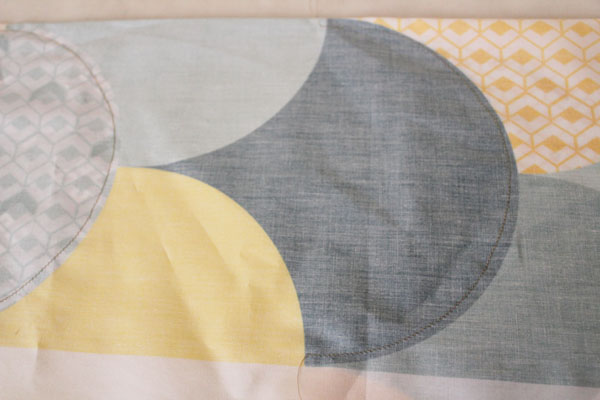 Cut the semi-circle out, about 1/4″ away from your stitched line. Fold in half. Grab the fat quarter you are using for the body, and fold into quarters. Line up the head and body as shown in the picture.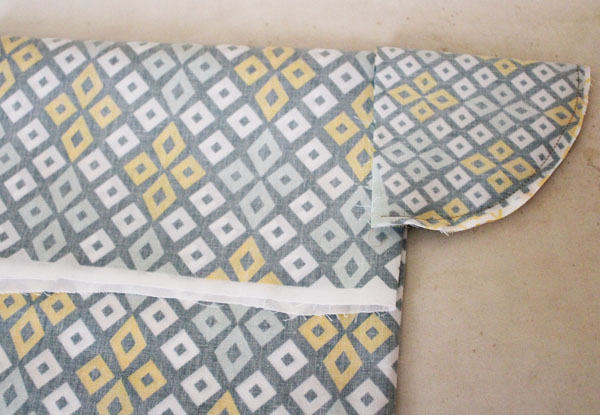 Cut your body from this fabric. You should be cutting through 4 layers.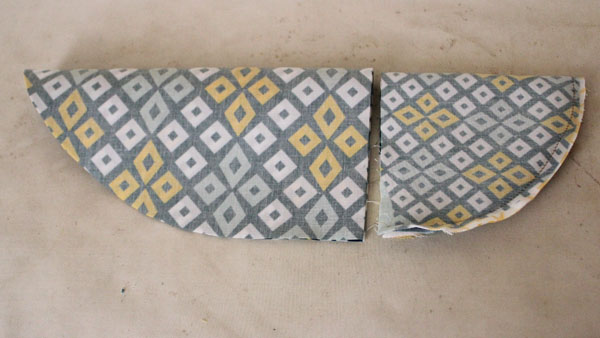 When unfolded, the fish head and body should look something like this: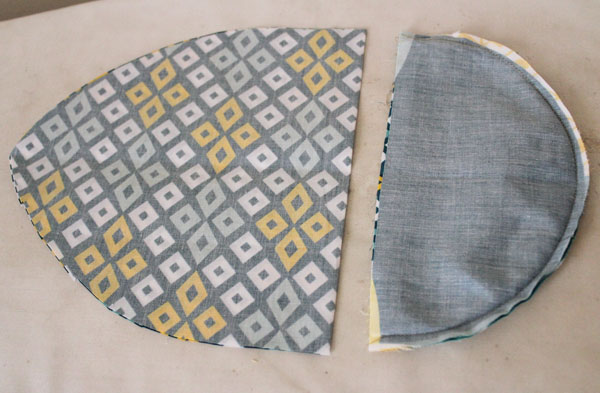 Make your fins. Fold your fin fabric into quarters, and cut a large oval-ish shape for the side fins. Fold your tail fin fabric and cut a half-crecent-ish shape for the tail fins. You should be cutting through 4 layers, making 4 of each.
Place two fin pieces, right sides together, on the batting. Repeat for both side fins and both tail fins. Pin in place.  Stitch all the way around each, leaving a hole for turning.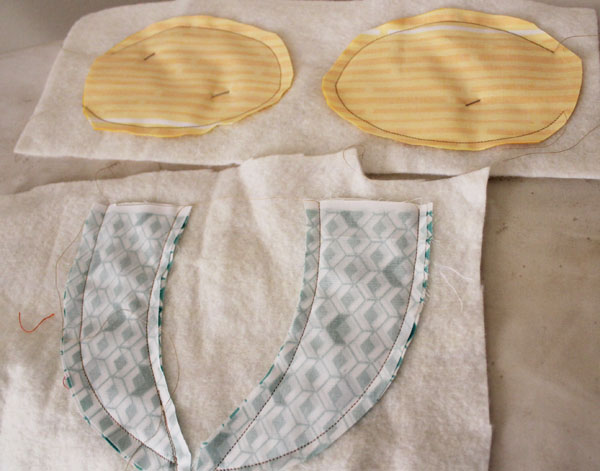 Trim each fin, about 1/4″ from your stitching line, and turn right side out. Press flat.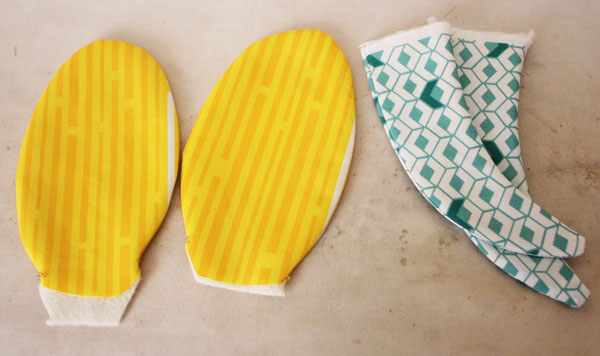 Pin your tail fins to the back of your body piece. Play with the placement until you are satisfied.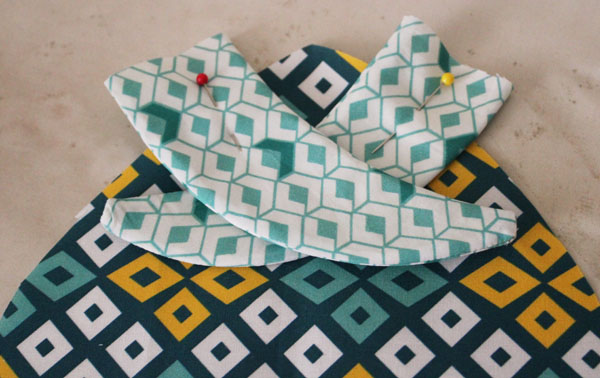 Put the other body piece on top, right sides together, and stitch around the entire curve, leaving the flat side open.
Leave the body piece right sides together, turn the head right side out, and tuck the head into the body so that all the flat sides line up. Pin at the top and bottom seams. tuck the two oval fins on each side, trying to match up the placement, with the opening sticking out from the flat side.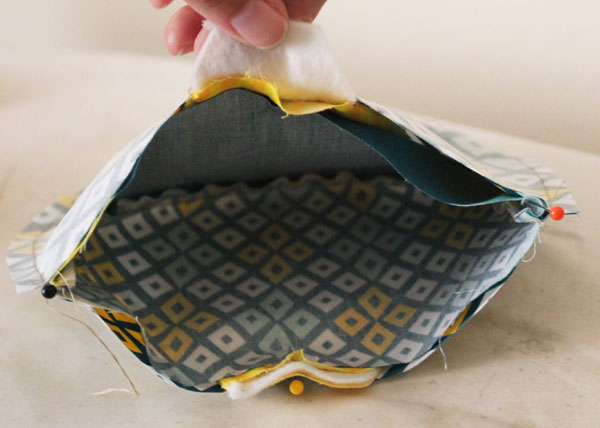 Home stretch! Stitch all the way around the flat edge, leaving about a 2″ hole between one of the fin edges and the top or bottom seam.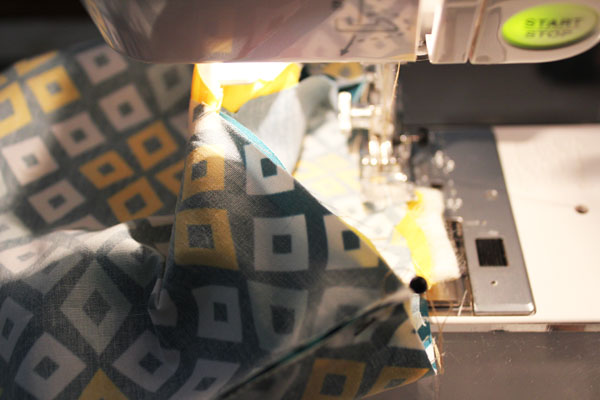 Turn the fish right side out through the hole.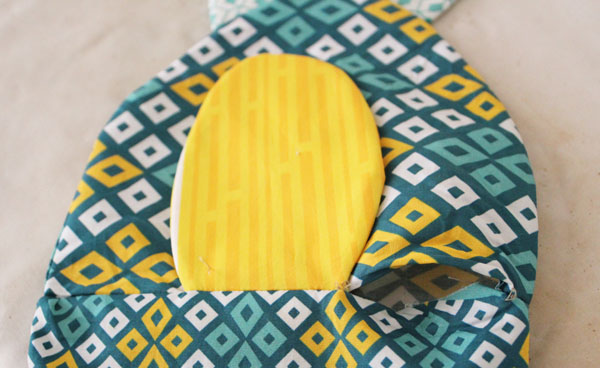 Stuff Polyfil into the hole, and stitch closed.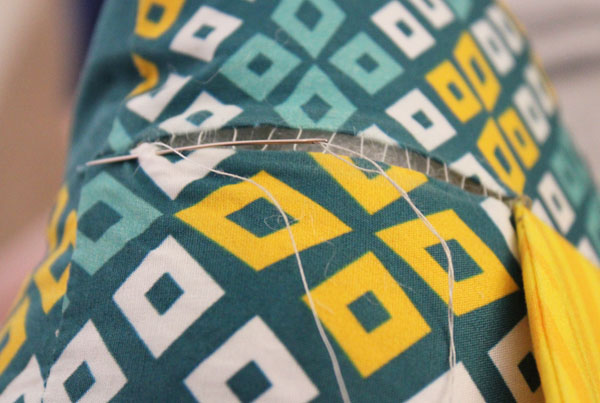 Add buttons for eyes, if you like.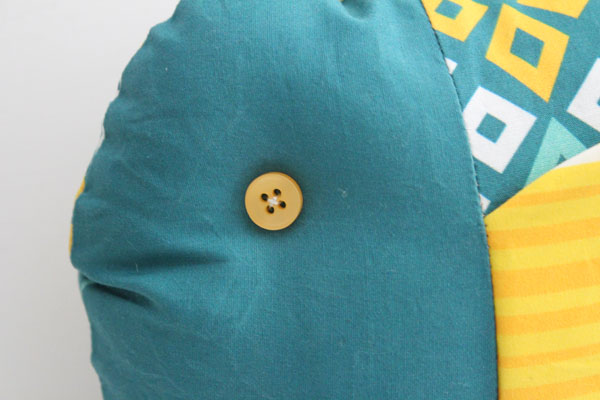 That's it! Your fun, modern fish softie is all done! Go back and make more… you should be able to make 3 fish from the 4 fat quarters!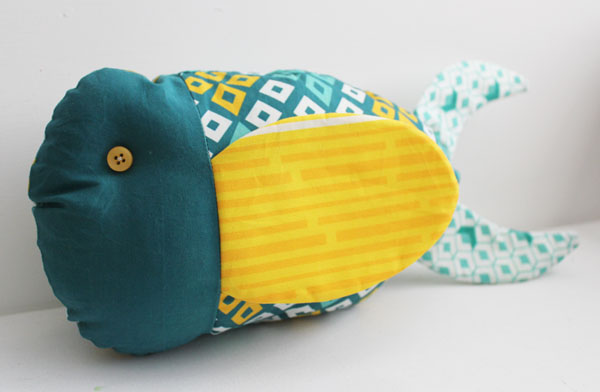 And now for a giveaway! Modern Yardage is giving away 1 yard of fabric to a lucky winner! You can pick one yard, 2 half yards, 4 fat quarters, a half yard and 2 fat quarters… such fun options!  Just use the Rafflecopter entry form below!