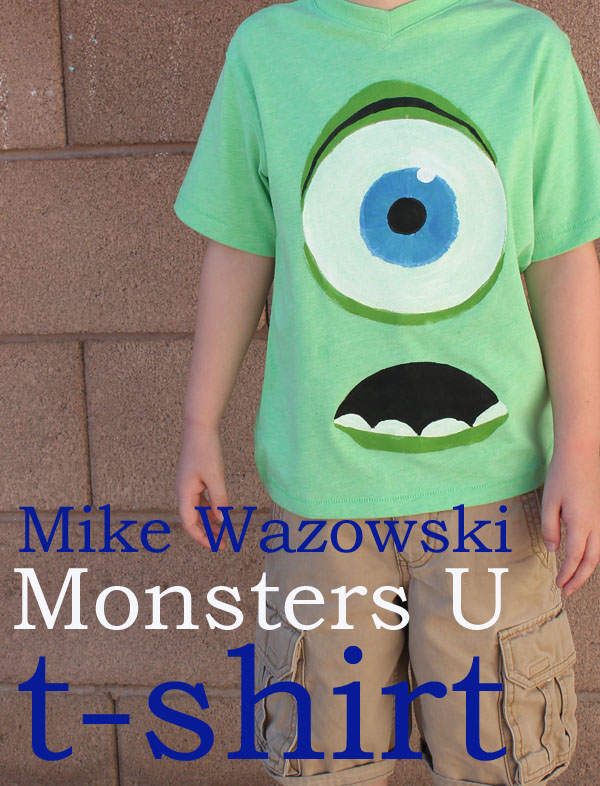 Monsters University opens in Thearters everywhere today! I was one of the lucky few who got to see this great movie early (and in 3D!), and I took my son along. HE LOVED IT. And so did I.  And we dressed up. But before we get into that, let's chat about the movie…
Here is what Disney/Pixar says about the movie:
Mike Wazowski and James P. Sullivan are an inseparable pair, but that wasn't always the case. From the moment these two mismatched monsters met they couldn't stand each other. "Monsters University" unlocks the door to how Mike and Sulley overcame their differences and became the best of friends.

Screaming with laughter and fun, "Monsters University" is directed by Dan Scanlon ("Cars," "Mater and the Ghostlight," "Tracy") and produced by Kori Rae ("Up," "The Incredibles," "Monsters, Inc."). The film opens in U.S. theaters on June 21, 2013, and will be shown in Disney Digital 3D™ in select theaters.
We love watching Monsters, Inc. and were hoping that Monsters U would be as fun. It really was. This movie tells you so much more about this unlikely pair – and especially about Mike Wazowski. They brought in several of the characters we already love from Mosters, Inc. but added a whole new cast of lovable, scary, and unusual monsters. And then put them in a college setting. With scary teachers. And exams. And peer pressure. I'm always nervous taking my son to see a movie I haven't pre-screened first, but we both really enjoyed this movie, and I'm glad that I brought him along.
To go to the screening, I made my son a Mike Wazowski shirt. This shirt is seriously easy to make (it took me less than 30 minutes), and I know he'll enjoy wearing it all summer long. Plus it is a fun souvenir from our fun night out.
Supplies:
Green t-shirt (try to find one in "Mike Wazowski" green)
Freezer paper
Pencil
Fabric paint in white, black, green, and 2 shades of blue
Paintbrush
I prepped my t-shirt by ironing freezer paper to the inside of the shirt. This will keep the paint from seeping through and making the shirt stick together. I printed out a picture of Mike Wazowski, and lightly drew an outline on the shirt. This is easier than it sounds – a large circle for the eye, with a smaller circle for the iris and an even smaller one for the pupil. A crescent at the top and bottom of the eye for the eyelids. For the mouth, semi-circle with more semi circles for the teeth, and then an arc for the mouth. It is just shapes!
I started with the white, painting the white of the eye, and the teeth.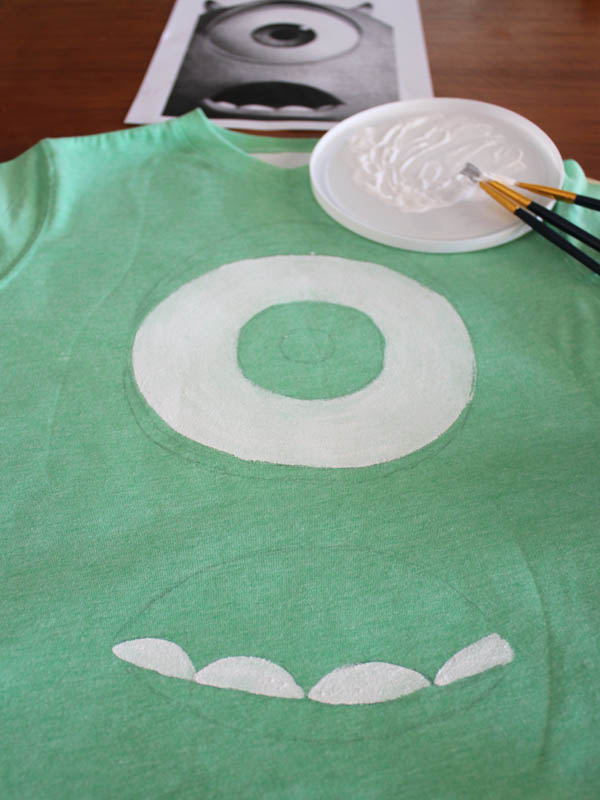 I roughly mixed two shades of blue together and painted the iris with broad strokes to give it more dimension.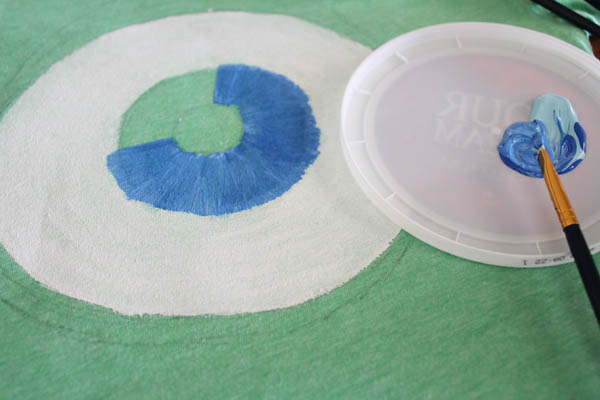 I then painted in the black of the mouth and the pupil. The last step was the lip and eyelids in green. I picked a Mike Wazowski green that was a different shade than the shirt, and painted them on.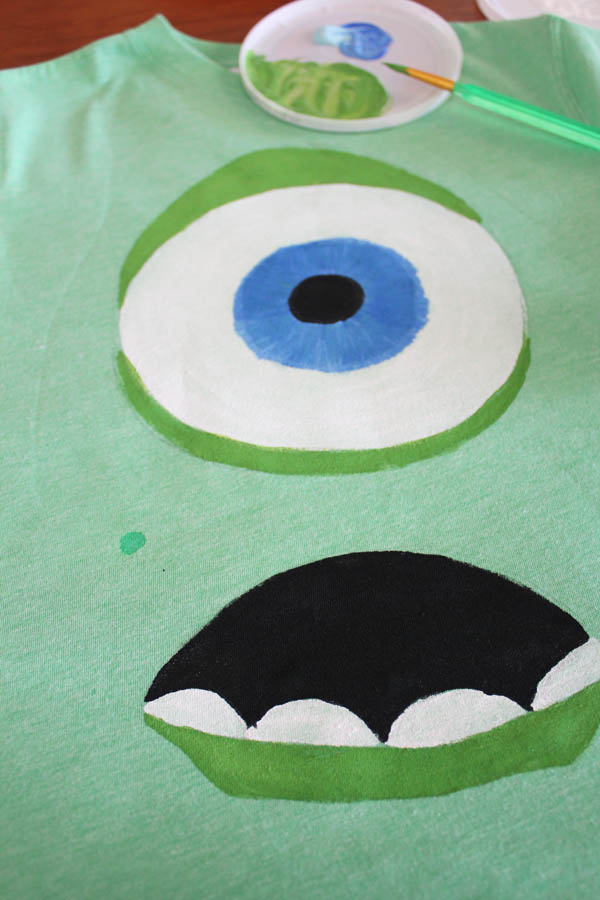 I added a black line in the top eyelid for the crease, and a white spot on the iris (at my son's request – because that is what it shows in the photo) and I was all done! It just needed to try for 24 hours before I put my kiddo in the bright, bright sun to take a picture of him in his shirt.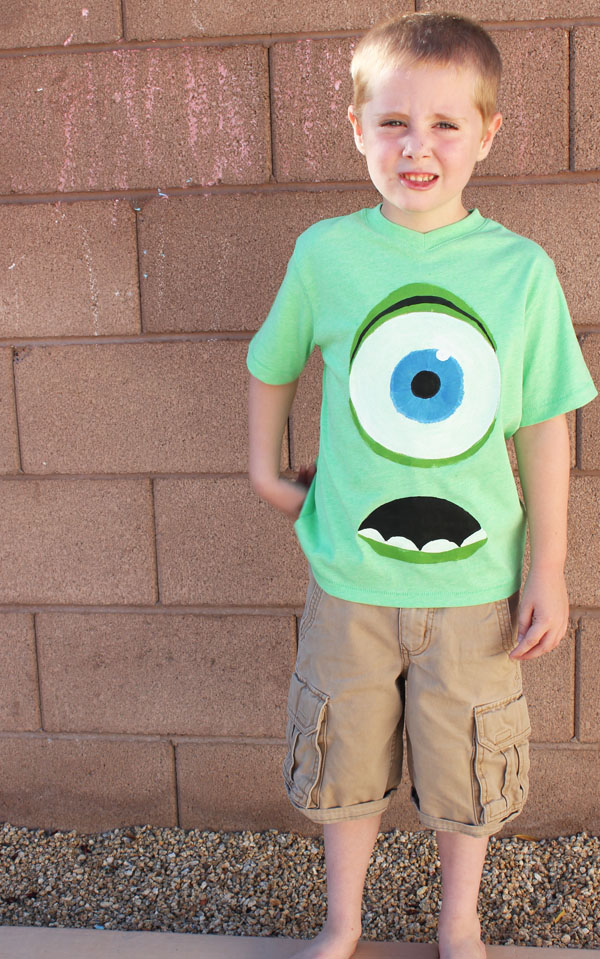 He LOVED the movie, and getting to wear his Mike Wazowski shirt. And I loved hearing him say "Mike Wazowski" every time he talked about his shirt. So cute! We'll defiantly have to go back and see the movie again!
Oh – and a little bonus for scrolling to the bottom of the post… I actually made a shirt for myself, too. Because mommy-son shirts are awesome. But I didn't want mine to be too matchy-matchy, and I didn't want it to be too over the top, so I  grabbed some fabric spray paint…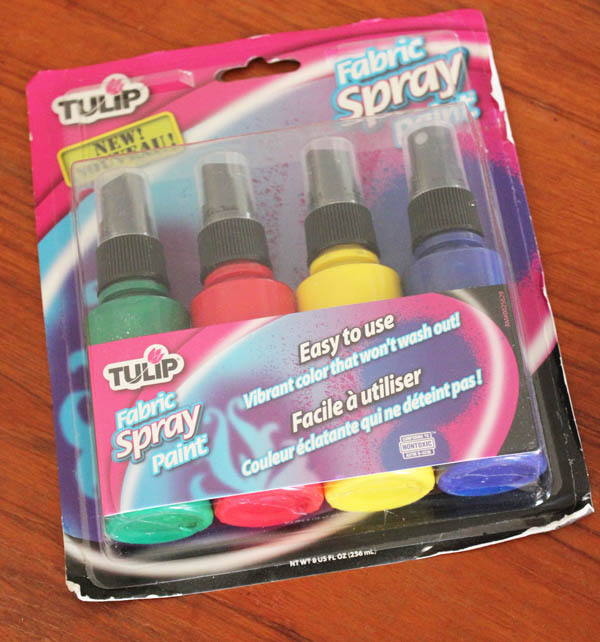 And I painted spots on the sides and back of a shirt that was "Sully Blue", after prepping it with freezer paper. It took about 5 minutes, and was super easy to do. The hardest part is stopping and walking away…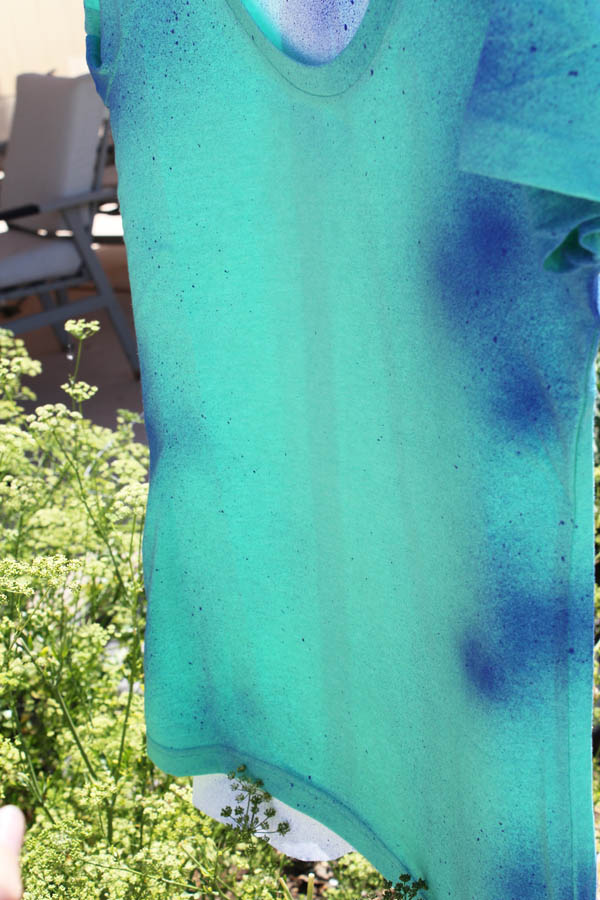 So, my son and I had an awesome time seeing Monsters U… and we went to the movies dressed as Mike and Sully. Though my son calls it my "kitty shirt." You'll have to go back and watch the first movie to understand that reference.
Grab your kids, and go see this movie. It is out RIGHT NOW.
And wear shirts. Even if they aren't Mike and Sulley Shirts.
Save