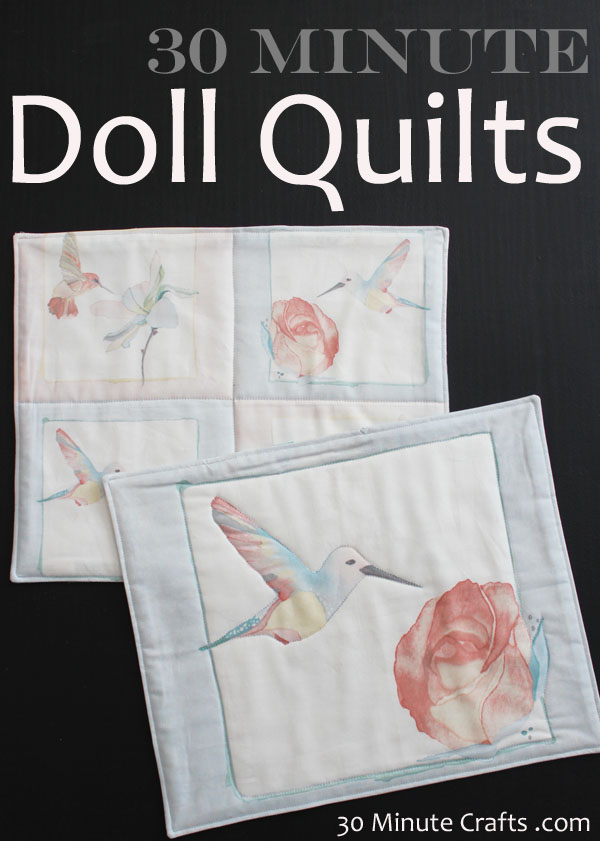 These little 30 minute doll quilts are great for new quilters, but experienced quilters will also appreciate how quick and easy they are to make. They are made "pillowcase style" with no binding. This is a great way for a beginner to learn the basics of quilting. I also made them without piecing the tops! I used this awesome hummingbird panel from Anna Griffin.
I made these two doll quilts for my two nieces, and they loved them! They are the perfect size for their little dolls. If you want to whip up some quick and easy doll quilts, here is what you need:
Fabric Panel From Anna Griffin with coordinating fabric for backing
Rotary Cutter and Ruler (or scissors if you want to go "old school")
Pins
Sewing Machine
Batting
Walking foot for your sewing machine (optional but recommended)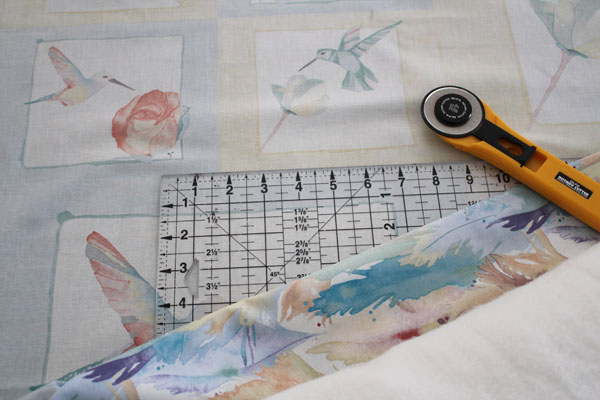 Cut your panel, then cut your backing fabric at least 1/2″ bigger. I set a timer to see how quickly I could put these together.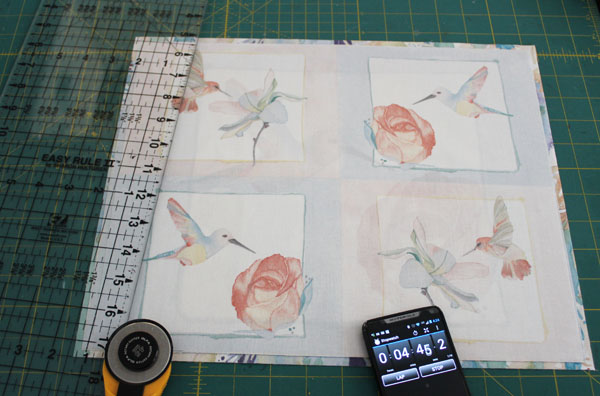 Cut your batting the same size as the backing. You can see I'm working on two quilts at once. Layer the pieces like this: Batting on the bottom, then backing (face UP), then the quilt top (face DOWN).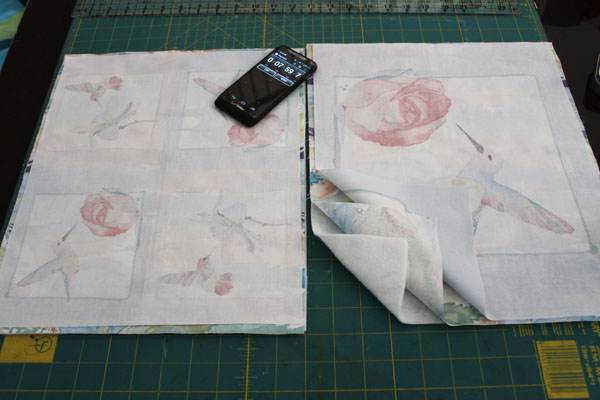 Stitch through all the layers, almost all the way around. Leave a 4″ gap for turning.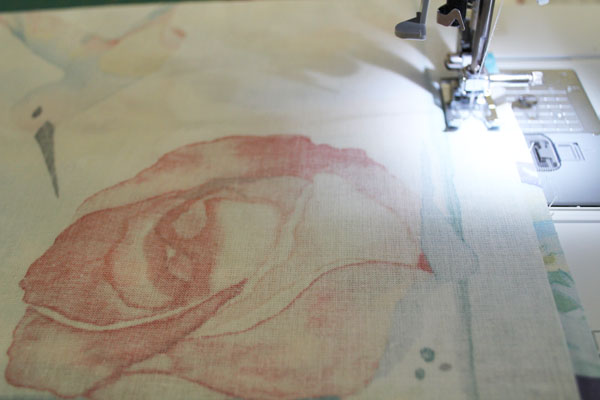 You can see I've stitched all the way around, leaving my hole at the top, in the middle of one of the longer sides.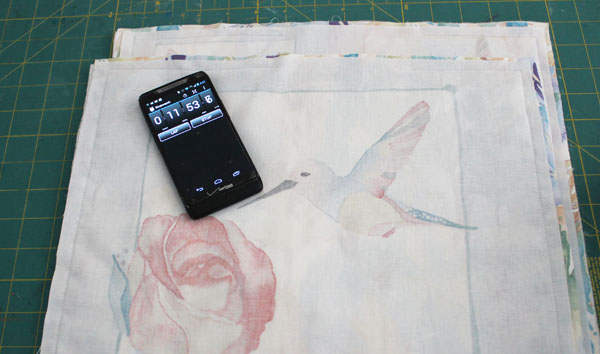 Trim the corners. Some people like to trim straight across, but I like to trim a little more. Trimming the corners takes the bulk out of the corners when you turn your quilt right side out. This makes the corners sharper and flatter (they look much nicer).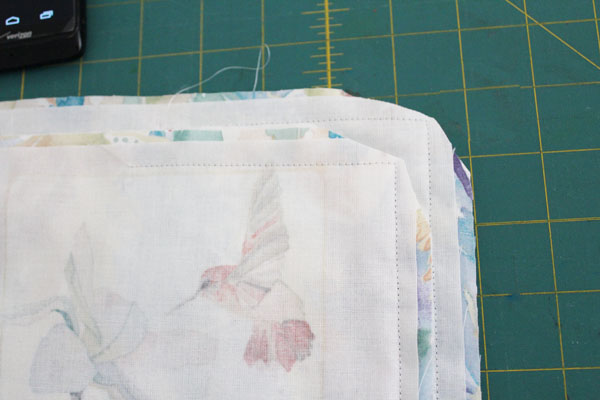 Turn the quilt right side out, taking care with the corners. Fold in the raw edges along the hole, and pin the hole closed.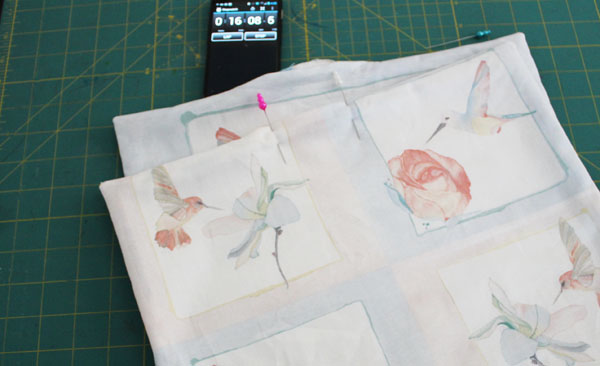 Stitch all the way around the quilt top, about 1/8″ from the edge. This will close the hole, and give you a pretty, finished-looking edge at the same time.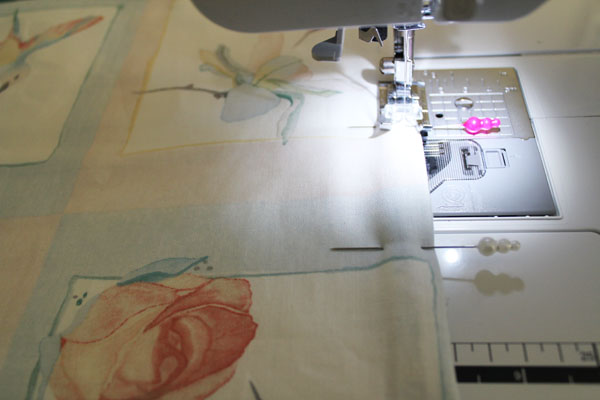 Now it is time to add some quilting. Attach your walking foot (if you have one), and slowly and carefully outline parts of the panel to make them stand out. Quilting makes your quilt top look pretty, and also keeps the layers together.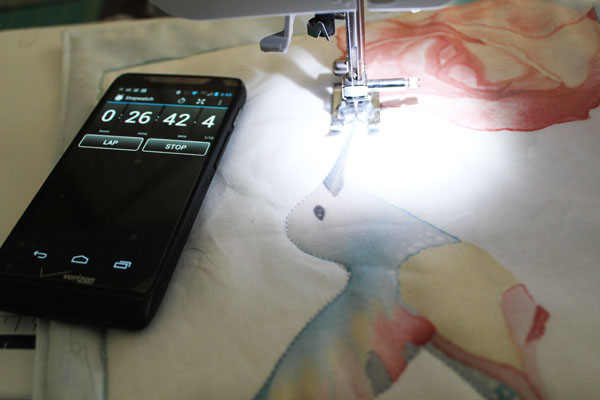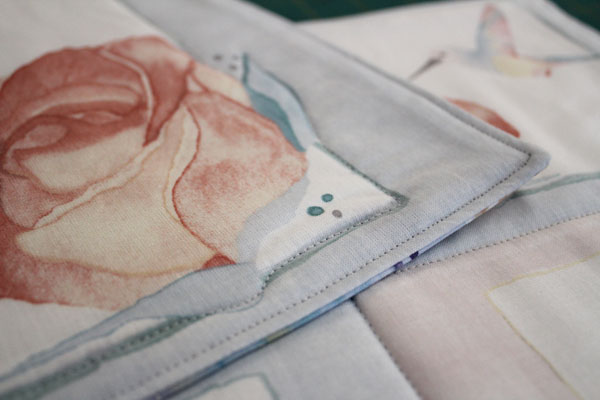 Stitch as much as you like to get a pretty, finished doll quilt.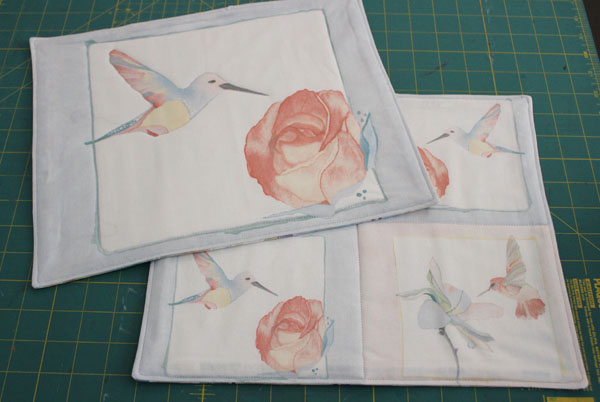 Give the doll quilts to your favorite doll-loving kiddo, or use them as decor in your home!