This is a Sponsored post written by me on behalf of Dollar General for SocialSpark. All opinions are 100% mine.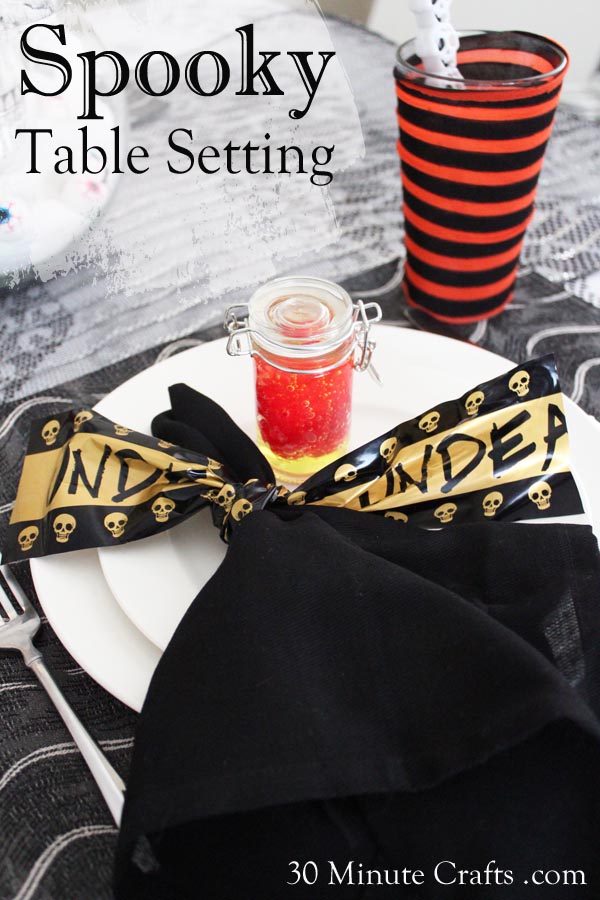 I took a trip to my local Dollar General earlier this week to get some Halloween crafting supplies. I love Halloween, and wanted to put together a table perfect for a Halloween dinner party. Dollar General had everything I needed to set a spooky table.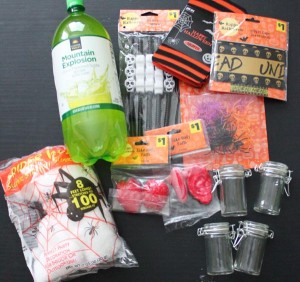 I bought these awesome Halloween supplies at Dollar General:
Store Brand "Dew"-style soda
Halloween Striped Tights
Plastic Body Parts
Skull Straws
"Undead" Caution Tape
Cobwebs (optional)
Plastic Spiders (optional)
To this I added:
Mini Jars (shown)
Lace Tablecloth
Dark Placemats
White Plates
Silverware
Black Napkins
Everyday Glassware
Creating my table setting was simple. I started by layering my tablecloth, placemats, and china. I set out the silverware, then got to work making everything spooky.
I started with the tights and straws.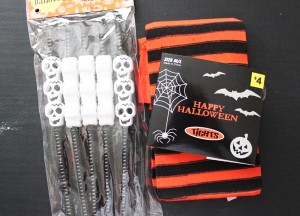 I cut the tights into sections the height of my glasses. Then slipped the tube over my glass. You can cover about 6 glasses with a single pair of tights.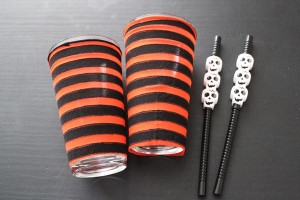 Add a skeleton straw, and you've got some great Halloween glassware!
Next I put the body parts in my small jars.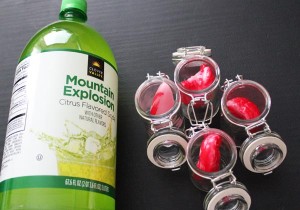 The "Mountain Explosion" drink is the perfect color to mimic formaldehyde. I poured it in each jar to cover the fake body part, then closed the lid.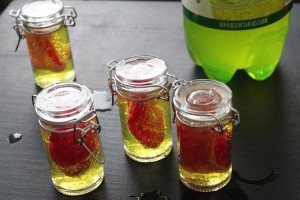 The carbonation makes it extra spooky – don't you think?
Finally, I used the "Undead" caution tape.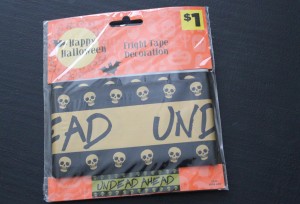 I cut off 18″ pieces to tie around the napkins, and put everything together to make the perfect spooky table setting.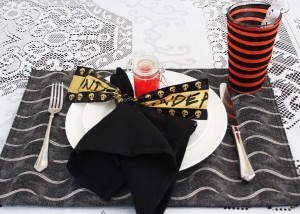 The cobwebs and plastic spiders can be added to the backs of your chairs, or just the general decor.
This is the perfect setting for a Halloween Dinner, Murder-mystery dinner, or Friday the 13th Dinner. Now to figure out what to serve…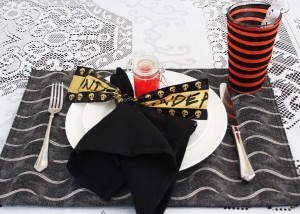 As you can see, Dollar General had everything I needed for the perfect spooky table decor! For more great Halloween Crafting ideas, check out Dollar General on Twitter (@DollarGeneral) and like Dollar General on Facebook.