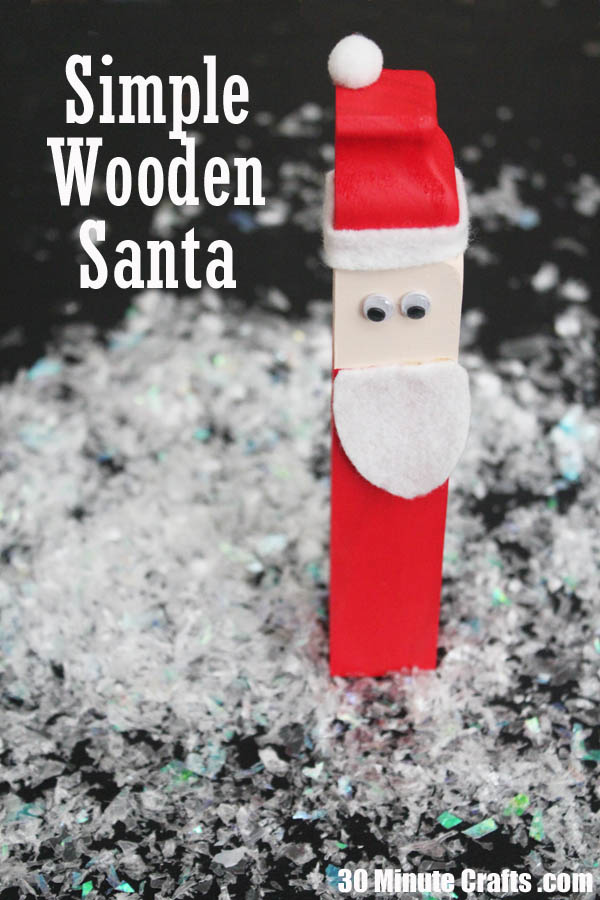 I was strolling through the hardware store earlier, wanting some ideas for Christmas projects. I was in the "wood bits" section, and KNEW that these wood bits would make a super cute, super simple Santa. Because c'mon, how cute is this guy? Just a piece of decorative wood trim, some paint, felt, and (of course) googly eyes… and ta-da! Santa. You could whip up a whole army of these little guys to give as gifts. The wood trim cost me less than $.50 a piece (SCORE!), and everything else I had on hand.
Here's what you need to make your own simple wooden Santa: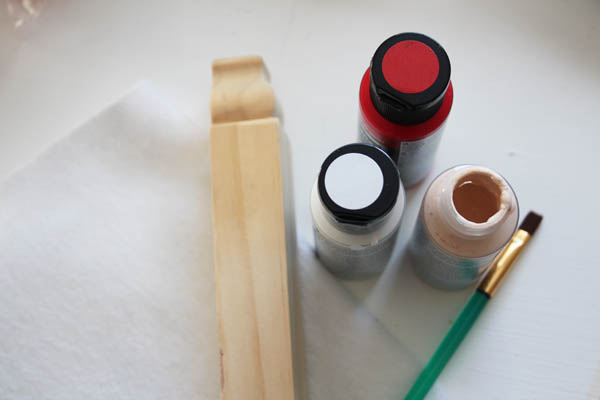 Wood trim
DecoArt Multi-Surface Paint – Red and a skin-tone
Scrap of white felt
Scissors
Paintbrush
Googly Eyes
Hot Glue Gun
Small White Pom Pom
Start by painting the face with a skin-tone paint. Whatever skin tone color makes you happy works here. Paint from the notch down about an inch or an inch and a quarter. I didn't measure, but if you want to measure and draw a pencil line with a ruler, I totally support your OCD.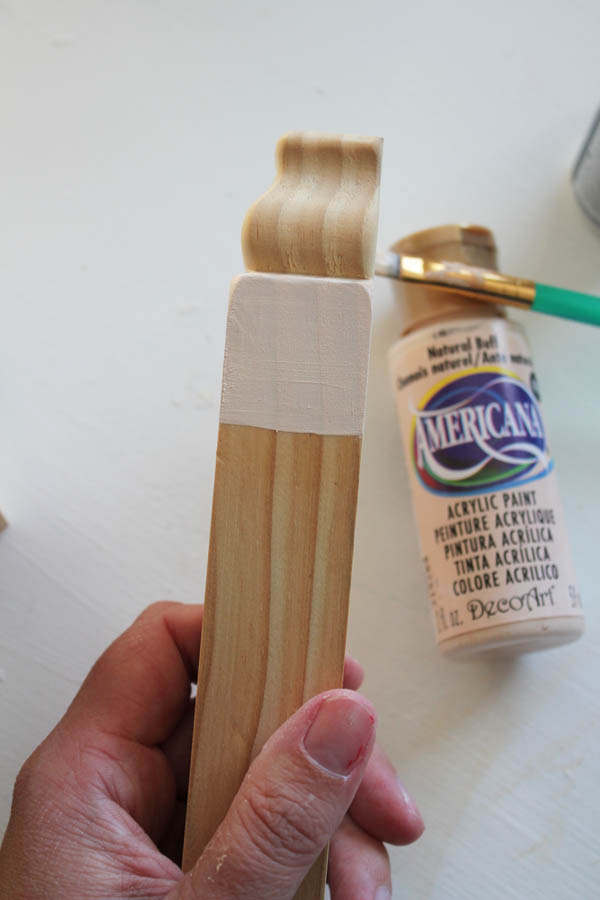 Paint around all 4 sides. Then grab your red. Paint the hat on all 4 sides.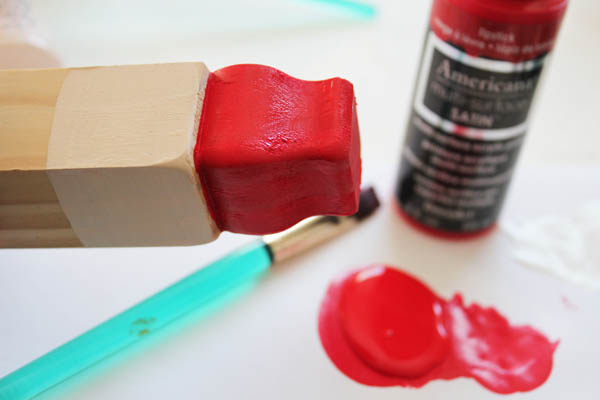 This raw pine SOAKS up paint, so it dries super fast. Which is awesome. While you're waiting for the top to dry, go ahead and prep the felt pieces. Cut a little beard shape, about the width of the wooden piece, and a strip for the hat. Grab your googly eyes and pom pom.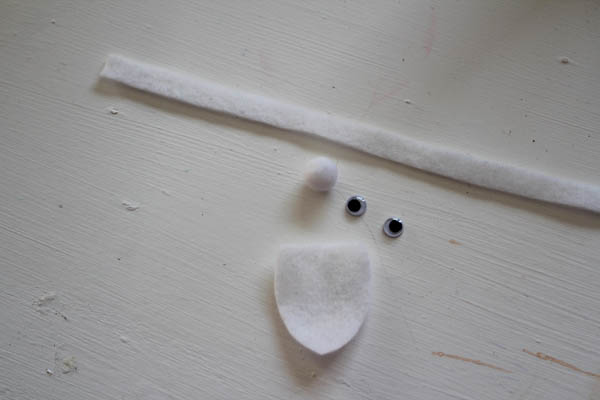 By now your paint should be dry enough that you can handle it to paint the bottom. Paint the bottom red on all 4 sides.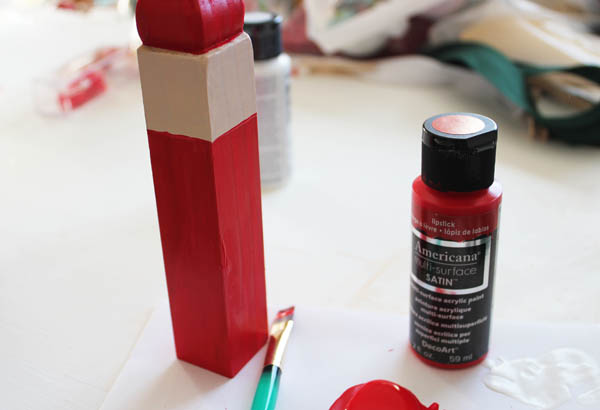 BTW – I'm loving these Americana Multi-Surface Paints by DecoArt. One coat and DONE. I reach for these paints all. the. time. And it doesn't hurt that the lipstick red shown here is my favorite shade of red.
Ok… back to the tutorial! Once you've painted the bottom, grab your glue gun, and start accessorizing Santa.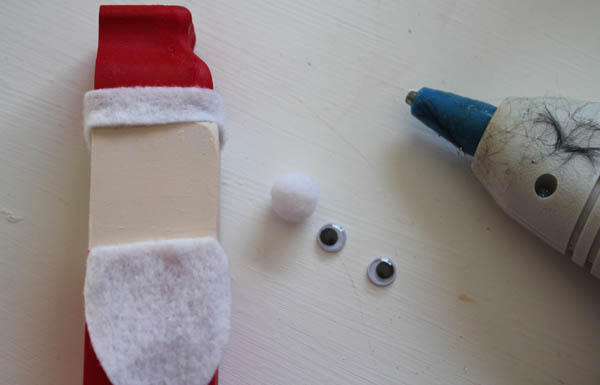 Pick a side (any side) to be the front. Glue on his beard, and the white trim all the way around the hat. Then glue on the eyes and add the pom pom. If you're a great painter, you can paint in cute eyes and give him rosy cheeks… but that was too much detail work for me when a set of googly eyes are just as cute!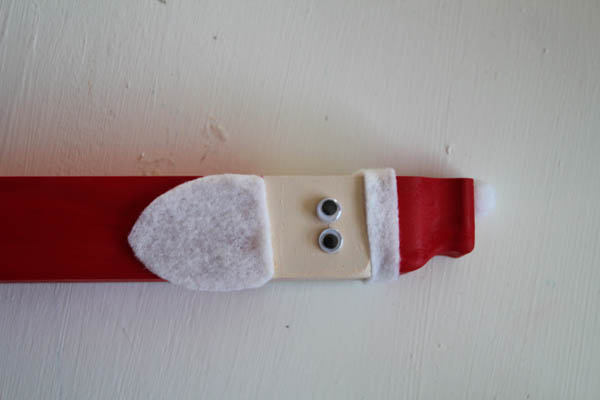 And that's it! Go whip up an army of Santas!