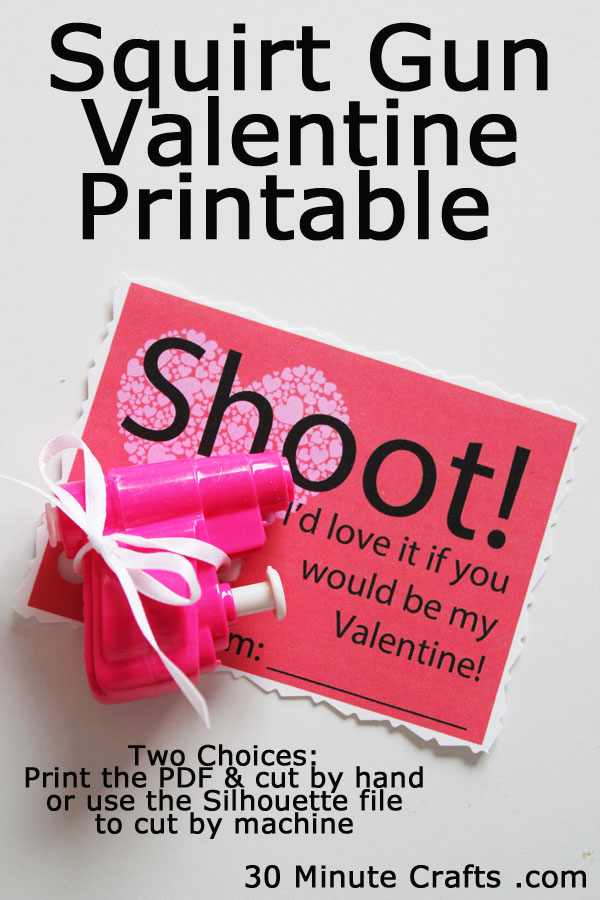 This week I'm sharing lots of fun and free printable Valentines. Yesterday I shared a Wand Valentine Printable, and today I'm sharing this fun squirt gun valentine.
I'm the mom of two boys, and these squirt gun Valentines are the valentines that my Kindergartener will be bringing to class. Which will make him a pretty popular kid… and I'm guessing I'll be a pretty unpopular mom! But these squirt guns are small and only hold about a tablespoon of water, so it shouldn't be too terrible.
Print the Valentines onto cardstock, then tie your squirt guns in place with a little ribbon.
I made two different files. One is a PDF. Print it off, cut out the Valentines (I used decorative scissors, but you can use regular scissors or a paper cutter), and punch two holes for tying the squirt gun in place on the Valentine.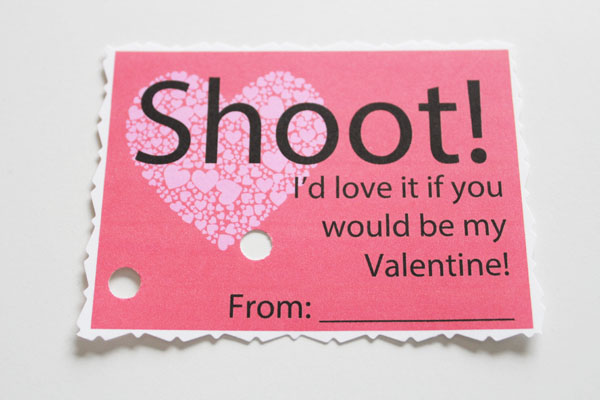 The second is a Silhouette file. If you have a Silhouette machine, print out the file and cut it with your Silhouette for super fast classroom valentines!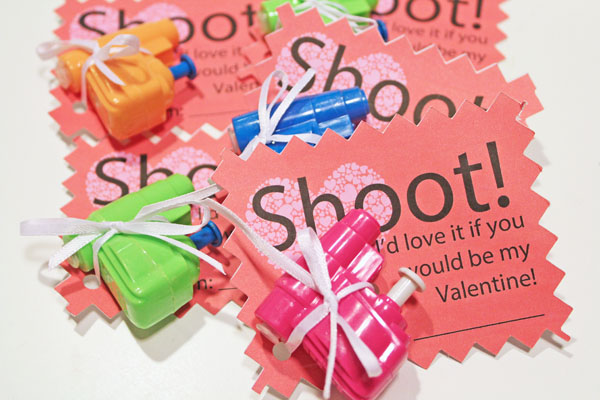 Get the PDF Squirt Gun Valentine file here.
Get the Silhouette Squirt Gun Valentine file here.
Updated: After some conversations with friends, I re-thought this as my son's Valentine for school. I saw this as fun and cute, but what I didn't see is that a squirt gun can be seen as a "weapon". Sure, the childish, toy-version of a weapon… but a weapon nonetheless. To cover all my bases, I sent the link to this post to my son's Kindergarten teacher to see what his stance on these valentines would be. He responded that these would not be appropriate if sent to school.
I'll admit, I'm bummed. But I understand where the school is coming from, and will not give them a hard time about their decision. Their #1 priority is to educate my child in a safe and nurturing environment, and if this in any way *might* detract from that, I'll let it go.
Soooo… if you're thinking about sending these Valentines to your kid's school, check with them first. Different communities and different parts of the country have different relationships with guns (and different thoughts on guns in schools), so you want to make sure you know your school's policies. And if you're in doubt, there are tons of other adorable Valentine's Day Printables you can choose from instead!