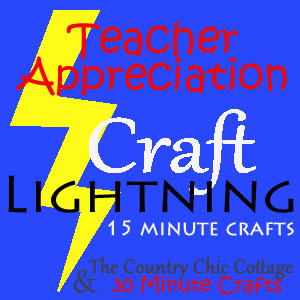 Teachers are amazing. I have several friends who are teachers, or used to be teachers, and all of them are amazing. As is my son's teacher. They work hard every day to help our kids learn. Teachers are under-appreciated in far too many ways, and on far too many days. Teacher Appreciation Day, or Teacher Appreciation Week, helps to thank these amazing individuals for giving so much of their time to help our children reach their fullest potential.
This year, Angie from The Country Chic Cottage and I have put together a special Craft Lighting Week to help you celebrate teachers. Every day this week, we'll each share a fast and easy Teacher Appreciation Craft. And every evening, we'll share a round-up of Teacher Appreciation Crafts from our blogging friends. This week we'll be sharing dozens of ways you can honor your teachers!
We'd like you to join in! If you have a Teacher Appreciation Craft that can be done in 15 minutes or less, please link it up below – we might feature your project in one of our daily round-ups, or in our end-of-the-week roundup!
Make sure to come back tomorrow, and every day this week… I can't wait to share my fun Teacher Appreciation crafts with you!