To me, camp means tie dye. I didn't get to tie dye every time I went to camp, but it really was one of my favorite activities. One of my favorite camp photos is from a Girl Scout Day Camp where we all wore tie dye camp shirts. So, when trying to re-create traditional camp crafts here at home this summer, of course I had to include tie dye. All this week long, I'm doing a Camp Crafts series here on 30 Minute Crafts, as part of our semi-monthly Craft Lightning series. For Craft Lightning, Angie and I team up with tons of bloggers to create fast crafts that take 15 minutes or less. This week all those crafts are camp themed!
I had my nieces over to visit earlier this month, and we got a chance to tie dye together. They had a blast dying their shirts, and I'll show you how we made it easy for a 3 and 4 year old to dye with Rit dye!
Supplies:
Garbage Bags
Squeeze Bottles
Puppy Pads
Rit Dye (we liked pink, purple, and aqua, but go with colors that work for you)
Rubber Bands
Shirts
Rubber Gloves
We washed the shirts in the washer, to get out the sizing, and any other gunk from the manufacturing process. We did not throw them in the dryer, instead we just left them wet.
The easiest tie dye method is to accordion-fold the shirt (horizontal or vertical – doesn't matter), then put rubber bands down the length of the shirt. Their mom and I did this part, because the girls are a little too young, and their hands too small, to handle the rubber bands.
I cut a neck hole and arm holes into the garbage bags to use as smocks to protect the clothes the girls were wearing. In each squeeze bottle, I did a ratio of 1:3 dye to water. Then the girls got to squeeze out dye onto their (still damp) shirts.
The shirts were on puppy pads, which absorbed the extra dye. Between the squeeze bottles and puppy pads, we had almost no dye mess on the patio!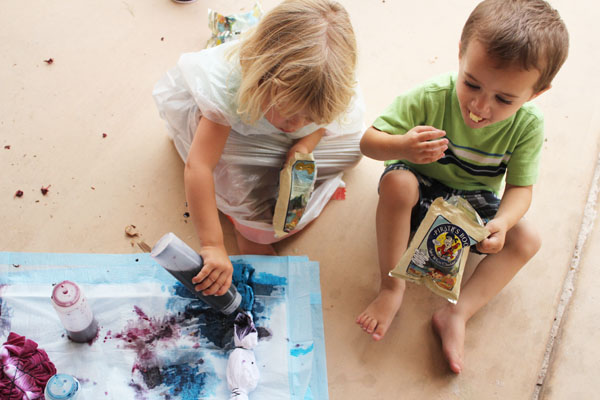 After getting the dye on, we let them sit for about an hour. Then I put on gloves to rinse out the shirts. Once the water ran clear, I let the girls help take off the rubber bands (cutting them is easy), and then they got to be surprised by how their creation turned out!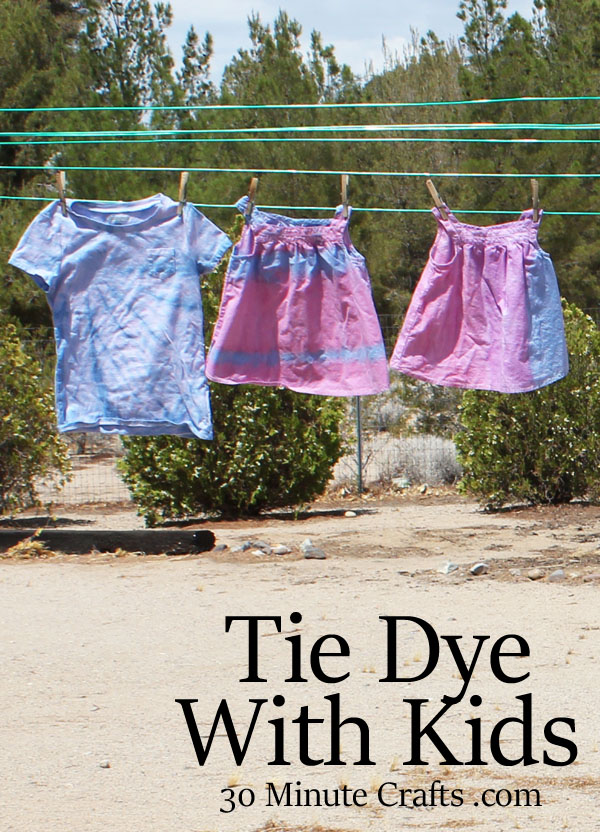 Come back tonight for another roundup of awesome camp crafts… if you missed yesterday's, go check out the Day 1 Camp Crafts Craft Lightning roundup!