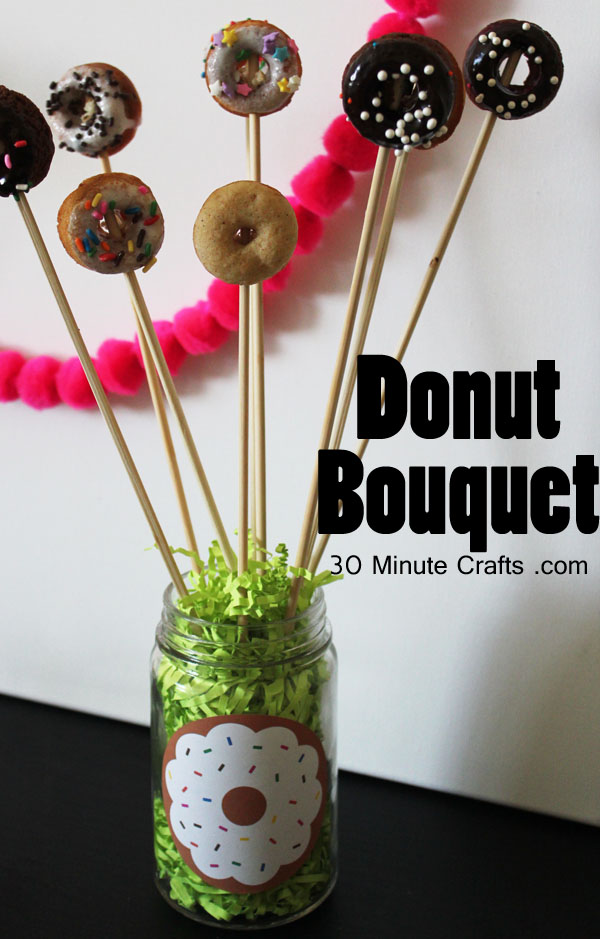 Angie and I love video crafting, and we love it when awesome sponsors join us on our Crafty Hangouts! This week (and next!) have been sponsored by Online Labels. And I got so excited by the products sent to me by Online Labels that I created a whole week of Donut Party Printables! Yup – a whole pack of free printables for a donut party!
When I was in school, sometimes the school would offer up a doughnut party as a reward for a class contest. Today, mini doughnuts are gaining in popularity, as well as simple breakfast parties, so having a doughnut party is pretty popular! Whether you're doing a simple get-together or an all-out-donut-bash, you'll love this fun mini donut centerpiece. The donut party centerpiece is made like a doughnut bouquet – so it would work great as a gift for someone special as well!
I baked several kinds of mini donuts – Chocolate Mini Donuts with Cheater Chocolate Ganache, Banana Spice Sugared Donuts, and Vanilla Chocolate Chip Donuts, and added different kinds of sprinkles.
You can see in the video how I put it all together using this Donut Printable on the Online Labels 3.33″ Round Label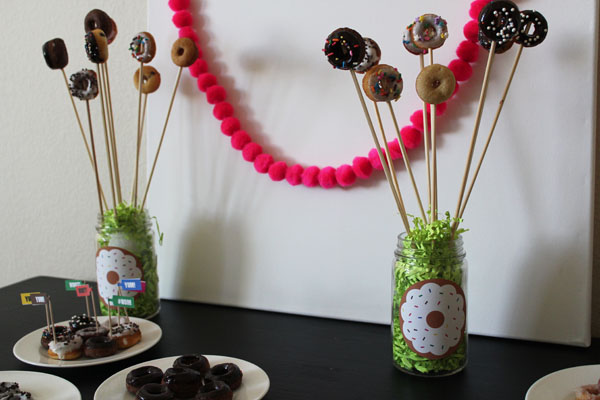 This is part of a two-week long series on Crafty Hangouts with Online Labels – we'll be sharing 20 different party craft videos to inspire you to party all year long!
Follow along all week long as the Crafty Hangouts team creates fun party crafts using labels. You can also follow along on
Google + using the #partycraftHOA hashtag
.
Don't miss the $300 Target gift card giveaway with three winners at $100 each!! Enter below!