This charm bracelet is super simple and inexpensive to make… and you can customize it with whatever charms you like, using different Mod Melts molds. I used a mold with flowers… but there are lots of design choices for you to make your own charm bracelet.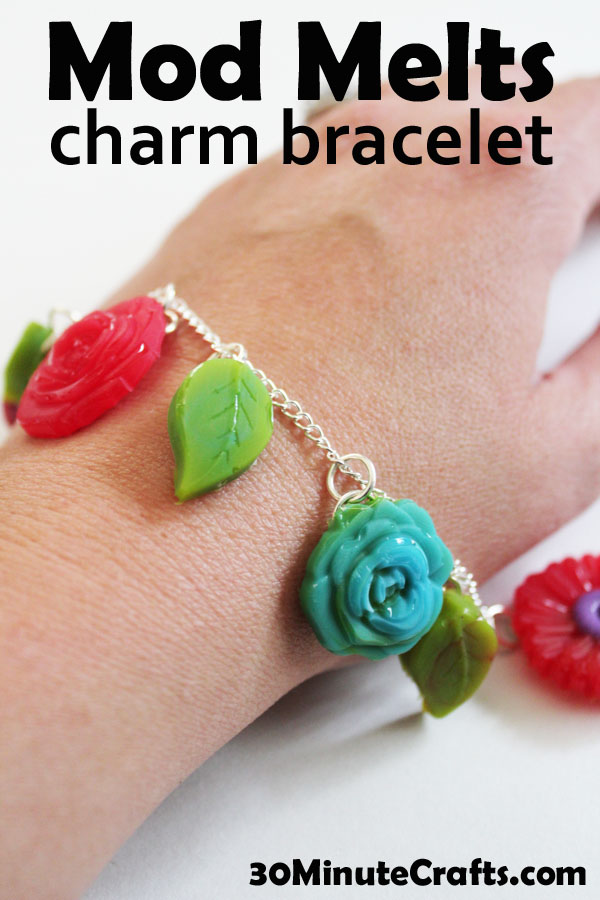 Plaid sent me the new Mod Melter, their Mod Melts, and some molds to play with. I've used their Mod Melts before, to make my Mod Melts Paperclips and Mod Melts Butterfly Decor. Once you make the melts, you can paint them, as I did in both of those projects… but for this project, I used the colored Mod Melts.
If you want to make your own Mod Melts Charm Bracelet, you'll need Mod Melts Molds, colored Mod Melts, Mod Melter (or a glue gun), scissors, jump rings, jewelry pliers, chain, and a clasp.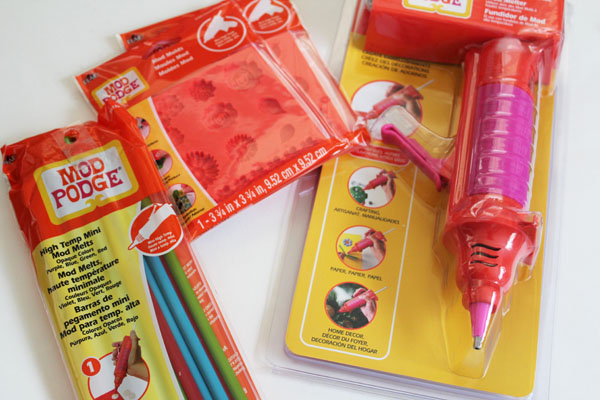 You don't need a Mod Melter to use the Mod Melts and mold, but if you're looking for an excuse to buy a shiny new tool, here you go! The Mod Melter is a glue gun with some serious bells and whistles. And not just because of the Mod Podge inspired orange and pink color scheme. It has a 6 foot cord (great for my new house where there are only 3 outlets in the craft room… none of which are conveniently located), a trigger that you squeeze with your hand instead of just your trigger finger, and my favorite feature of all – an on-off switch with an indicator light. This is absolute genius! I have burned-out glue guns by forgetting to unplug them for an entire weekend. Yikes! I'm loving the switch on the Mod Melter.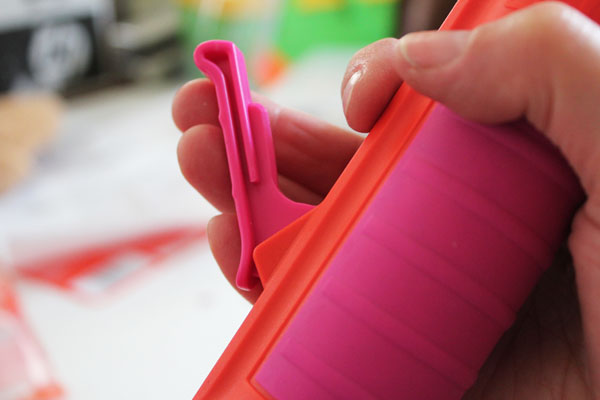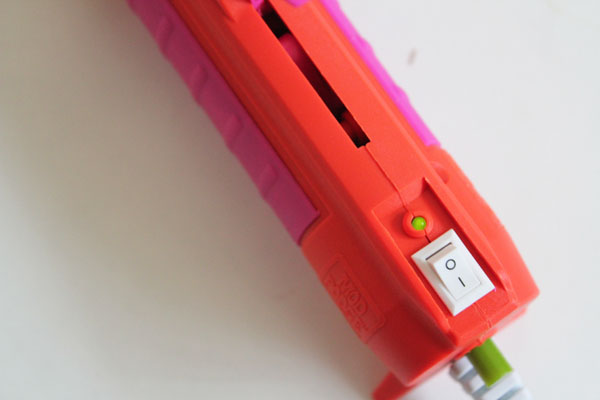 Go ahead and add it to your must have list. I'll wait.
Now that we're done drooling over new toys… let's get started on making the Mod Melts charm bracelet, shall we?
Heat up your Mod Melter, insert a stick of colored Mod Melts, and start filling the cavities. If you want to switch through lots of colors, cut the colored Mod Melts sticks in half (or even in thirds). You'll find the colors blend a little as the melts change from one color to the next, but I love the swirly effect that gives. I also liked using a dollop of one color for the center of a flower, then coming back with another color to fill in the petals.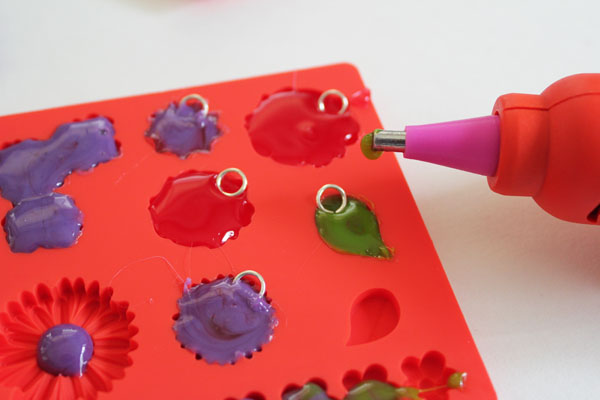 After each cavity is filled, insert a jump ring, then add a little more Mod Melt to secure it in place. Let the charms cool.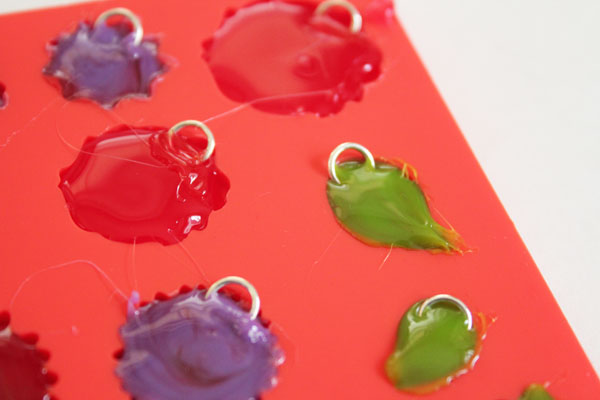 Once the Mod Melts are cool, just bend the flexible silicone mold to pop them out.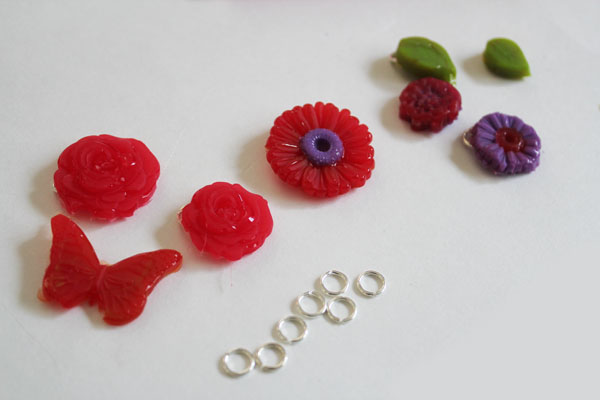 If your edges aren't perfect, just trim off the excess with scissors.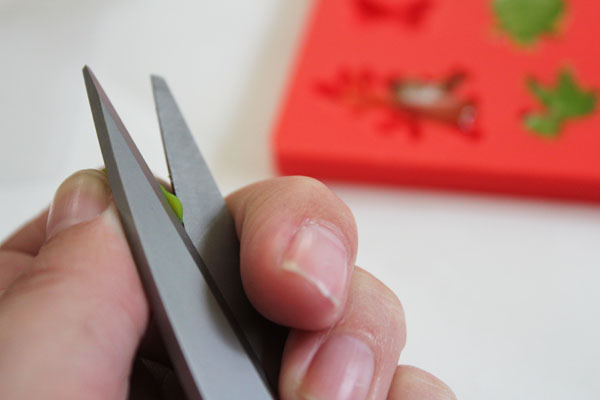 Cut a length of chain for your bracelet. Add the jewelry clasp. Use more jump rings to attach the charms.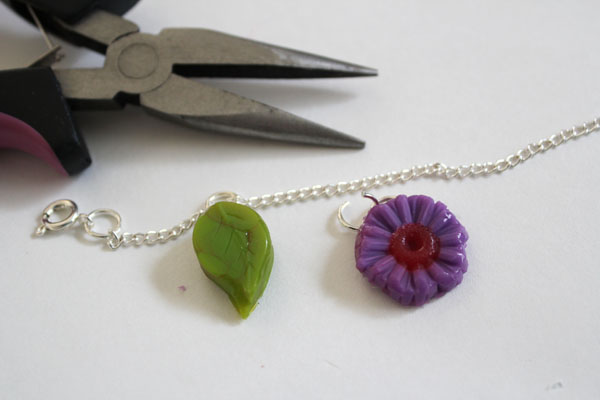 It is that easy!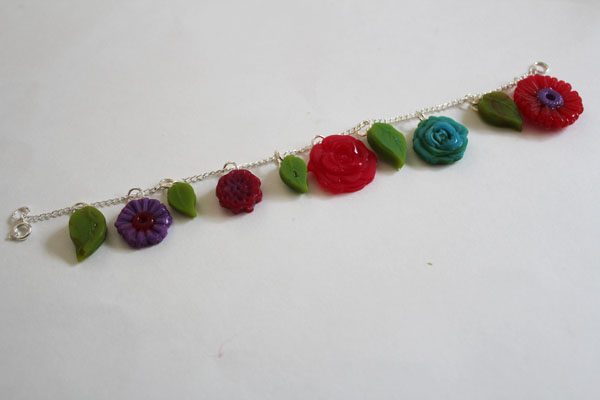 Make more for friends!