For my oldest, turning 6 1/2 was a big deal, so we decided to celebrate with a Half Birthday Party. I made all his decorations, including a half birthday banner, half party hats, half cups, half plates, half a cake, and even half balloons! It was so much fun to put it all together, and each of these projects can be whipped up in 30 minutes or less. He felt so special blowing out his half cake while we sang the half birthday song. Scroll through this post for all the details on how to make a special half birthday party for someone who could use a little celebration!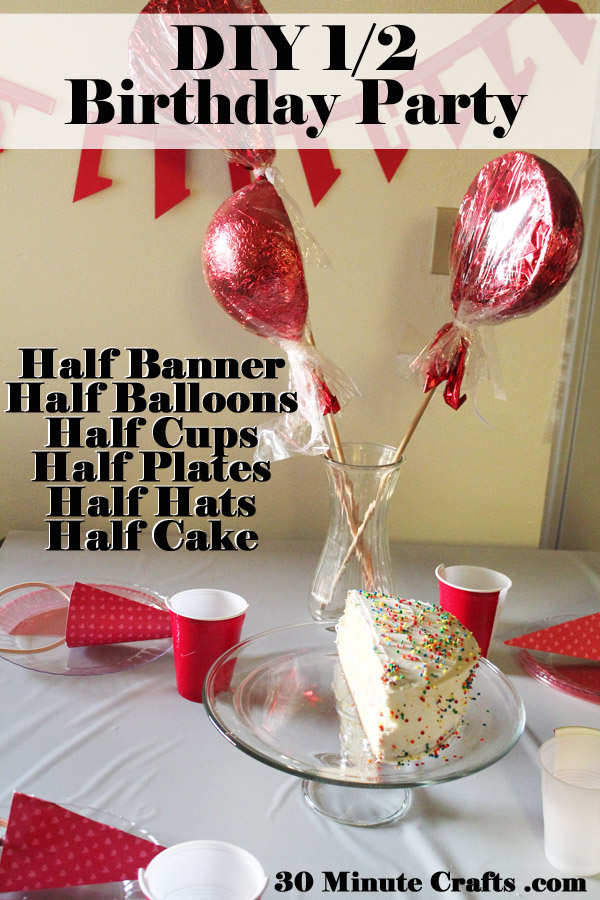 Half Cups
Making half cups for the half birthday party was a fun challenge. How to make cups that were cut in half, but would still hold liquid? The solution was to use whole clear cups, and surround them with half of a red cup, so that we could keep the "half" theme, without leaking KoolAid all over the place!
Half Cup Supplies:
Red Cups
Clear cups that fit into the red cups
Lo-temp Glue Gun
Scissors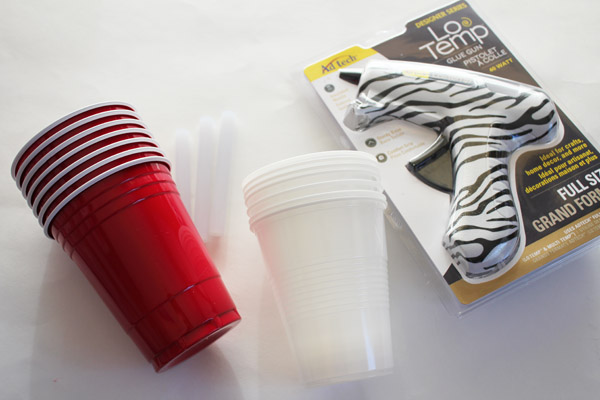 Cut each red cup in half. There are indentations at the bottom that you can use as a guide.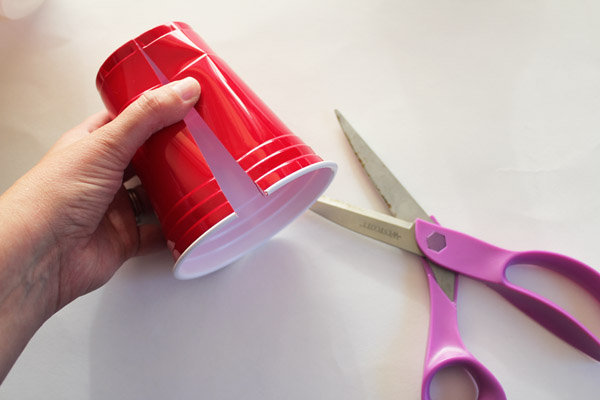 Use a Lo-temp glue gun (hot glue might melt the cups) to add a dab of glue at the bottom and side, securing the clear cup in place.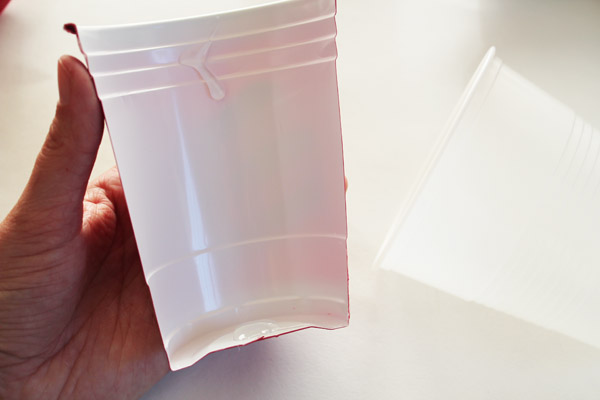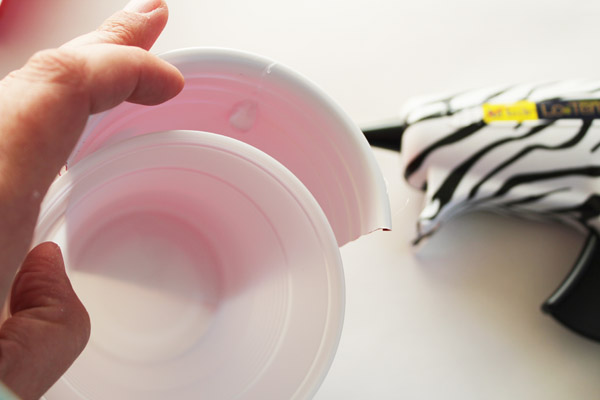 Repeat until you have enough cups for your half birthday party!
Half Plates
Once I had the half cups, the half plates were easy to make using the same basic idea. A clear plate fused to half of a colored plate.
Supplies:
Red Plate
Clear Plate
Lo-temp glue gun
Scissors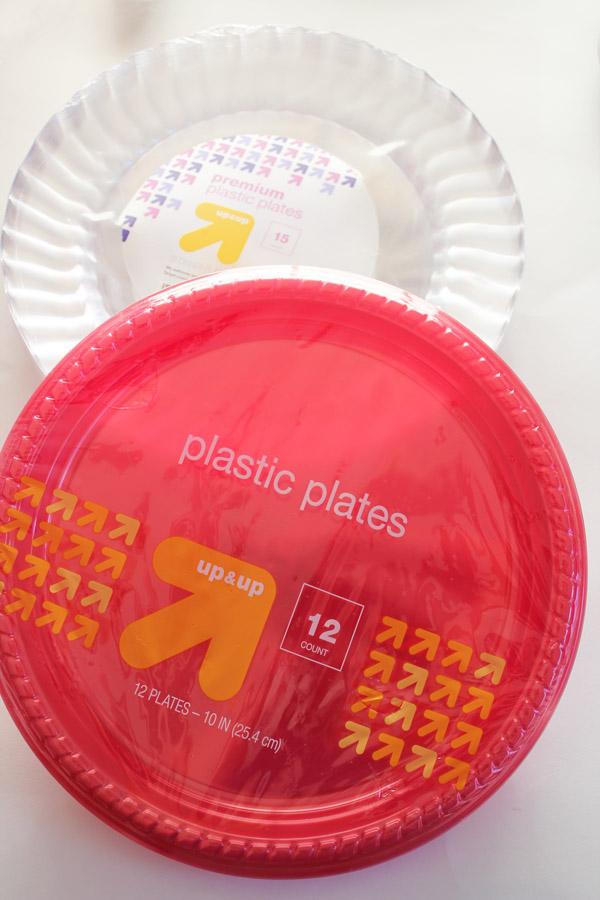 Cut red plates in half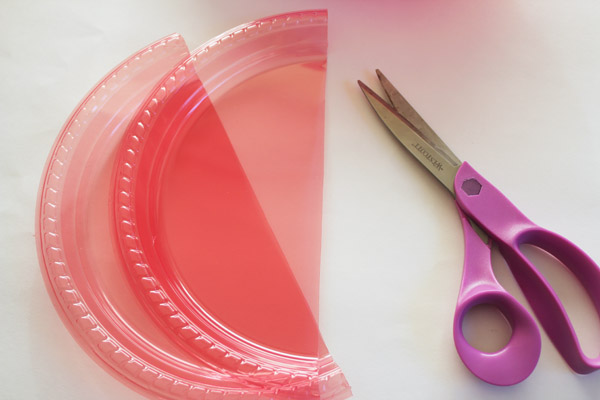 Glue to underside of clear plates.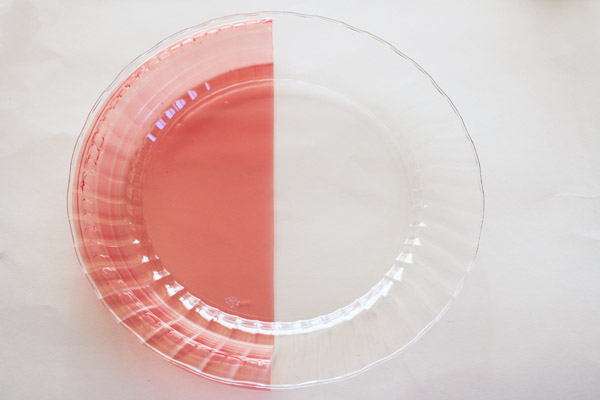 Half plates done! You can make large ones for the meal and small ones for cake if you like. We had a small party, so we just did the large plates.
Half Party Hats
You can't have a party without silly party hats, right? I created a Silhouette cut file to make the half party hats. Here are the Half Birthday Party Hat Silhouette Cut Files for two hats per sheet and one hat per sheet. If you don't have a Silhouette, here is the Half Birthday Party Hat Template you can use.
Supplies:
Scrapbooking Paper with hats cut out
Lo-temp or hot glue gun
Headbands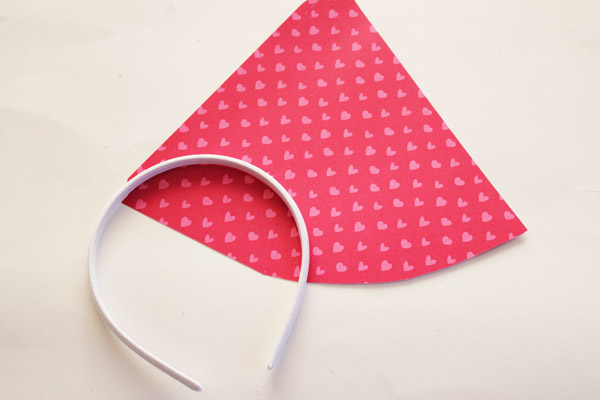 Once you've cut out the hats, fold on the score lines.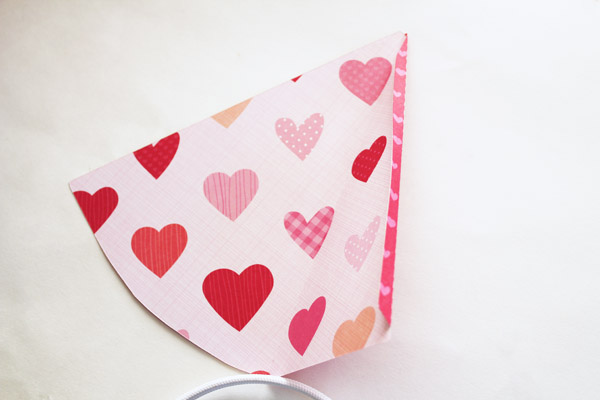 Curve the larger section towards the tab. Secure with a dab of glue at the base.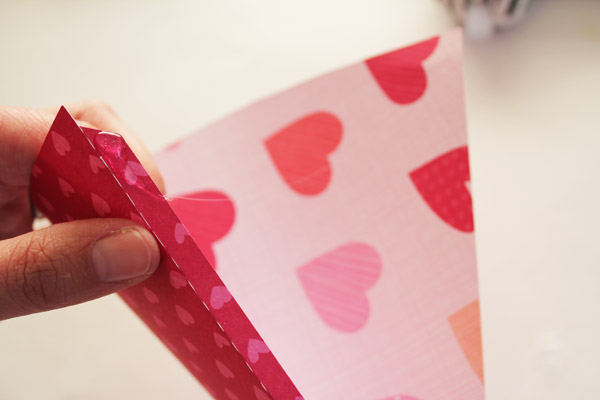 Now run a line of glue all the way along the edge of the flap, and secure the entire edge of the hat.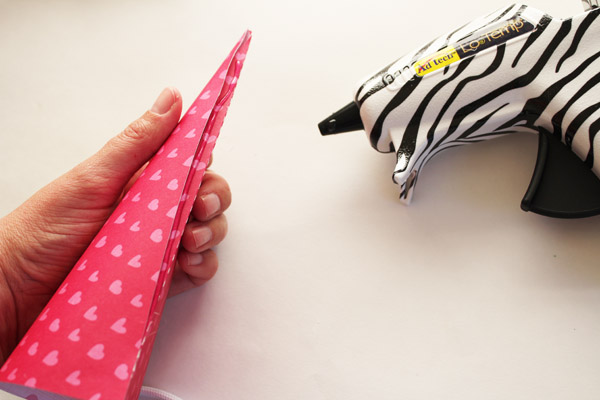 Glue to headband, slightly off-center.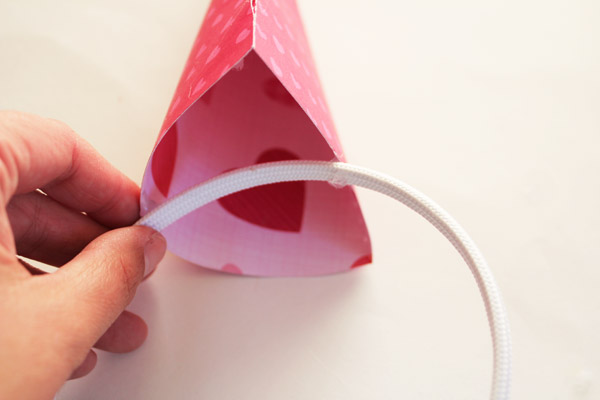 Once it has cooled, wear your half birthday party hat with pride!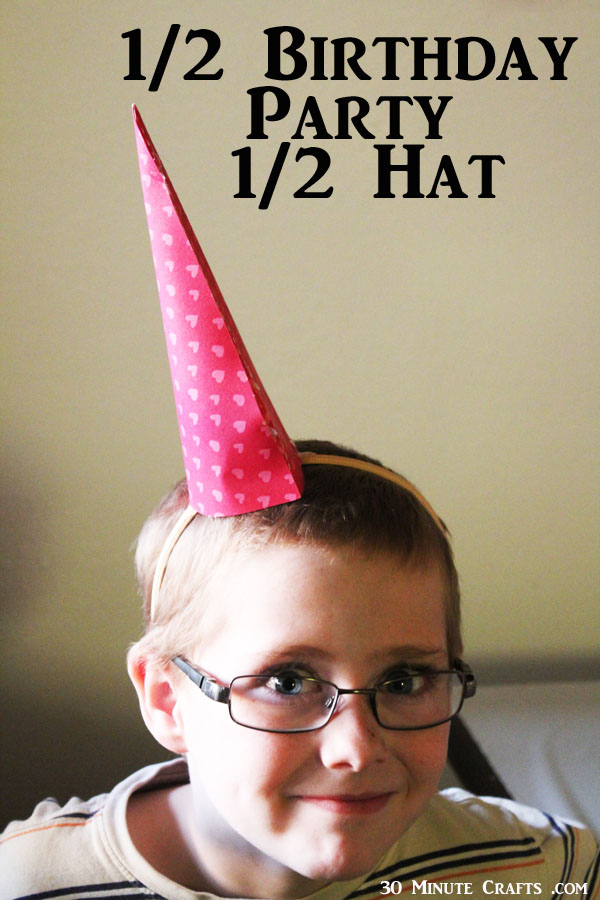 It makes a fun part of the Half Birthday Party place setting!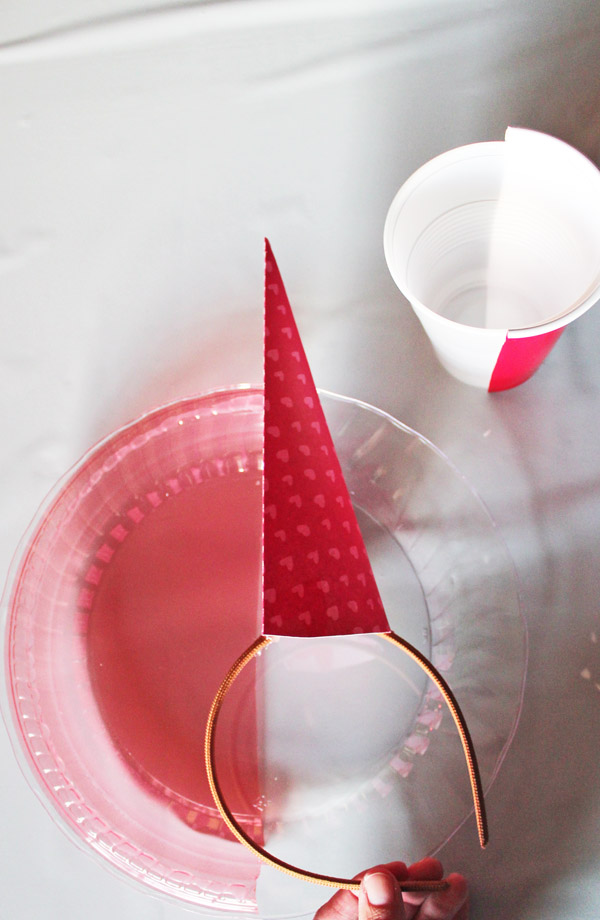 Half Balloons
Half Birthday Party Balloons? YEAH! It took me several failed attempts to figure out the best way to make these, but since it isn't a party until you have balloons, I kept trying.
Half Balloon Supplies:
Large Styrofoam balls
Dowels
Styrofoam cutter
Colored Mylar Sheet (usually near the tissue paper in the craft store. In a pinch, you could probably use tissue paper, but the shiny Mylar looks a little more legit)
Clear heat-shrink cellophane
Hair Dryer
Pins
String or ribbon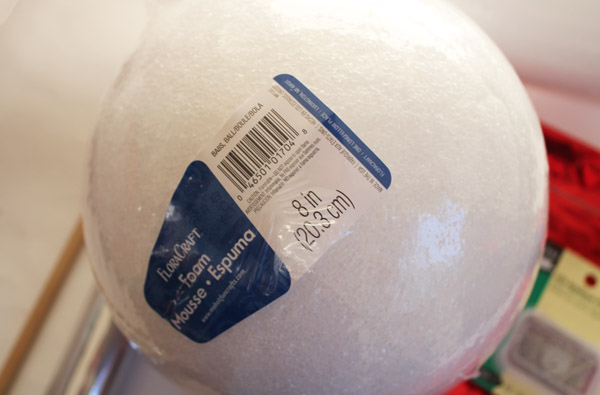 Start by cutting the ball in half, and inserting a dowel. Wrap in the colored Mylar sheet, gathering the ends at the stick.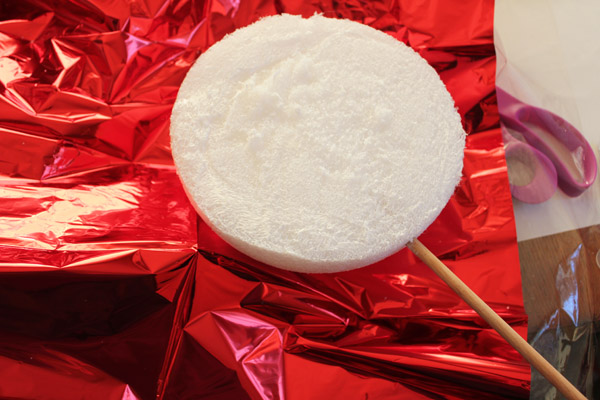 Wrap in the heat-shrink cellophane, just like the Mylar. If there is any area with LOTS of excess cellophane, you can cut some away, but the cellophane will shrink a lot, so it is better to leave it.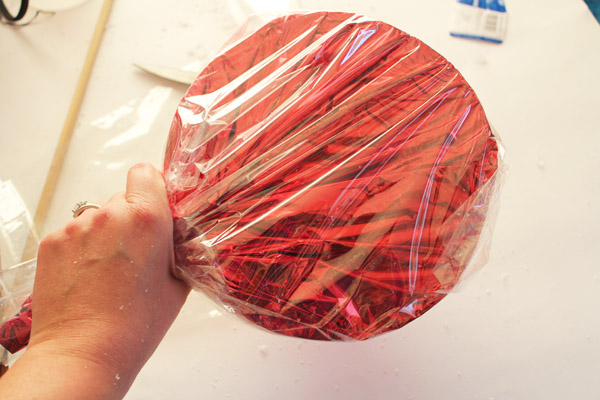 Tie the bottom with string or ribbon, and shrink with a hair dryer until smooth.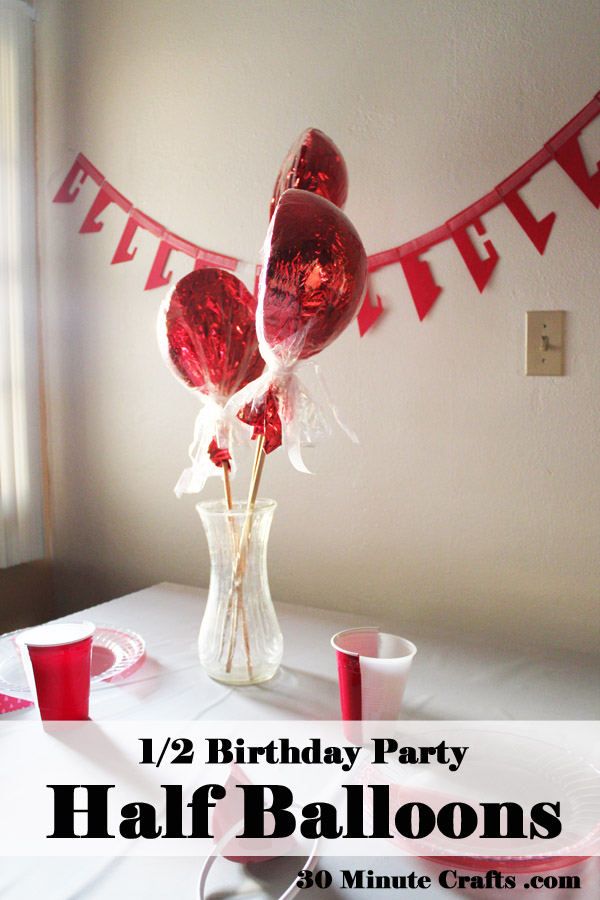 Half Birthday Banner
The Half Birthday Banner is a fun backdrop for your party. Watch your guest try to read what it says! Which is particularly funny because they should know what kind of party they've been invited to, right?
Supplies:
3 sheets 12×12 Scrapbook paper
6-8 feet of ribbon
Cut out the Half Birthday Banner with the Silhouette Machine, using these files:
HAPPY B Letters Cut File
IRTHAY Letters Cut File
Letter D Cut File
Thread a ribbon through the notches at the top of the banners, and hang.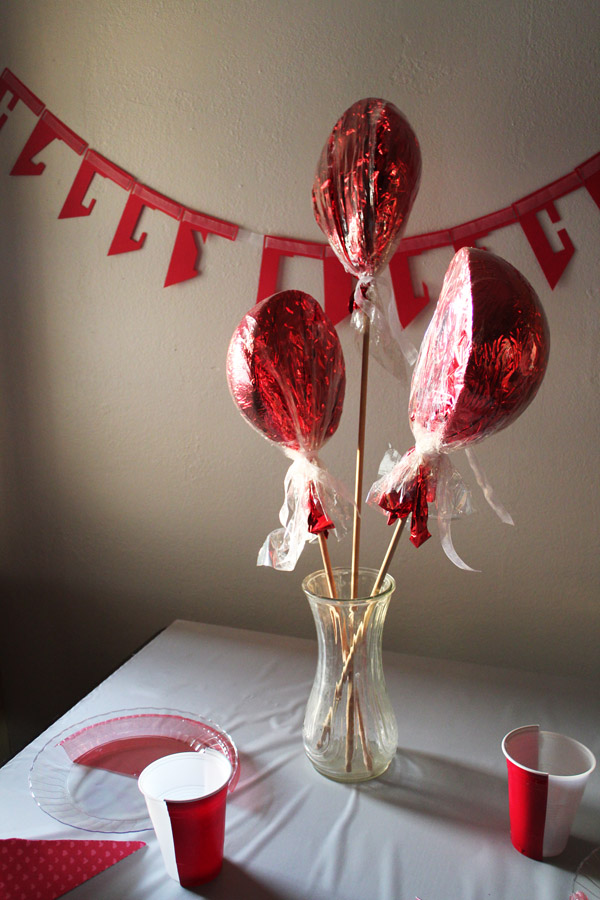 Half Cake
A half cake is easy to make! Bake a round cake in a spring-form pan, following the instructions on the package. Trim any bulge off the top to make the top flat, and discard this bit(this is a yummy treat for you while doing party prep). Cut in half to make two half-circles. Put frosting on top of one half. Place the other half on top. Frost the entire cake as usual, but leave the flat side (the cut side) exposed for a fun "half cake" look.
To make half a candle, just cut the bottom half off of a candle. For this 6 1/2 party, I added 6 regular candles, then the shorter half candle.
And, be sure to sing the half birthday song! It goes like this:
(Hum hum) Birthday (hum) you!
(Hum hum) Birthday (hum) you!
(Hum hum) Birthday (hum) NAME HERE!
(Hum hum) Birthday (hum) you!
Click on the image below to hear us singing our Half Birthday Song:
You can serve all kinds of fun foods… half hot dogs, half hamburgers, half carrot sticks, half-popped popcorn (just add some kernels to the bottom of the bowl), fruit sliced in half (cherries, blueberries, oranges), twice-baked potatoes (served in half the skin)… have fun coming up with ways to serve halves of your favorite party snacks!