You can make this simple ring pillow in just 15 minutes – and customize it to your wedding! If you're making your bridesmaid dresses (or having them made), you can use leftover fabric to make a ring pillow that matches your wedding perfectly. Or you can bring in a swatch from bridesmaid dresses you ordered to find the perfect color fabric and ribbon to whip up your own wedding ring pillow.
This is the last in a 5-part series on fast and easy wedding crafts. I've co-hosted this fun week of Craft Lightning fun with my friend Angie from The Country Chic Cottage, and our friend Katie from Sweet Rose Studio. They have both shared a 15 minute or less wedding craft on their sites each day this week. We've also asked some of our crafty friends to join us… you can check out their projects by scrolling to the bottom. Make sure you do – there is a lot of awesome wedding craftiness down there!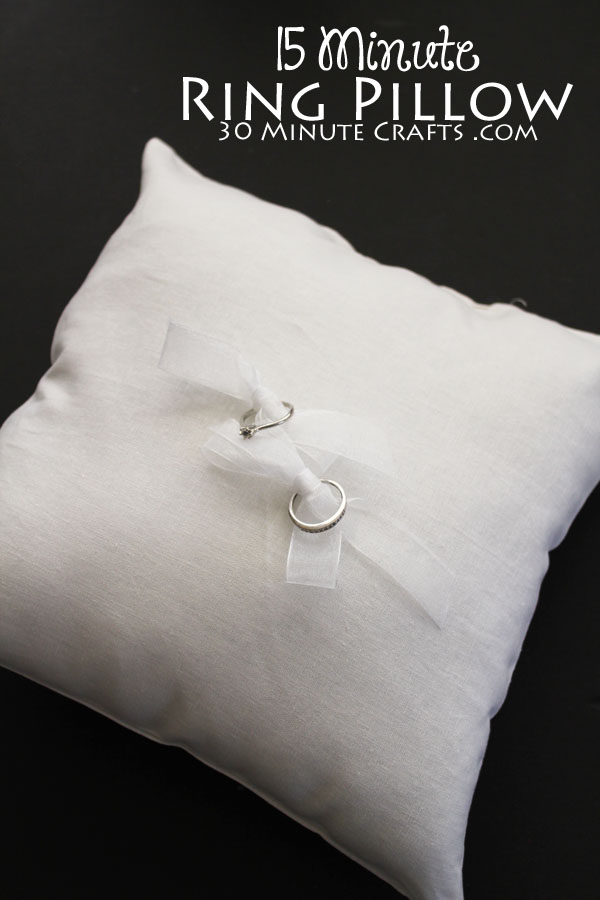 To make the ring pillow you'll need:
Fabric (I used Essex Linnen, but you can use what you like)
1″ Ribbon (I used a sheer white ribbon, but use a ribbon that works with your wedding colors)
2″ Ribbon (I used a satin ribbon the same color as the pillow)
Rotary Cutter and Ruler or Scissors
Sewing Machine
Pins
Needle and Thread
Polyfil Stuffing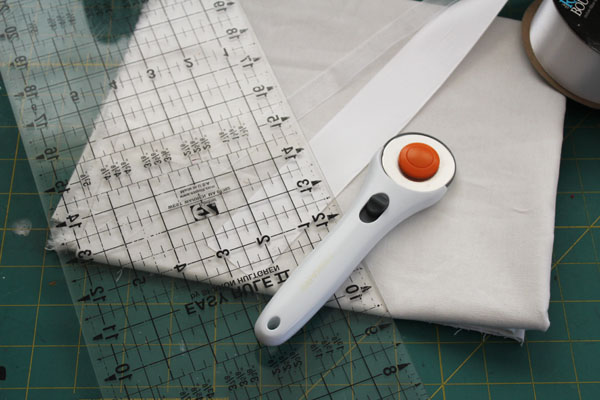 Start by cutting your fabric. You'll need two squares 10.5″x10.5″. If you want a bigger or smaller ring pillow, you can change the size, but this is a nice size.
Fold one square in half, and in half again to make corners. Press in the center, then unfold.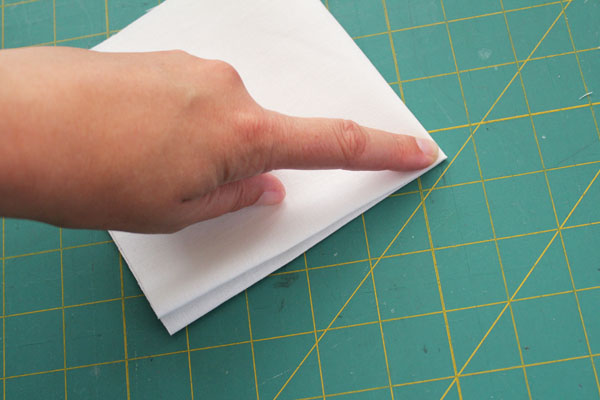 Cut two pieces of 1″ ribbon, about 8″ each.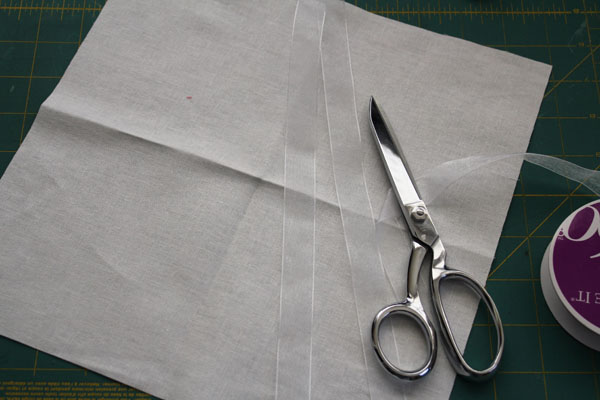 Find the center of a ribbon piece, fold into thirds, then stitch down on the one folded layer, using the folds as guides. I placed my ribbon about 1″ down and 1″ over from the center, into the bottom right quadrant.
If your fabric has printing on one side, make sure to stitch this to the printed side (the "right" side) of the fabric.
Stitch down, going back and forth a couple times to secure.
This is the top of your ring pillow.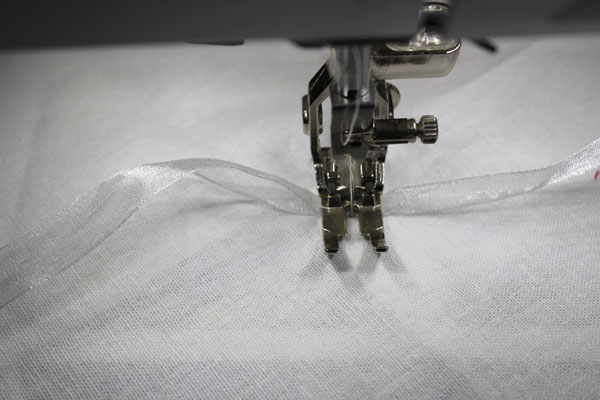 Repeat with the second ribbon, placing it in the top left quadrant.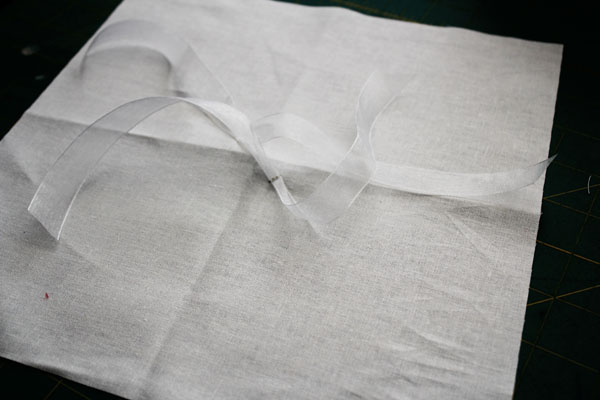 Cut a piece of the 2″ ribbon the width of your square (10.5″ if you're following my sizing). Pin across the middle of the square, using pins on both sides. If your fabric has printing on one side, make sure to pin this to the printed side (the "right" side) of the fabric.
This is the bottom of your pillow. The ribbon will act as a strap. The ring bearer can place his hands under the pillow, with this ribbon under his hands. That will help it stay in place as he walks down the aisle.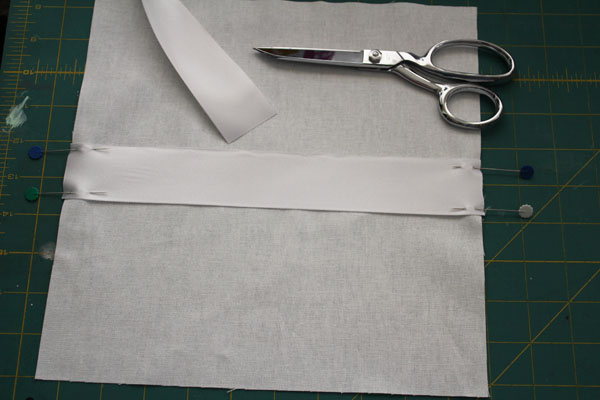 Place your top piece, right side down, on top of your bottom piece, right side up. The right sides of the fabric, and the ribbons, should be in the middle, facing each other.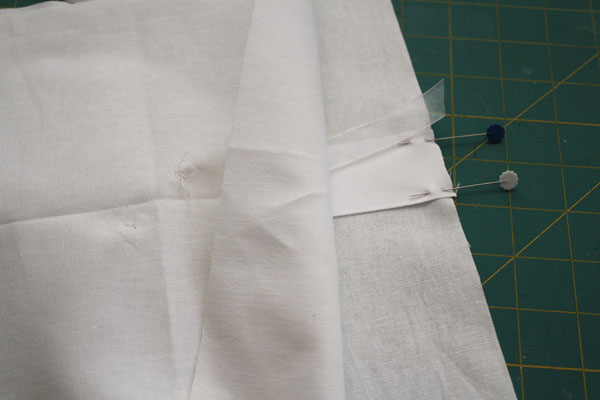 Pin all the way around. Make sure that the ends of your top ribbon are tucked safely inside so they won't get caught in the stitching.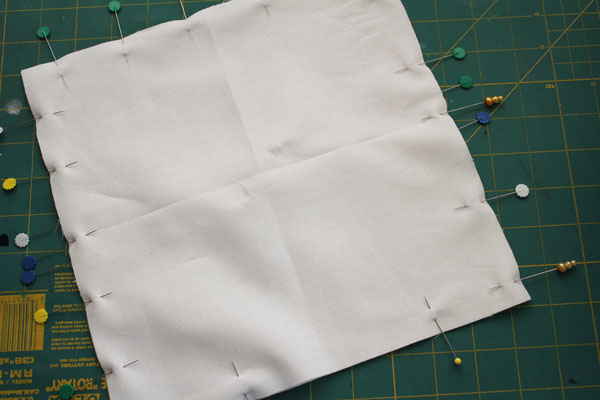 Stitch on the sewing machine, almost all the way around. Leave yourself a hole at least 4″ along the middle of one side. Remove all the pins.
Clip the corners. This reduces the bulk in the corners. Make sure to leave a couple threads between the stitching and where you cut.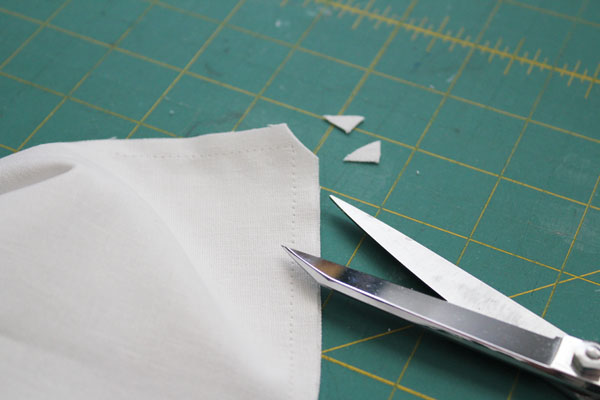 Turn right-side-out through the hole you left in the stitching.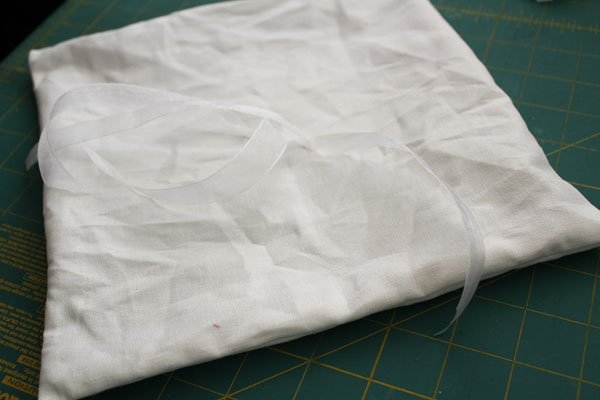 If your fabric is wrinkled, press it with an iron. Be sure to use the iron setting for the fabric you're using. If your fabric is synthetic, you may want to use a pressing cloth and a very low setting to keep the fabric from melting or scorching. Linen is easy – you can use a high heat setting.
Stuff with Polyfil. I kept mine lightly stuff. You can stuff with whatever firmness you like.
Pin the opening closed.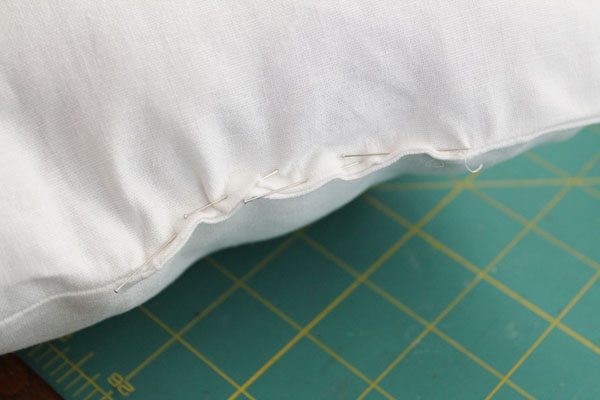 Hand stitch closed with a needle and thread. To close it invisibly, use a ladder stitch.
Tie the rings onto the pillow, and you're ready to head down the aisle!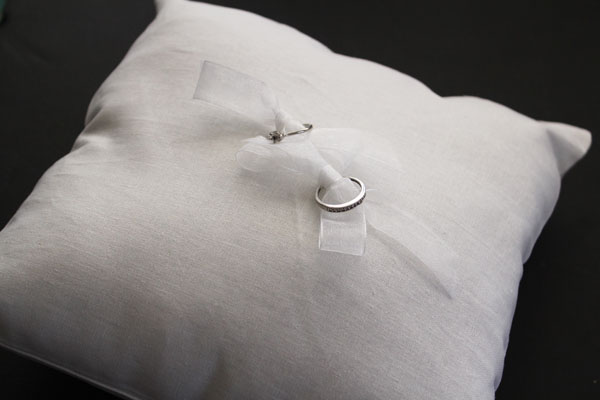 Check out these other great wedding craft ideas:
Cyn over at Creative Cynchronicity made these simple wedding centerpieces:
These Mr. and Mrs. wreaths from Katie at A Sweet Berry are super cute!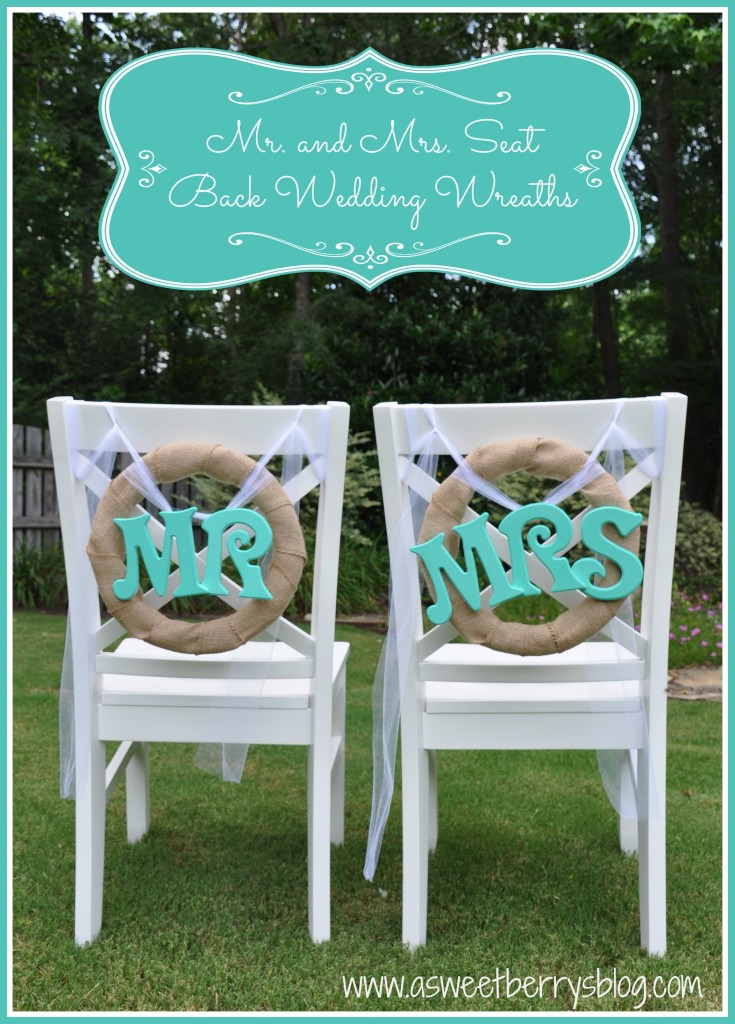 Heidi at Happiness is Homemade made this great gold foil wedding decor: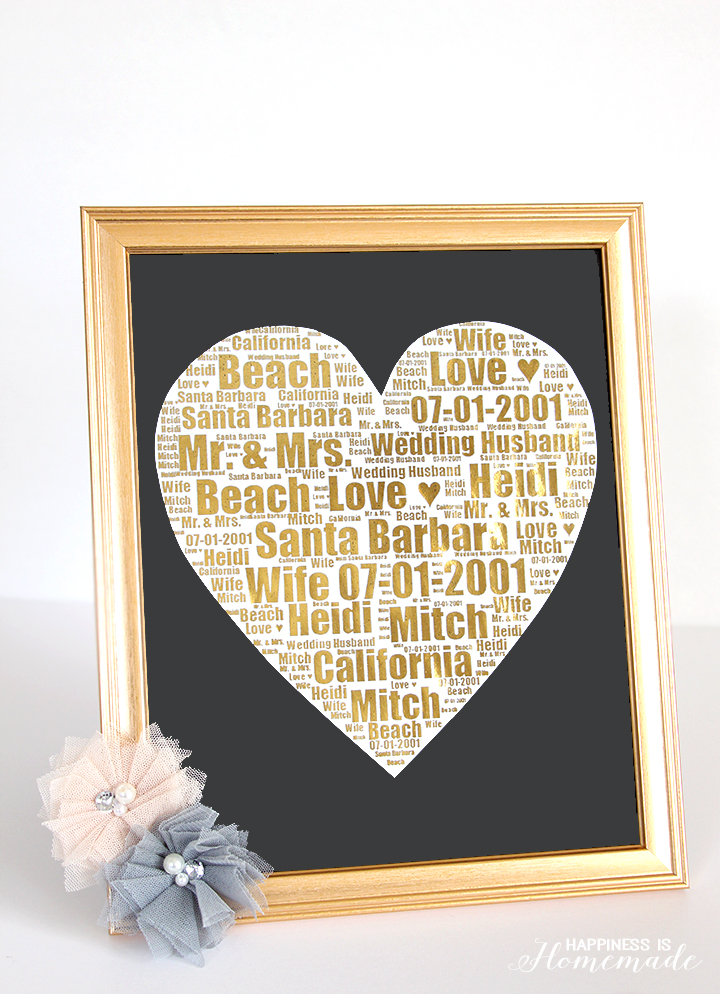 I love these Vintage-looking wedding favors from Busy Mom's Helper.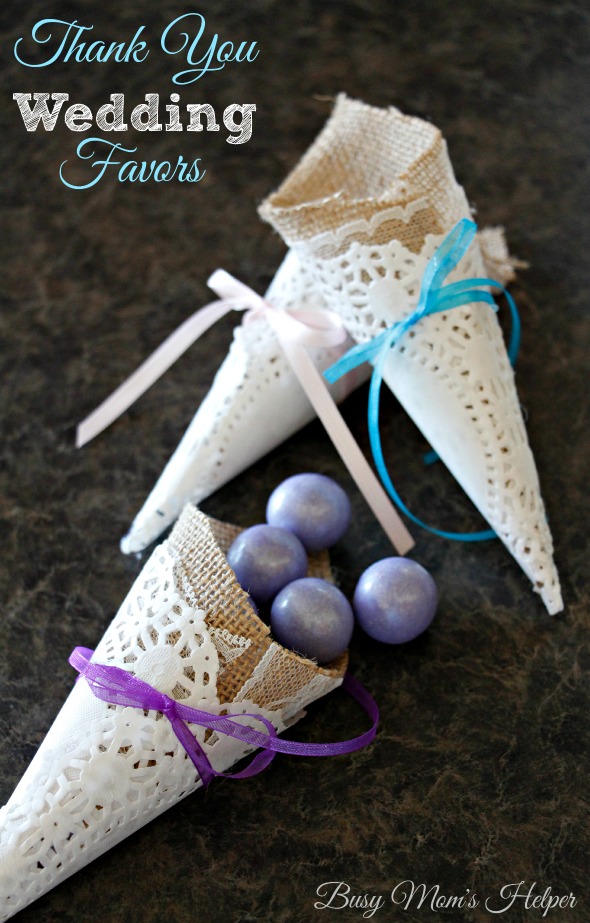 Learn how to make these fun wedding signs over at Fireflies and Jellybeans: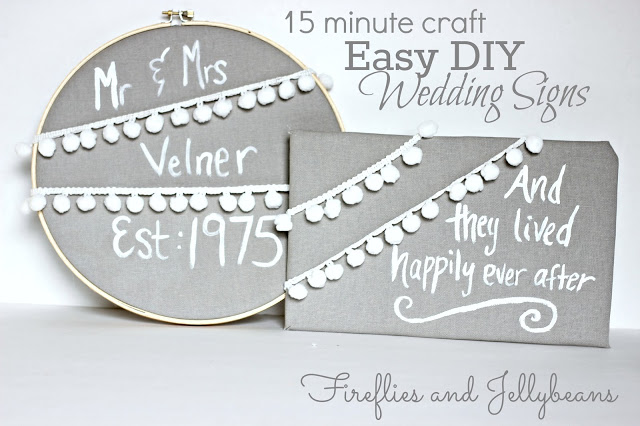 Jen Gallacher made these gold foil wedding favor boxes.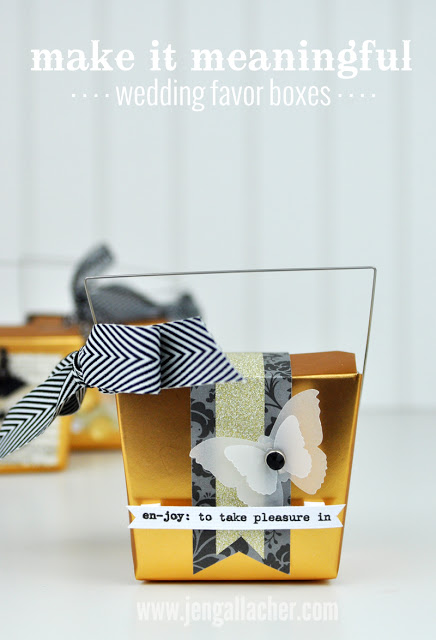 Ask your bestie to be your bridesmaid with this fun printable from Play Party Pin.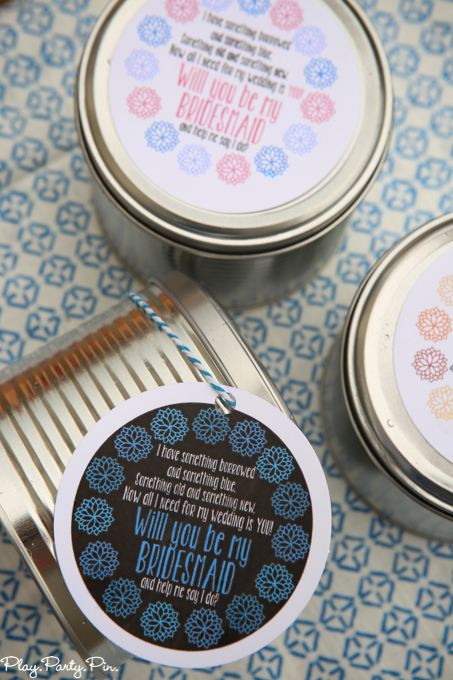 These mini flower pot wedding place card holders from Yesterday on Tuesday are so cute!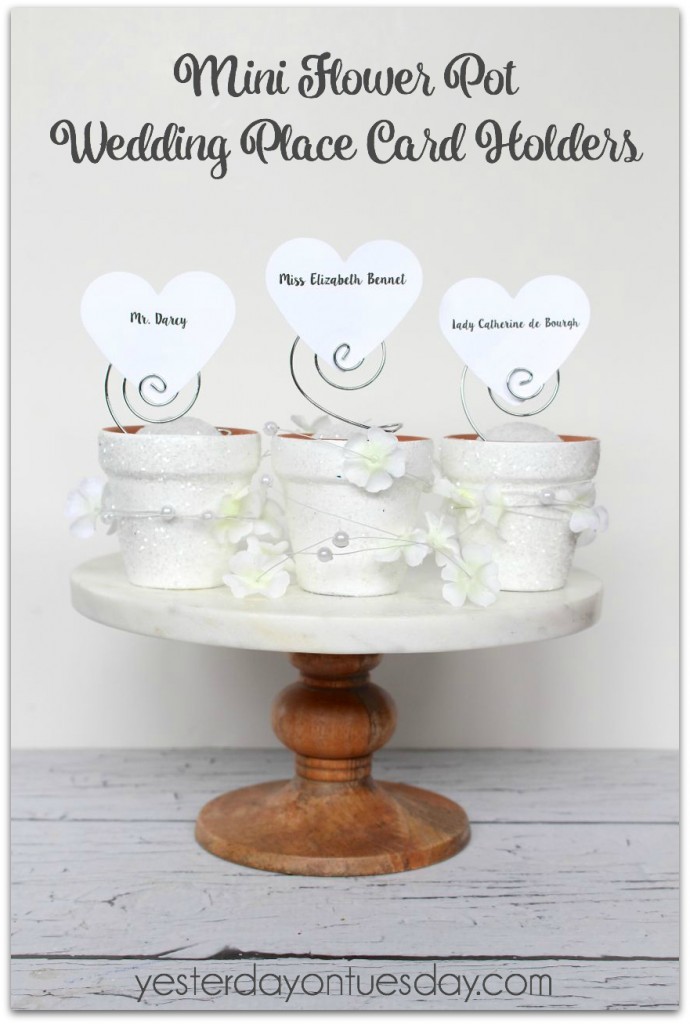 Our Guest Host for this series, Katie from Sweet Rose Studio, made these fun floral wedding table numbers.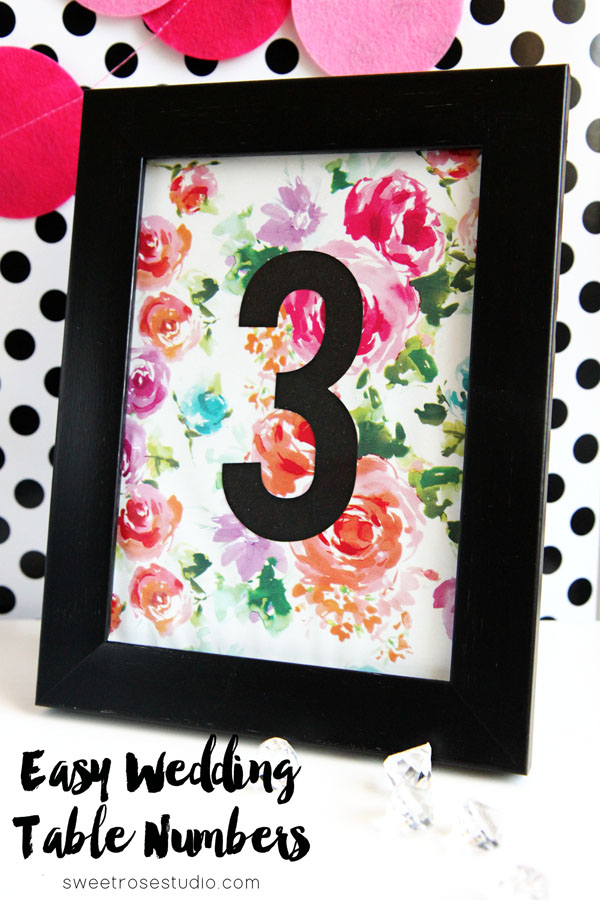 She also whipped up a Super Fast Favor Tag (I'm not the only one who is all dressed for the wedding, only to realize I still need to wrap the gift… right?)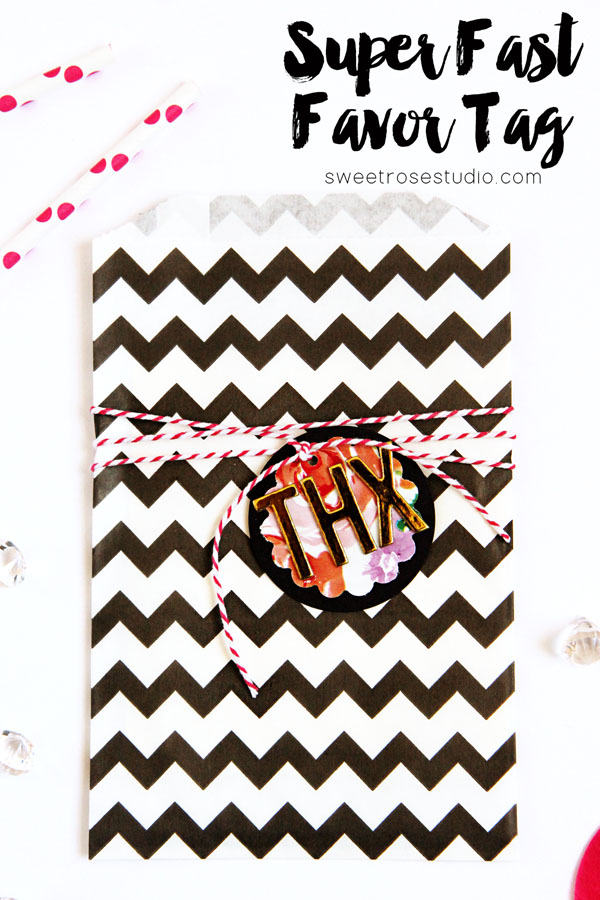 My Co-Host Angie from The Country Chic Cottage made a Paper Flower Centerpiece.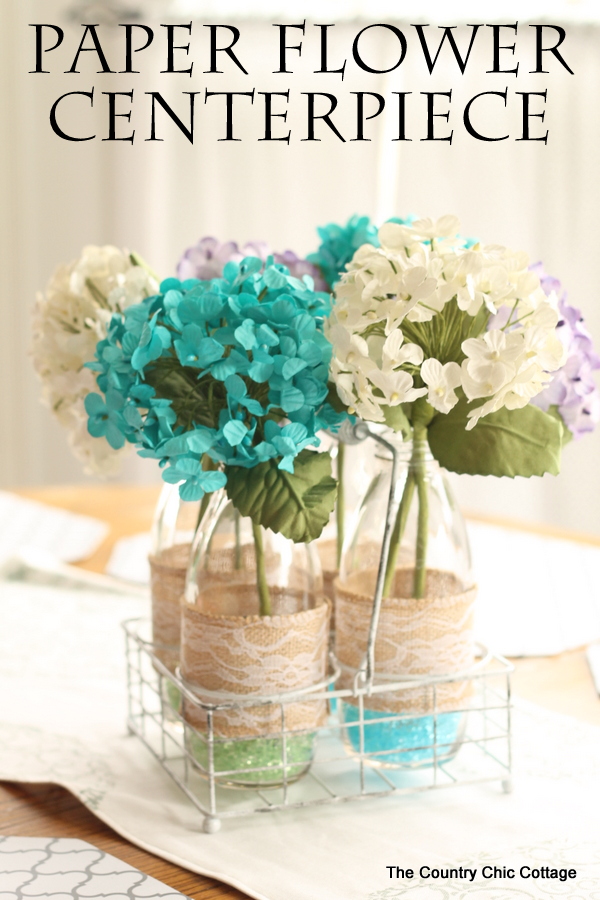 She also made this great guest book map and sign: