A constant theme for moms everywhere is trying to get things done. The dishes, laundry, and household cleaning never end. Then there are kids to feed, bedtime routines to administer, and somewhere between it all, we want to find time for ourselves.
It never fails… the moment we sit down to do something, our kids need us. An older sibling takes something away from a younger child. They're fighting over the same "special" Lego piece. Or they're quietly doing something that they know they shouldn't.
I was sent a Levana Shiloh™ 5" HD Touchscreen Video Baby Monitor to play with. (You have a chance to win one of these… scroll down to the bottom of this post) While I don't have babies, it did come in handy to see what my young kids are up to when I'm out of the room! While my back is turned getting projects done at my sewing machine, I can still see (and hear) what is going on several rooms away!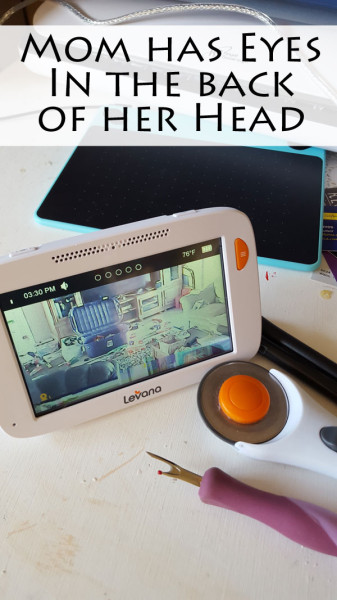 These make for GREAT baby-shower gifts. Or a group gift at a Baby Sprinkle (a shower for a momma expecting a second baby). A monitor like this certainly would have come in handy when my kiddos were small – many times I wished I could see through walls to see what was happening in the nursery when my little one was supposed to be napping. But monitors like this are great for:
Giving kids some autonomy while still keeping an eye on them.
Getting projects done in another room of the house while still supervising children.
Keeping an eye on bedtime (do your kids love to sneak a book instead of sleeping?) without having to be in the same room.
Monitoring an "off limits" area of the house
Peace of mind when you can't be in two places at once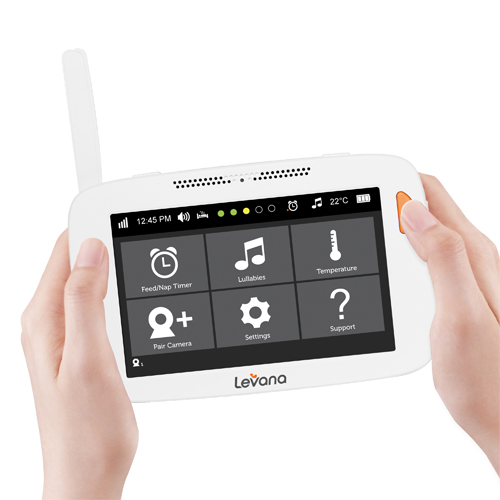 The Shiloh™ doesn't record images. The wireless camera streams video to the touch-screen monitor using a secure encrypted signal. It also transmits sound and temperature information (great if certain rooms of the house get cold/warm easily!). You can use the monitor to speak to your child as well, by pressing a button on the monitor.
The screen can be plugged in, but once charged you can unplug it and move it to another room of the house! This was great for me, because once it was time to make dinner, I could carry the monitor from my sewing room to the kitchen, and still keep an eye on the kids. And, you can set up multiple cameras throughout the house if you like, to keep constant tabs on your little ones.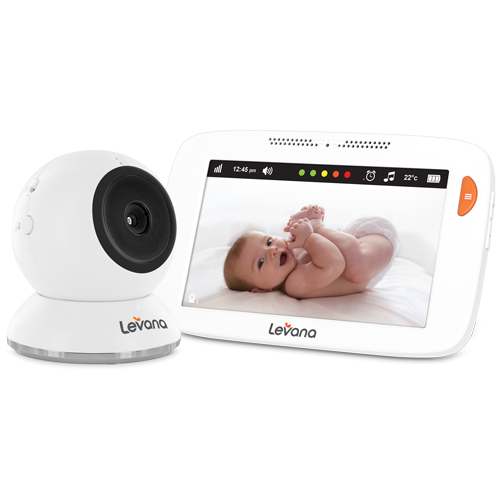 I have to share how easy the set up was! I plugged in the video unit, and set it up on top of the china hutch. Then I plugged in the screen. The two synched automatically, and in just a few minutes, I had eyes in the back of my head!
The only problem that I had was that we live in an older house, with very thick walls. I did get some signal loss when the monitor was transmitting a signal that had to travel through 5 walls. But once I moved the monitor to the other side of the room, so the signal wasn't diagonally going through so many walls, I didn't have that issue anymore.
If you'd like to purchase this system click the button below. Or, you can check out other great Monitors by Levana.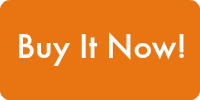 This is a sponsored conversation written by me on behalf of Levana. The opinions and text are all mine.