This Blinged Stapler is the perfect gift for an office-mate, or anyone who likes things sparkly. Though, who doesn't love a sparkly stapler, right? This could make a great Mother's Day Gift, Office Professionals Day Gift, or you can make one yourself… because we could all use a little more sparkle in our lives! Want to learn how to make this blinged stapler? Let me show you…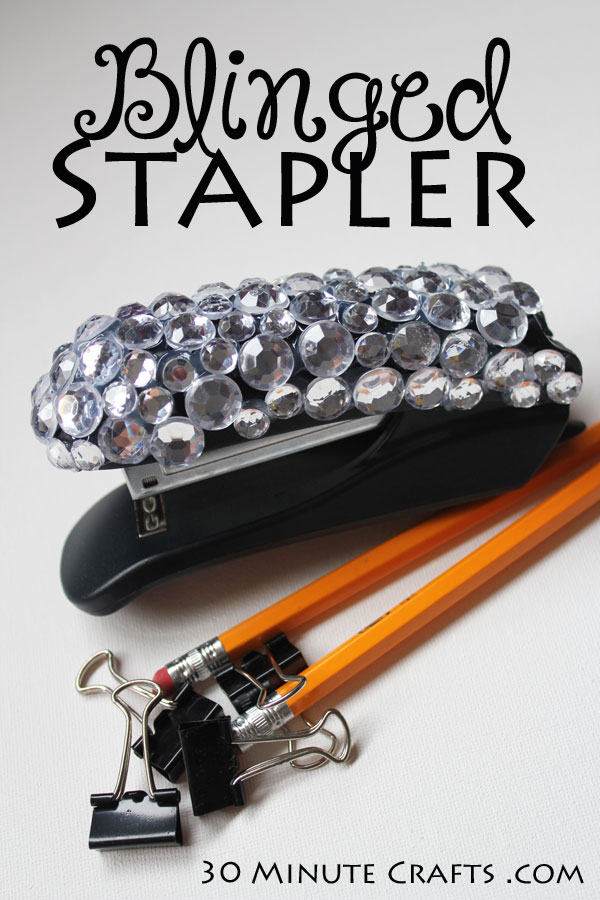 Supplies for Blinged Stapler (this post contains some affiliate links, which help support this site at no extra cost to you):
Crystals
Hot Glue
Stapler
When you buy your crystals, consider what kind of crystals you'd like for your Blinged Stapler – I used a variety pack with several sizes of round silver flat-backed crystals. You can add more interest by using multi-colored crystals or even crystals in different shapes. This fun project can get very funky when you add different colors! And if you're going to add some quirky office supplies to your desk, you can control the level of quirkyness you want!
To show you how the crystals are placed, I've made this super short video. Watch it once, and you'll know how to make your own. If you're worried about glue-gun burns, or the glue cools too quickly, you can use a liquid adhesive designed for multi-media projects, like Aleene's Max Tacky Adhesive. You might need to work in sections, and let the glue dry before starting a new section.
Blinged Stapler Video