I've found that half of sewing is having the right supplies handy. Which is more of a challenge than I'd like to admit! Most moms, even those who don't love to sew, find they need some sewing supplies handy every now and then – for fixing hems, sewing on buttons, or adding patches to scout uniforms. And for moms who love to sew – we like having a nice portable sewing kit ready to go with our favorite supplies. This Simple DIY Sewing Box is the perfect Mother's Day gift for just about any mom.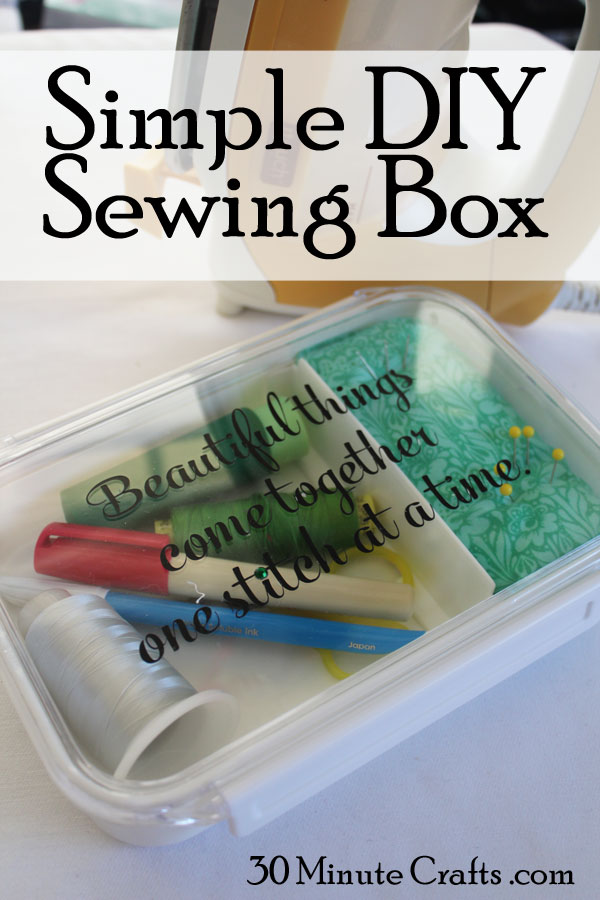 We're gearing up for Mother's Day here, and with my friends Angie from The Country Chic Cottage and Adrianne from Happy Hour Projects, we're sharing fast crafts for Mother's Day all week long. Angie, Adrianne, and I will be sharing a 15-minute-or-less craft perfect for Mother's Day every day this week. And we've invited our crafty friends to join in. Be sure to scroll down to the bottom of the page to check out the fun projects they came up with!
I'm excited to share this sewing box. I remember making a pin cushion for my mom for Mother's Day, and I think this is a fun and updated version. This sewing box is perfect to take along for hand sewing projects – I've already put mine to good use!
To make your Simple DIY Sewing Box, you'll need:
Plastic box with lid – this is a lunch box from Daiso
Small piece of fabric
1″ Craft Foam
Hot Glue
Scissors
Vinyl or other way to decorate the lid
Adhesive crystal (optional)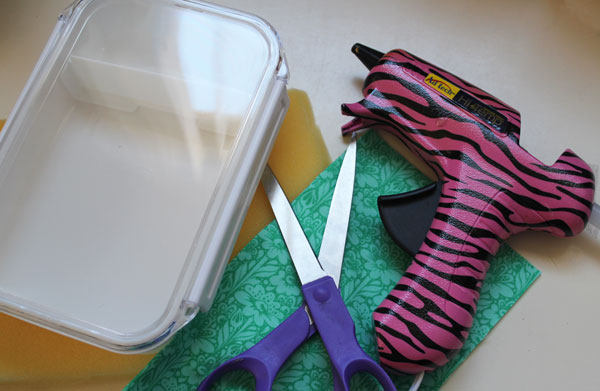 Cut the foam the width of the box. Roll up, and cut to length. Secure with hot glue.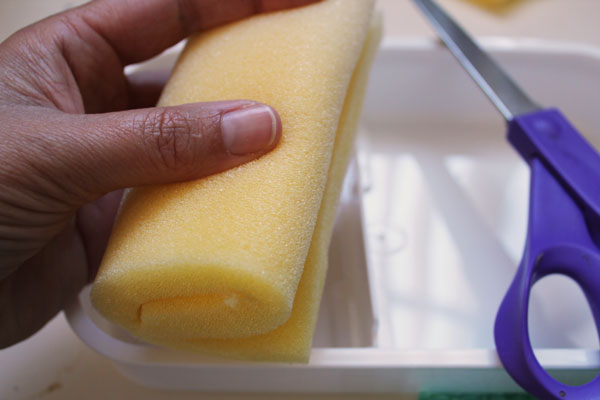 Wrap foam with fabric. Secure in place with hot glue.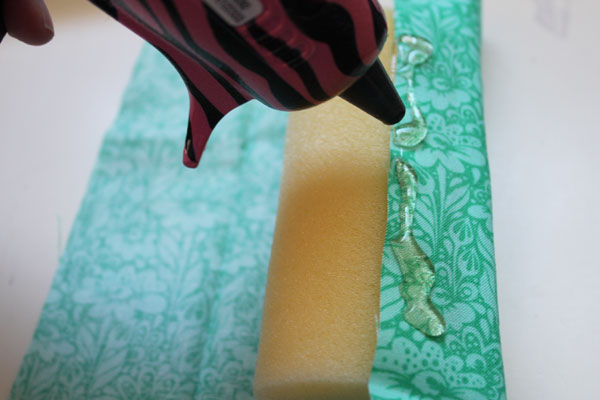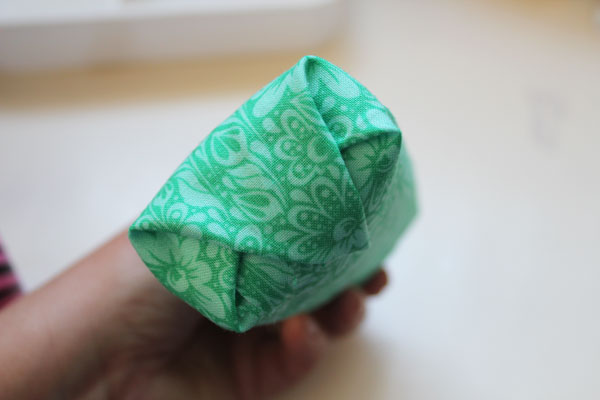 Glue foam on one end of the box. This is the pin cushion.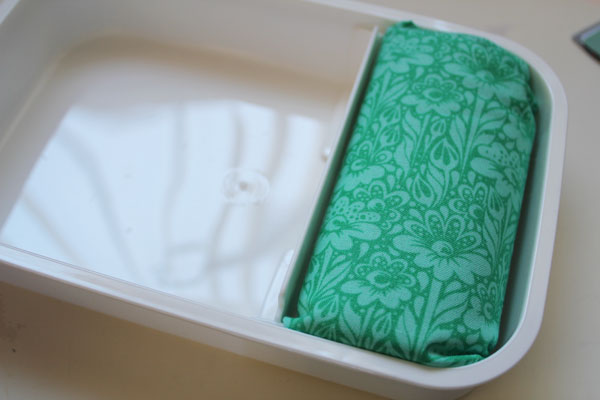 Decorate the lid. I used a vinyl saying, and added a crystal for a little sparkle.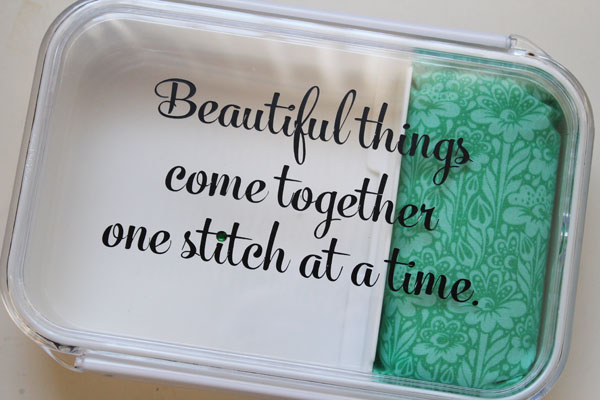 Add your sewing supplies – pins, needles, thread, marking pens… all the notions you want handy when you're sewing!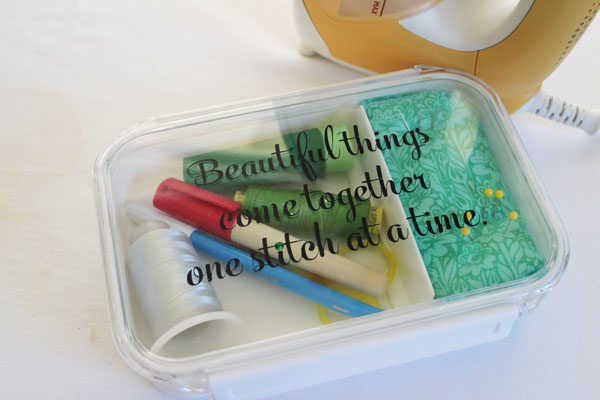 Looking for other fun and fast Mother's Day craft ideas? Check out these projects:
These color blocked flower pots from Sisters What are super cute, and would be fun to make!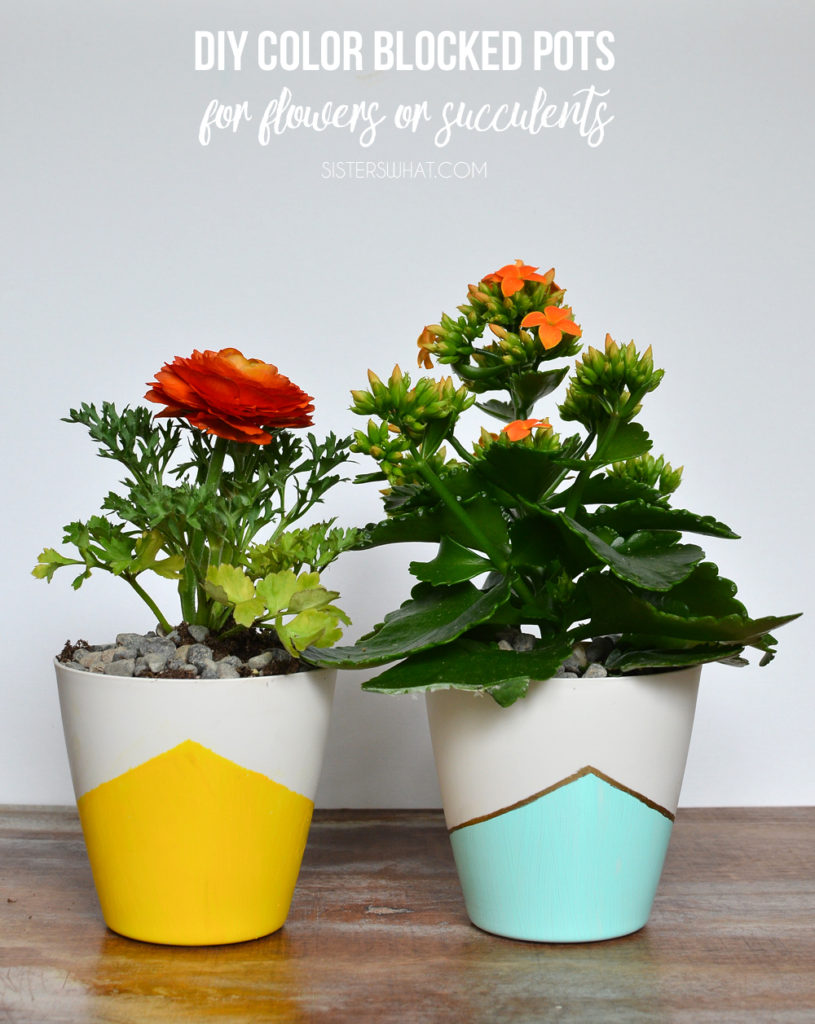 At Yesterday on Tuesday you'll get all the details for this Modern Farmhouse Magnet Board – a great way for mom to keep important papers (or cute photos) all in one place!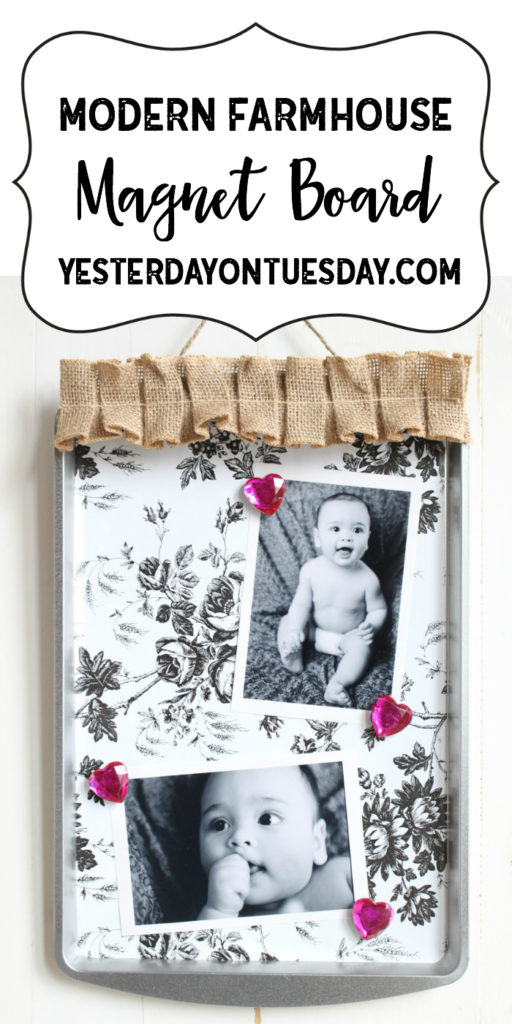 Give Mom a little fairy magic this Mother's Day with this Fairy Lantern from Tried and True.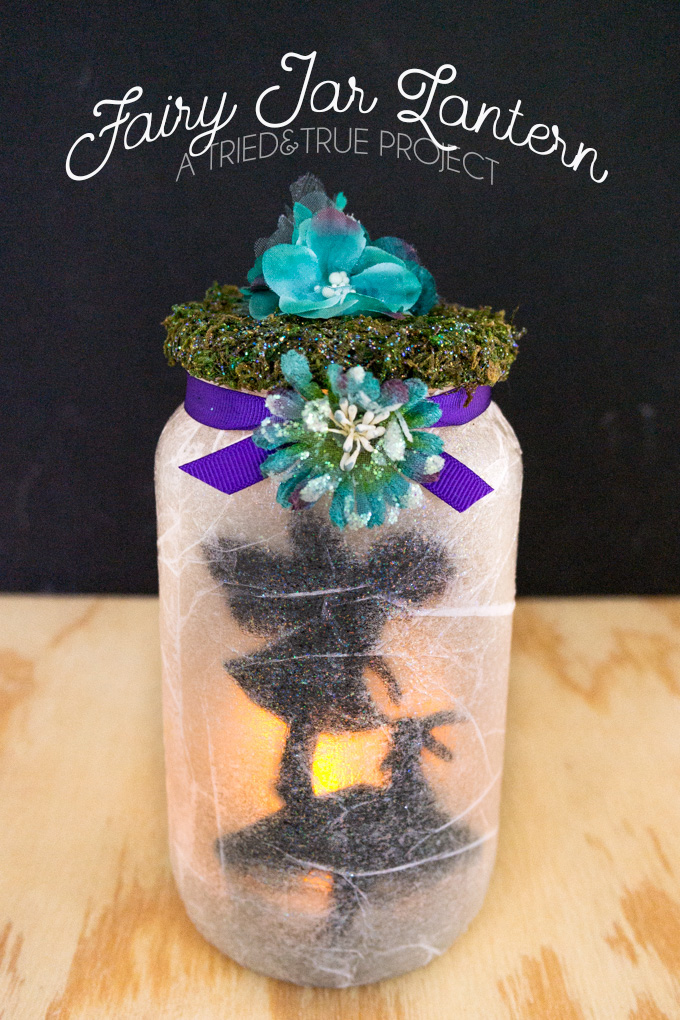 If you're looking for a unique way to wrap a gift, Beth Watson shows you how to upcycle book pages for elegant wrapping.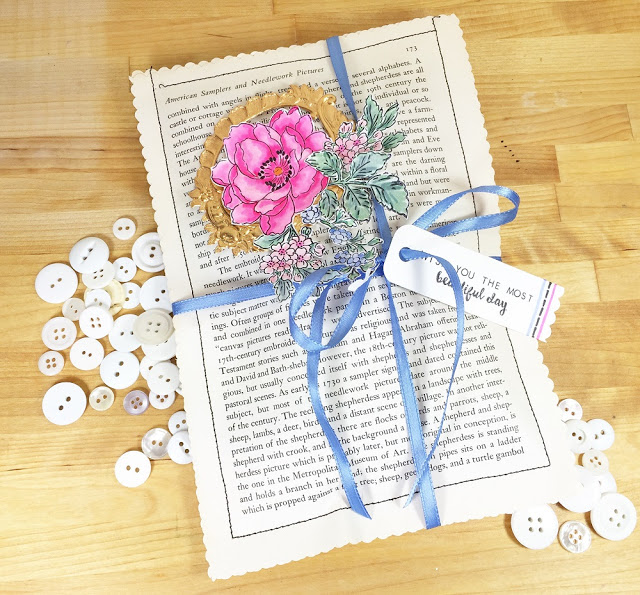 Mom's old keyring might look a bit ragged… make her a new custom key chain with this tutorial from Artsy Fartsy Mama.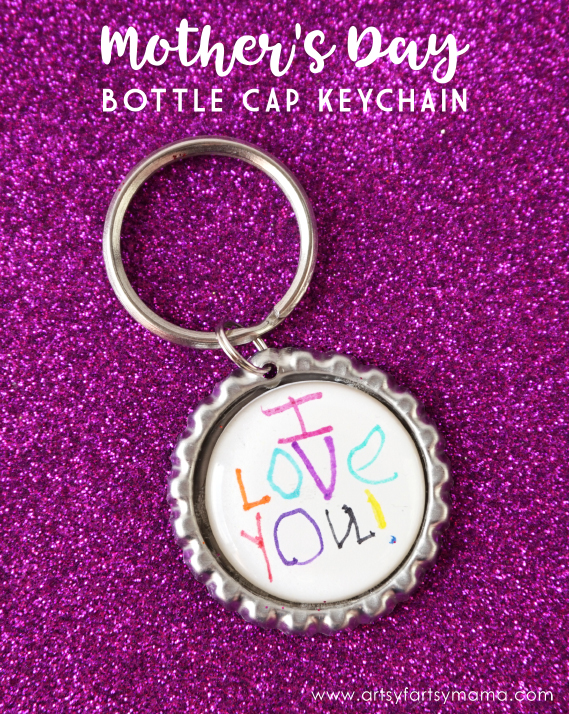 Does your mom need an excuse to relax? Gift her these Bath Melts you made yourself with the instructions from Everyday Party Magazine.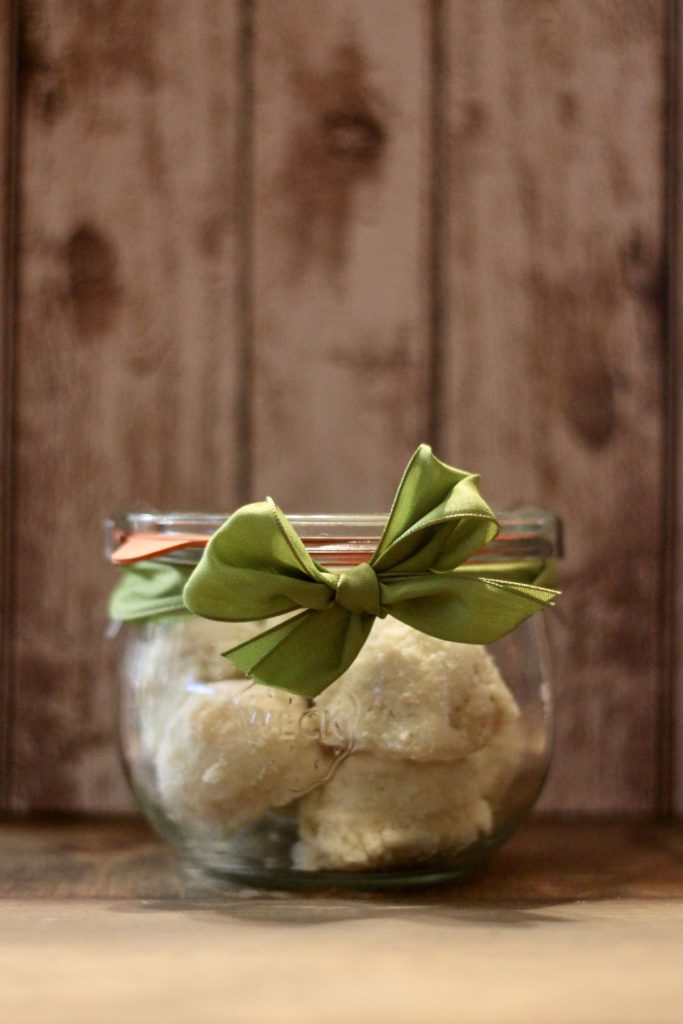 Come back tomorrow for more fast and easy ways to show mom that she is special!