Hoop Art is simple to make, and a great craft for teens, tweens, and anyone with some spare time for crafting. You don't need expensive supplies or fancy equipment to make this Patriotic Star Hoop Art, and an experienced stitcher can whip one up in 15 minutes! Even less experienced stitchers will be able to create their own Patriotic Star Hoop Art in a short time – and you don't need lots of practice to make it look great!
This project is part of Craft Lightning week! This week, my long-time Craft Lightning co-host Angie from The Country Chic Cottage, and this week's guest co-host, Laura from me and my Inklings, are whipping up Patriotic crafts in 15 minutes or less. And we've invited our craftiest friends from across the internet to join in! Be sure to scroll down to the bottom of this page to check out all their fast and fun patriotic projects.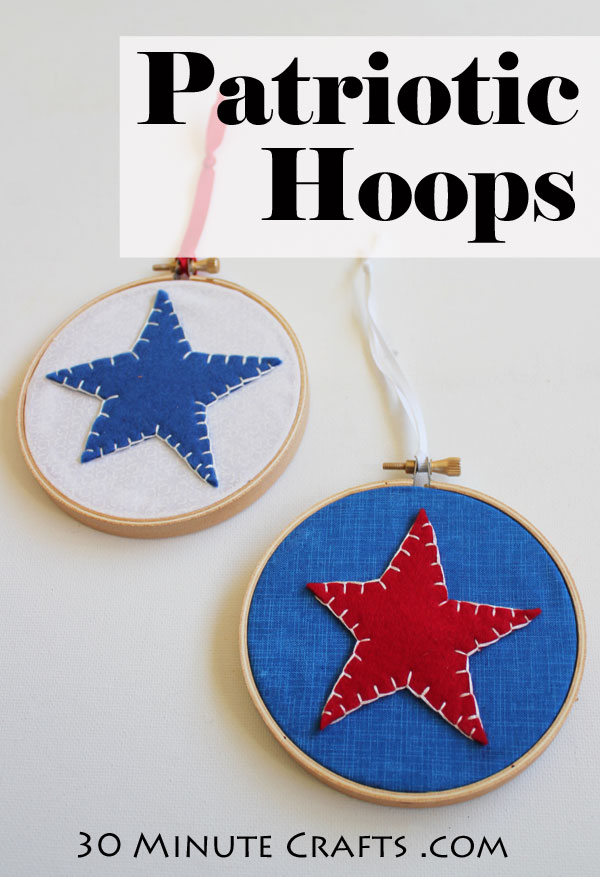 To make these patriotic hoops, you'll need:
4″ wooden embroidery hoops
Squares of felt
Cotton fabric
Embroidery Floss
Embroidery needle
Ribbon
Scissors
School Glue or Hot Glue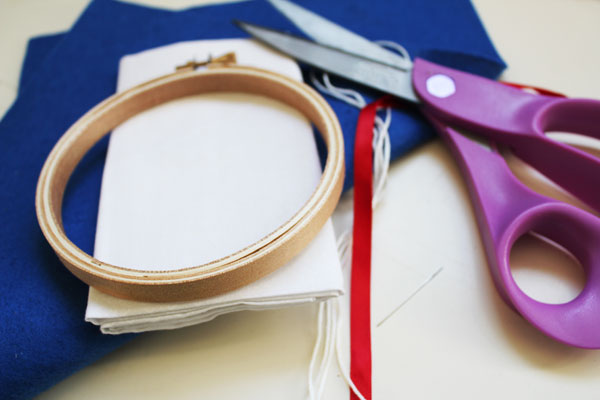 Hoop the fabric. Trim it down to a manageable size.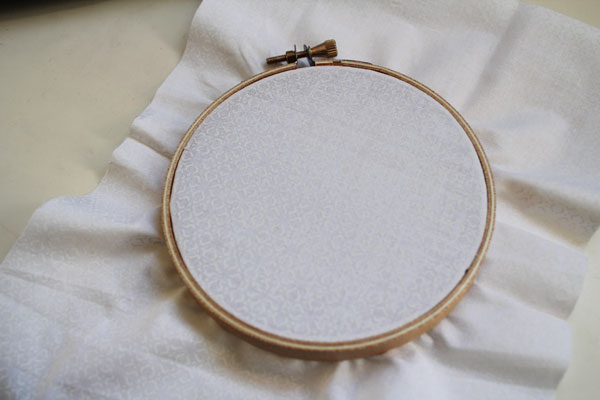 Cut the felt to the size of the hoop.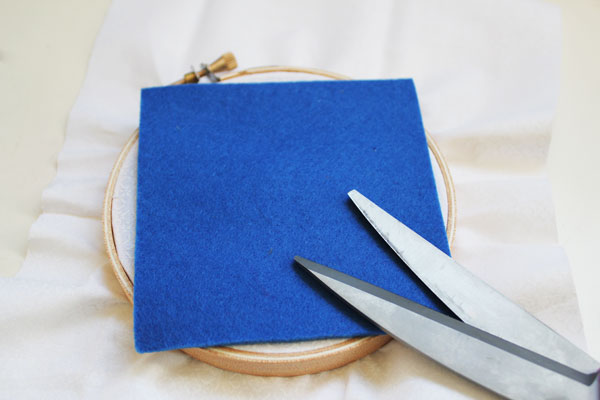 Cut the felt into a star shape. If you want something exact and less rustic, feel free to trace a star-shaped cookie cutter, or use a stencil.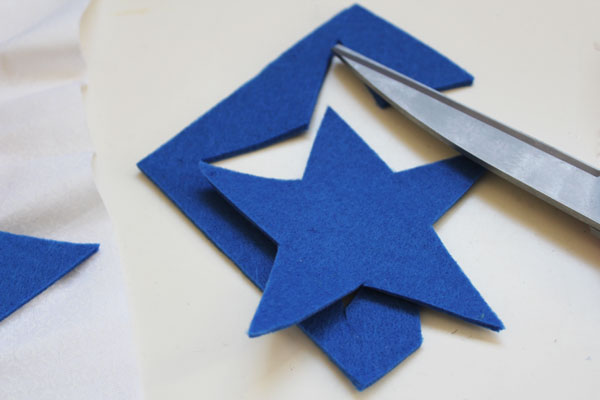 Split the embroidery floss so that you're using just 3 strands instead of all 6. Thread the needle. Tie a knot at the end. Start the needle up from the back, right next to the felt. Cross over the felt and stitch in.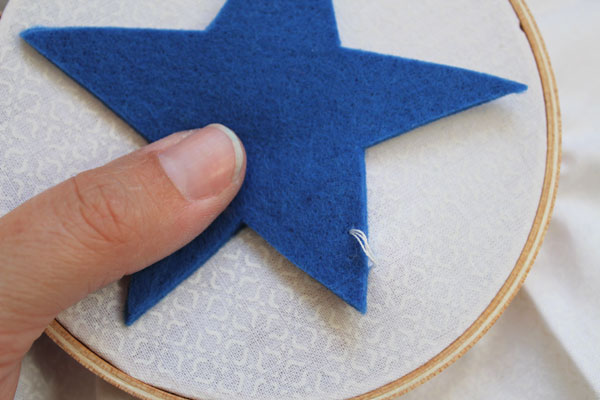 Bring the needle back up next to the felt, catching the loop. Then take another stitch into the felt.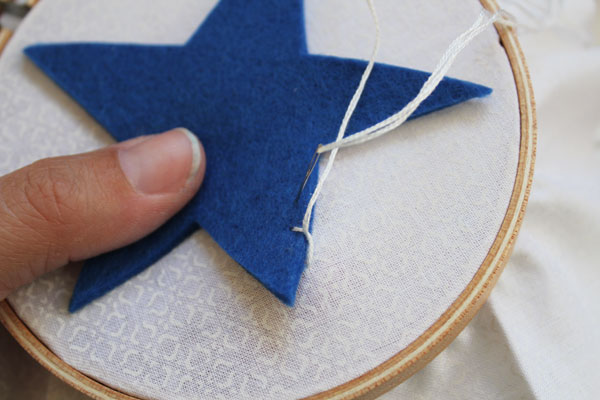 Go all the way around the star. I was able to quickly stitch around my star in about 10 minutes. Tie off the thread at the back. Then trim the fabric all the way around the hoop.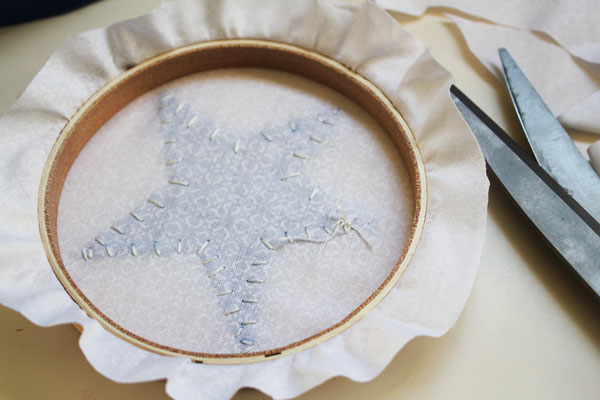 Using school glue or hot glue, glue the inside edge of the hoop.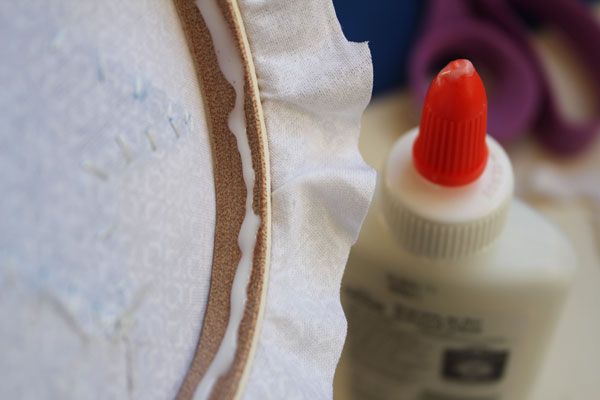 Secure the fabric to the inside of the hoop. If your fabric doesn't stick well immediately, use clothespins to secure the fabric.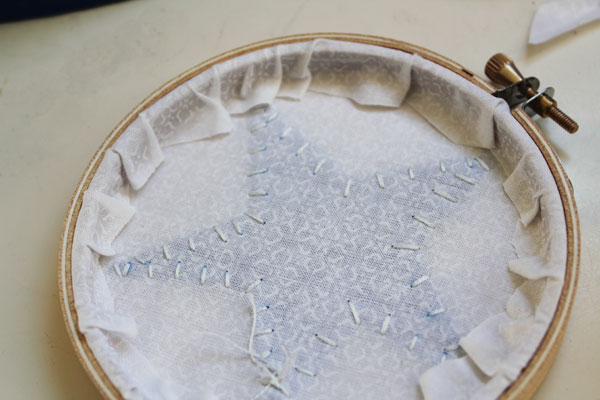 Tie ribbon to the top to hang.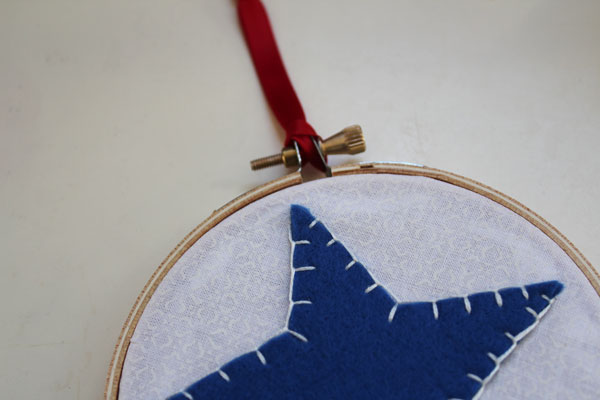 Make hoops in different patriotic colors to hang around for your 4th of July decor!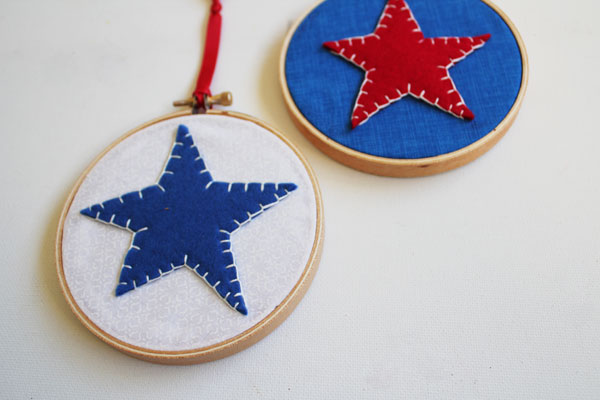 If you're looking for more fun Patriotic 4th of July crafts you can whip up in 15 minutes or less, check out these fast and fun projects:
How awesome is this Patriotic Decor by Jen Gallacher?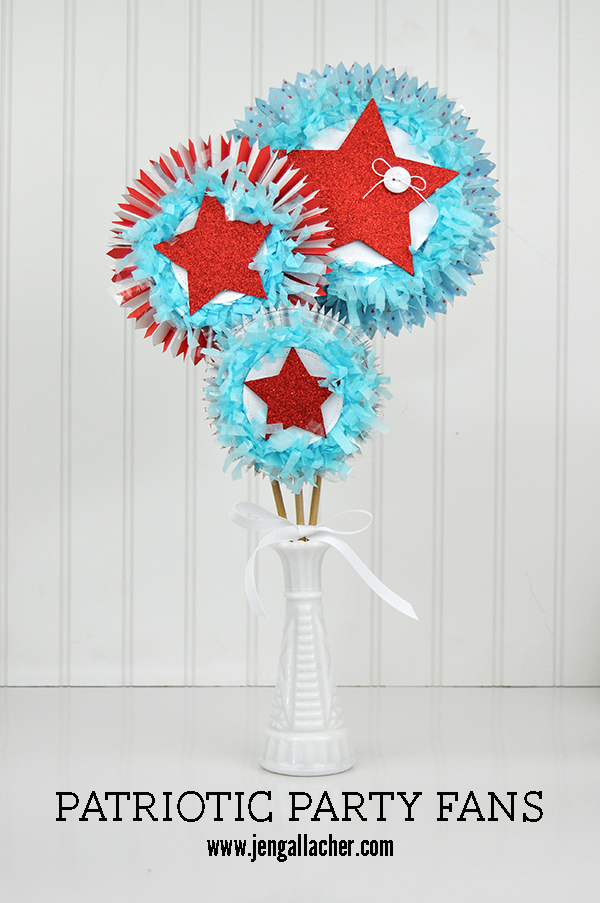 Over at Try it Like It you'll learn how to whip up some simple Patriotic Bracelets.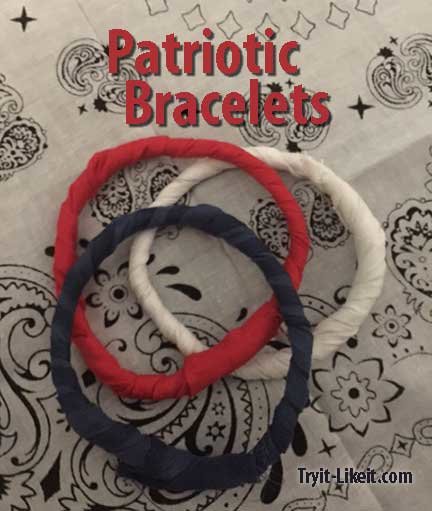 Jessica at Cutesy Crafts shows us that some of the most fun crafts aren't difficult or time consuming – like this fun doily table runner!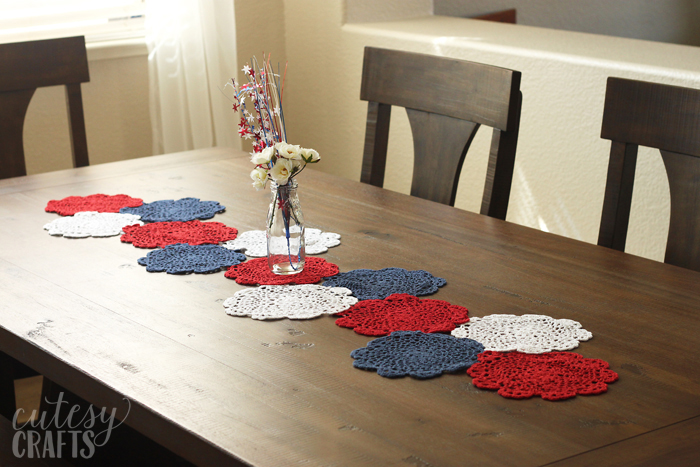 Michelle at Michelle James Designs shows you how to transform ordinary glassware into fun patriotic drinkware.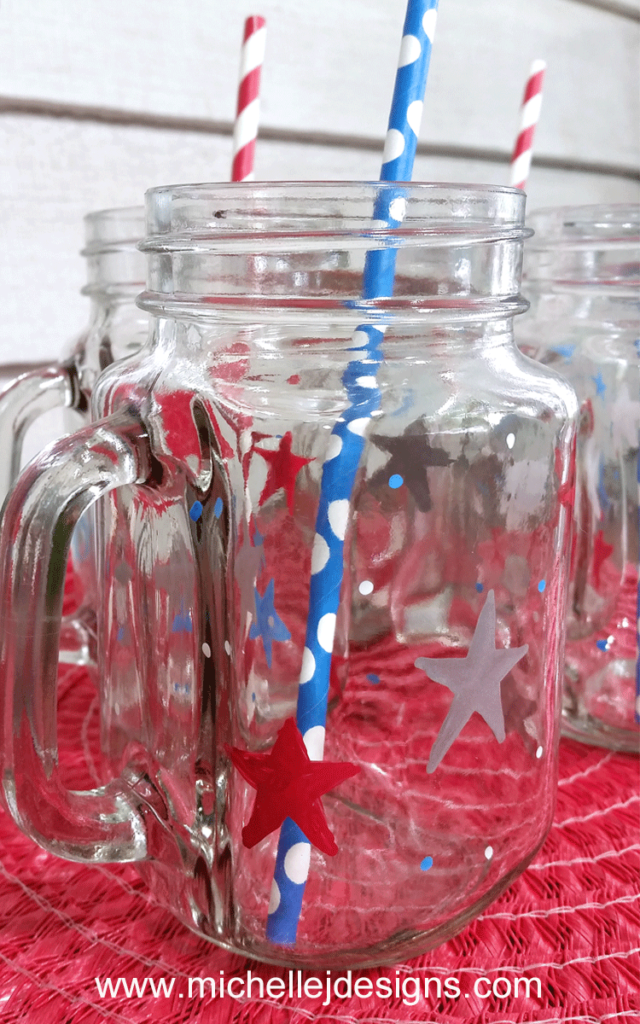 These classic frozen treats have been given a transformation over at Happiness is Homemade – she made Bomb Pop Soaps!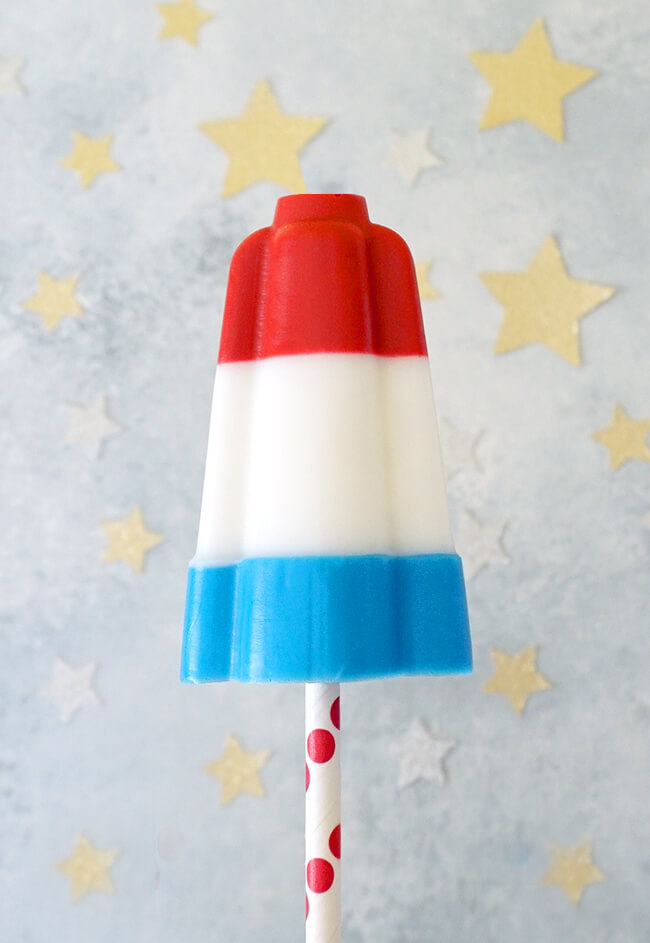 This paint stick flag was created by Kreative in Life – I love the touch of the hand print!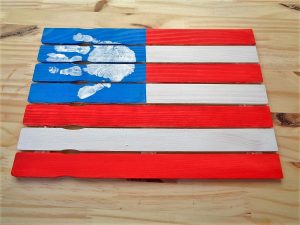 Make this 4th extra photo-worthy with this patriotic backdrop from Swordfights and Starry Nights!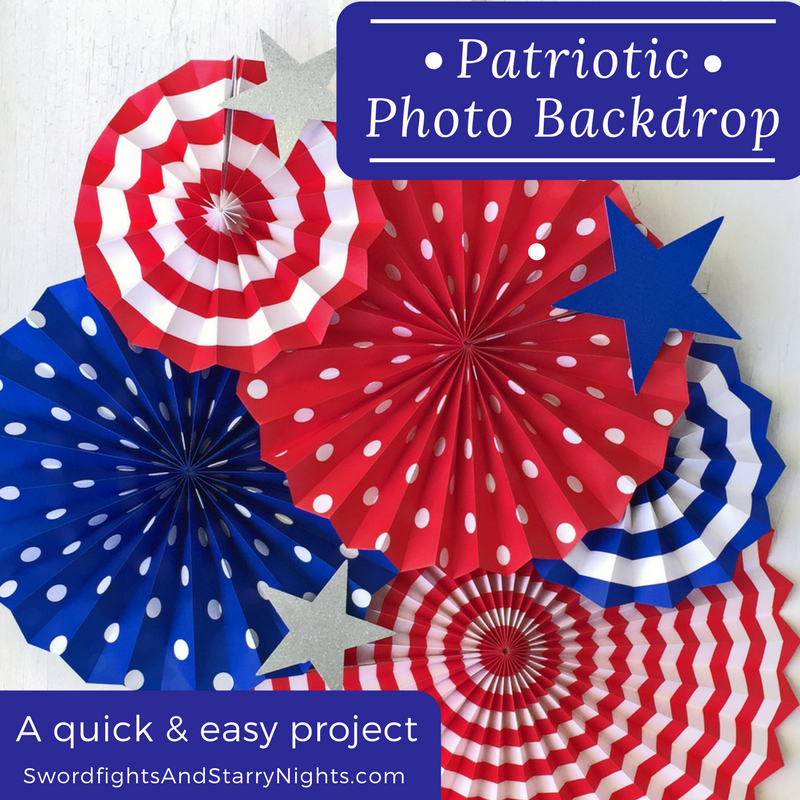 Be sure to check back tomorrow for more fast and fun patriotic crafts – I'll be sharing them all week long!!
Save