My boys have grown up loving the Lightning McQueen, and all the Cars characters that create the movies. Mater, Sally, Doc, Luigi, Guido, Miles Axlerod, Professor Z, Finn McMissile, Holly Shiftwell, and so many more! To celebrate the new Cars 3, I created this fun Cars 3 craft – a License Plate Bracelet inspired by Miss Fritter. She is a Thunder Hollow Speedway Legend – a schoolbus weilding a stop sign blade, and wearing a collection of license plates commemorating former victims.
Recently, my 8 year old and I were invited to the "Road to the Races" tour here in San Diego. Lightning McQueen and his friends are going on a cross-country tour to celebrate the new Cars 3 movie that will be in theaters starting June 16th. We got to see a short clip from the movie that featured Miss Fritter, as well as see Lightning himself, and make some fun Cars themed crafts. Scroll all the way down to check out photos from the event.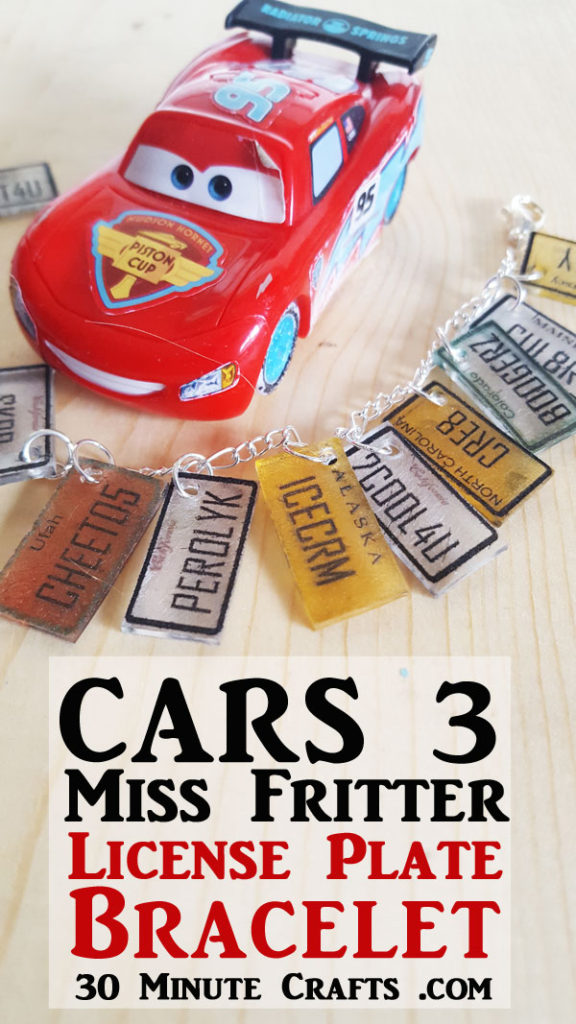 To make the Cars 3 Craft: Miss Fritter inspired License Plate Charm Bracelet, you'll need:
License Plate Printable
Shrinky Dinks (printable kind is best)
Oven/pan/brown paper bag for baking Shrinky Dinks
Scissors
Hole Punch
Clear Nail Polish
Jewelry chain
Clasp
Jump Rings
Jewelry Pliers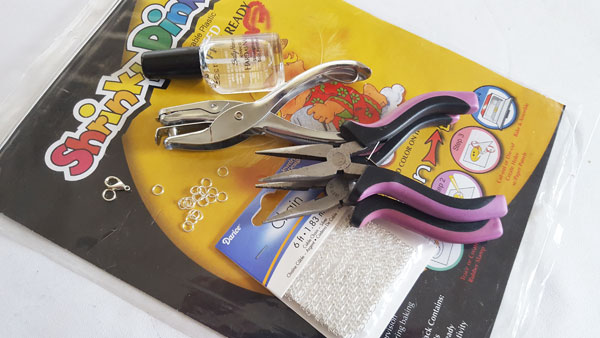 Print the license plates onto the shrinky dink material.
A huge thanks to family and friends for helping me come up with the Vanity Plates for this project. Shout outs to Frits, Heather, Keri, Rebecka, Christie, Noah, Jasmine, Francina, Neil, Stacie, and Catherine!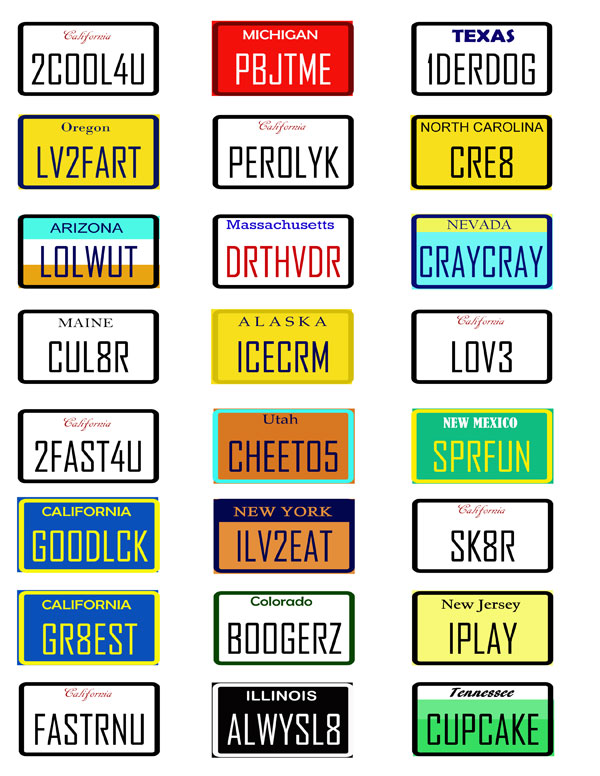 Don't worry if it bleeds a little – remember that the final version is 1/3 this size, and it will look fine. Also, we'll be trimming the edges in the next step.
If you don't have shrink plastic, you can print these license plates at 30% on paper, and use resin like I did in my resin jewelry.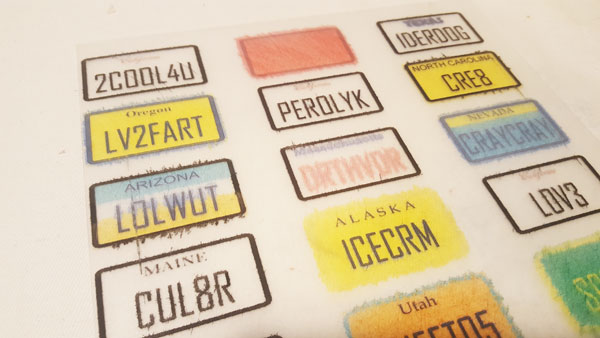 Trim the license plates with scissors. Try not to touch the ink if you can, it can stay wet for quite a while, even when it looks dry. Use a hole punch to punch a hole in each. The holes don't all have to be in the upper left hand corner – you can do some on the right, and some on the bottom, depending on where it fits best.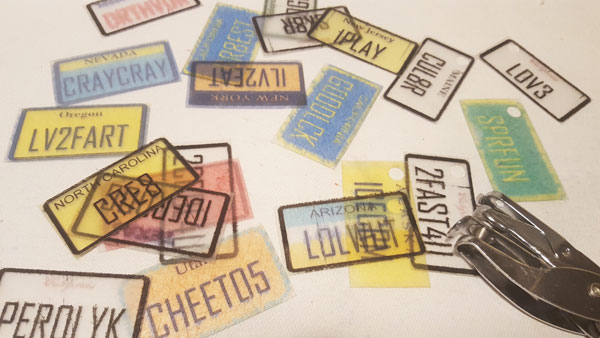 Bake according to the Shrinky Dink instructions. To keep the ink from smearing if the bracelet gets damp, seal in the ink side. My favorite way to do this is with clear nail polish. If you think the bracelet is going to get a lot of wear, add a second coat.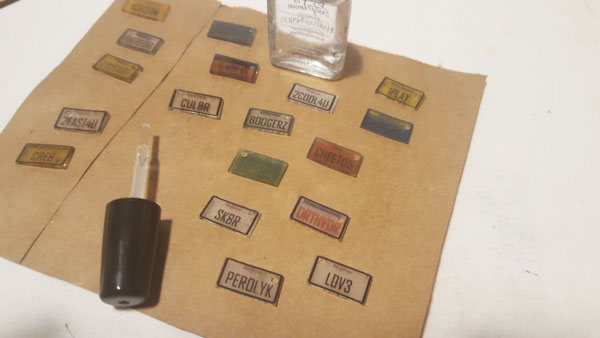 Measure the chain for your bracelet, and cut to length.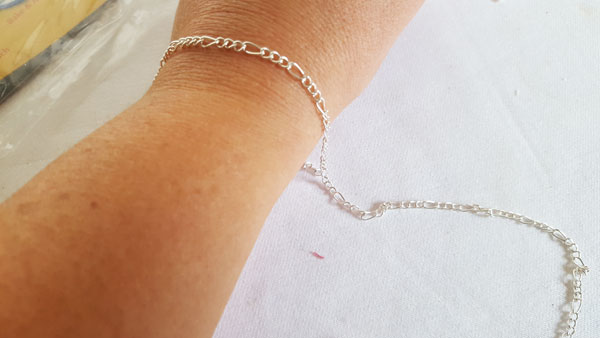 Add a clasp on one end, and jump ring on the other.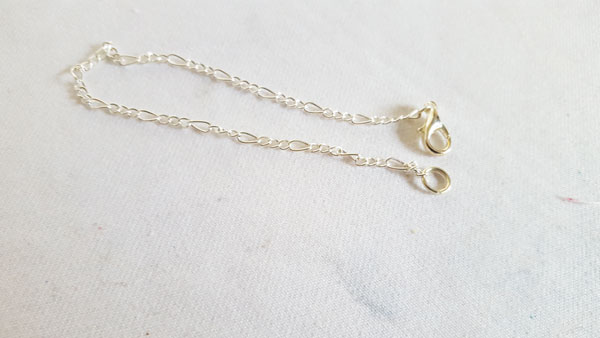 Lay out your license plates to determine an order, and to see how far apart to space them. I'm putting mine on the large links in this chain so they will be evenly spaced.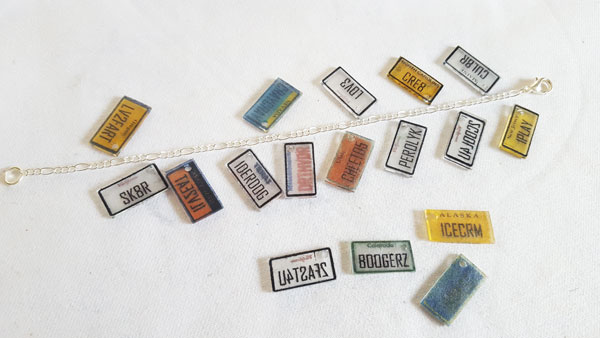 Use the jump rings to attach the license plates.
Once you have them all added, your bracelet is ready to wear! I love the noise the plates make when they tap against each other… makes it feel so authentic!
Enjoy wearing your bracelet… maybe on the 16th to the opening of Cars 3?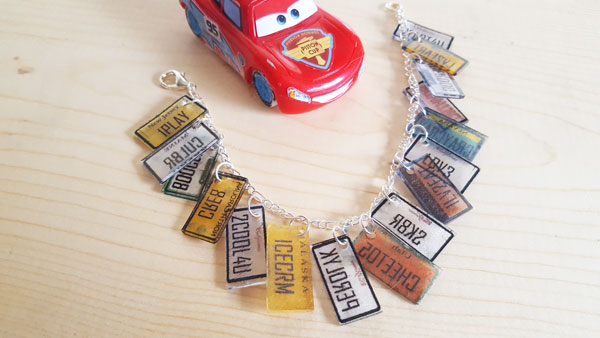 Here are some photos of the fun we had at the Road to the Races event in Belmont Park!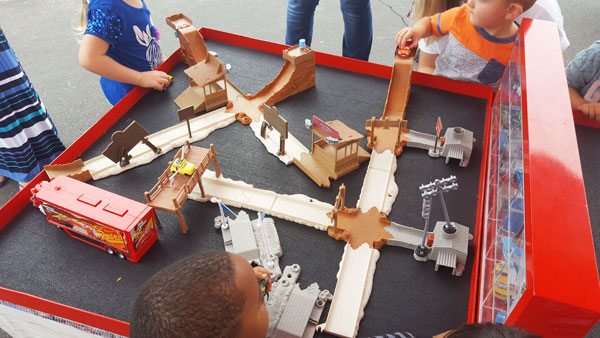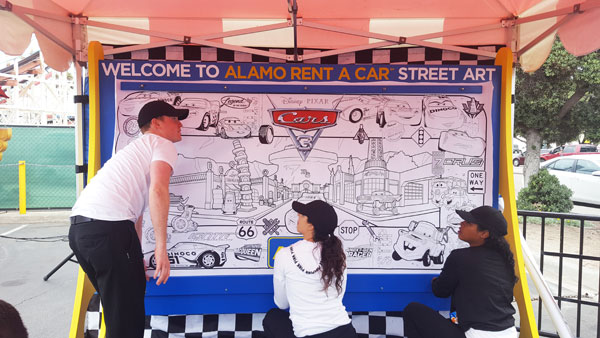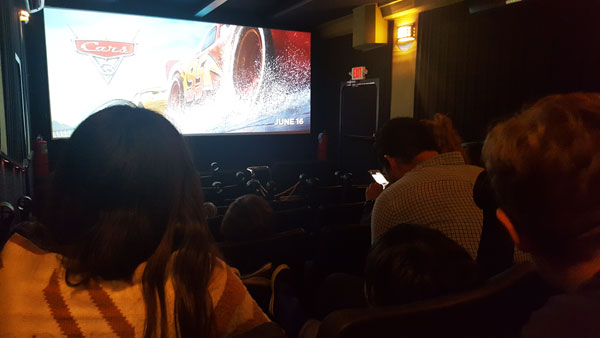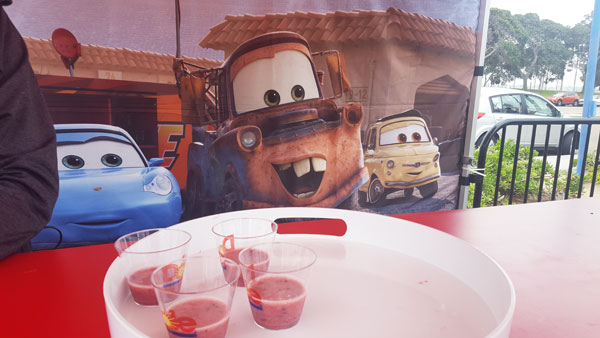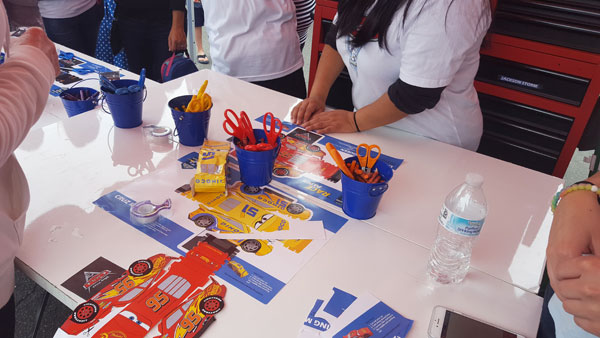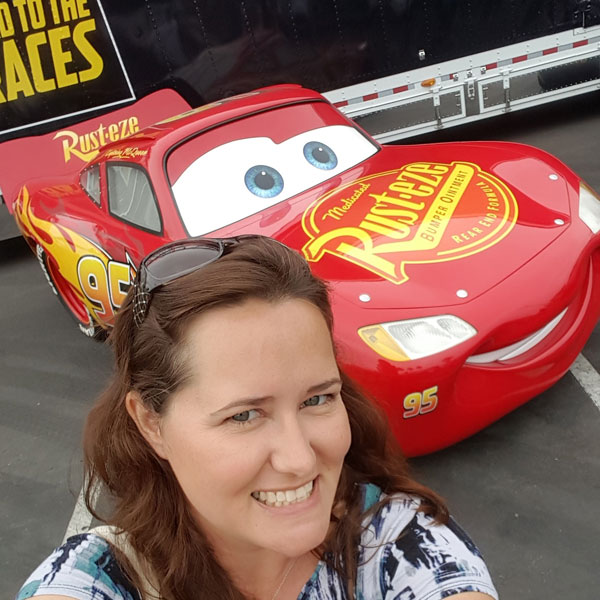 Save