When I found this simple metal flask in the dollar spot at Target, I knew it had to come home with me! I really regret not putting all the flasks in my cart, because for $5 a flask, I'm sure I could find lots of occasions to craft up some cute flasks! Alas, I only purchased one, but I had fun turning it into a sparkly masterpiece.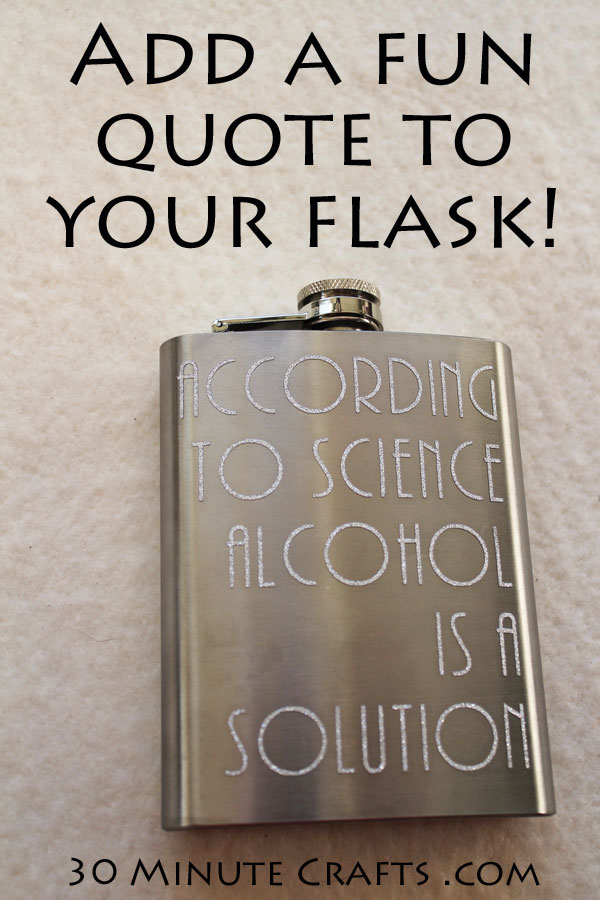 This post contains affiliate links which help support this site at no cost to you.
To make your own fun quote flask, you can find a flask for only a little more than I bought mine for on Amazon. If you're looking to make several, you can buy flasks in bulk for a better price.
I also used Silver Adhesive vinyl from Cricut. This gives the subtle tone-on-tone look I was going for. You can use whatever vinyl you like to add your quote.
To make the flask, I typed the quote into Cricut Design Space, cut it out on the Cricut, weeded the vinyl, then secured it in place while using transfer tape. If you'd like to use the file I already created, you can grab it here.
I used the Cricut BrightPad that Cricut sent me to help with the weeding of the vinyl. Watch the video below to see how it is done. If you want a BrightPad of your own, get the Cricut BrightPad on the Cricut Website or the Cricut BrightPad on Amazon.
I think the quote "According to science, alcohol is a solution" is pretty much my favorite quote ever for putting on a flask. Because, really. And making this flask is super simple!