Last spring, my big mouth and I got ourselves put in charge of the Book Fair. I didn't have a lot of time to plan out cute decorations, so I grabbed some of the old Book Fair flyers and made a Book Fair Flyer Pouf. Actually, I made a LOT of Book Fair Flyer Poufs to decorate the front of the school. If you're in charge of decorating the Book Fair, and you're looking for a cheap and easy way to catch the attention of parents and kids, try making a Book Fair Flyer Pouf. The Book Fair flyers are iconic, and lining the walkway at the front of the school that kids and parents use to come and go from the school is an easy reminder for them to come visit the Book Fair!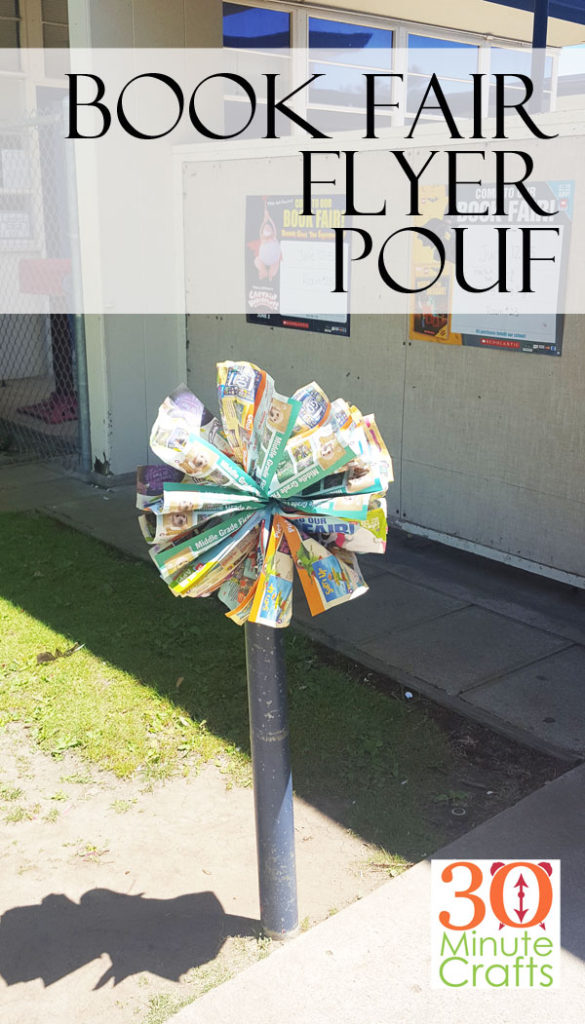 To make the Book Fair Pouf, you'll need
Old Book Fair flyers (don't use current ones – you want to pass those out!)
Pipe Cleaners
Scissors
String
I knew I wanted a quick and easy, but bold way to grab the attention of students and parents as they came and went from the school. When I saw a full case of old Book Fair flyers sitting in the office, I knew that this would be perfect!
How to make your Book Fair Flyer Pouf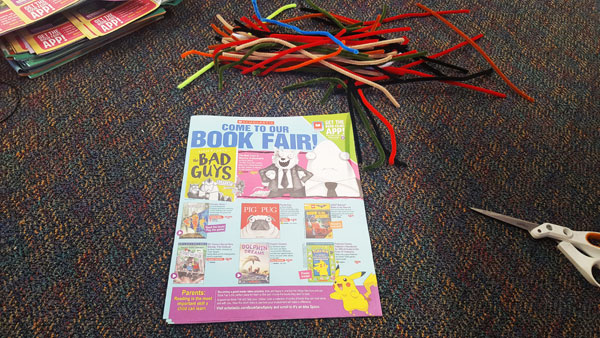 The flyers come in stacks of 10. Keep these stacks together. Open up one stack, and start folding up from the bottom. Your first fold should be about 1 1/2″, but don't worry about perfection.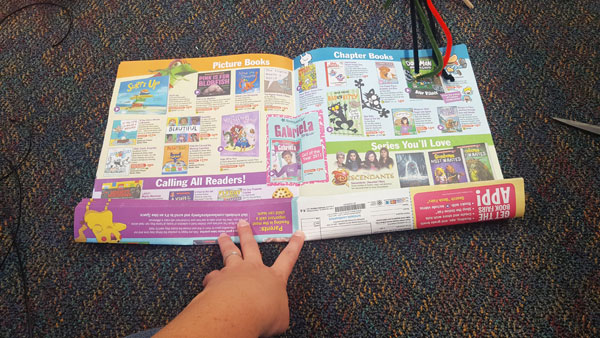 Fold back-and-forth, like you're folding up a fan.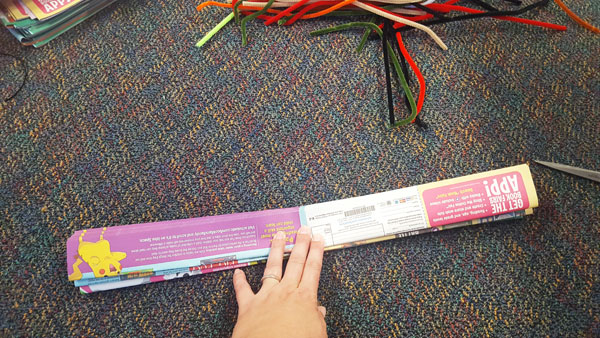 Cut a notch on each side of the middle. You don't need to go deep, 1/4″-1/2″ is just fine.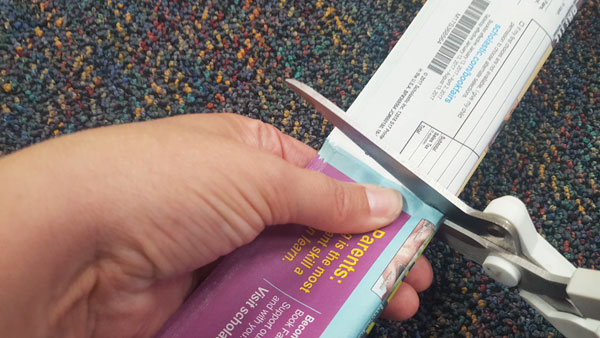 Wrap your pipe cleaner (I think the "modern" term is chenille stem… but I still call them pipe cleaners) around the center, into the notches. Twist tight.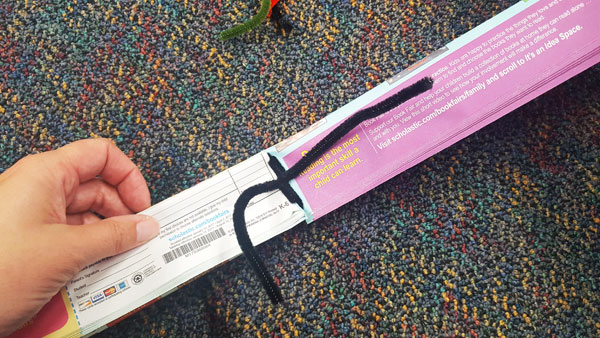 Add a length of your string, then twist a little more to secure. Make sure the string is long enough to tie your pouf wherever you will need it.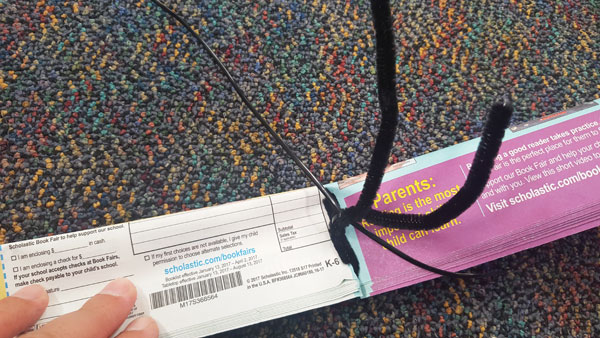 Start peeling up the flyers, one by one, to fluff up the pouf. Start with one side, then do the other.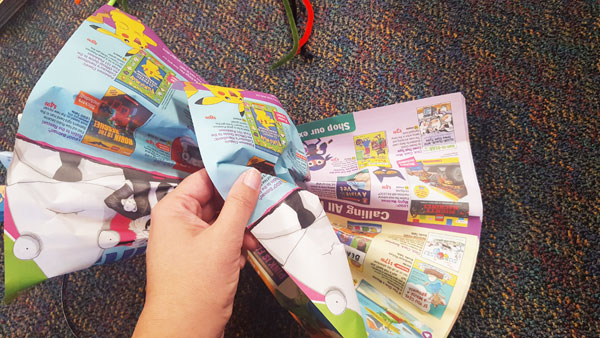 Your pouf is complete!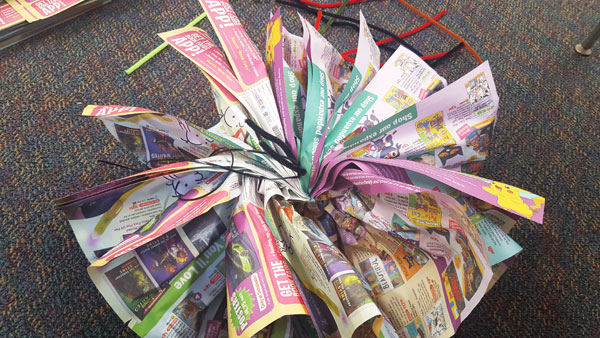 Make several, and hang them up in front of the school!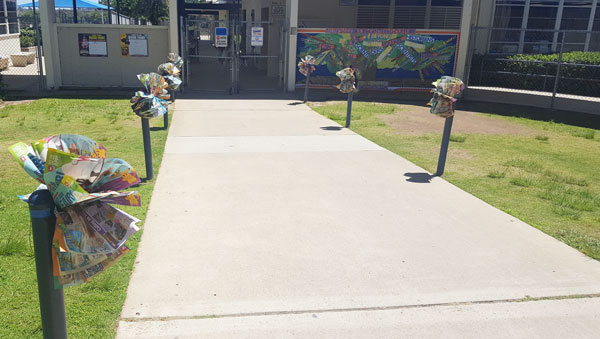 A quick tip: You can make these at home ahead of time, but wait until you get to the school to fluff them. Once they are fluffed they take up a LOT of space in the car!
As I was hanging up these poufs in front of our school, the office staff enjoyed looking from the windows. The book fair flyer poufs were such a great conversation piece! And, with our book fair tucked away in the back corner of the school, having the flyer poufs out front was a simple (and decorative) reminder to the students and their parents that the book fair was open. I will absolutely be making more of these poufs for future Book Fairs!