Did you know that you can turn any pair of socks into no-slip socks by using hot glue? It is incredibly easy to DIY No-slip socks in just a few minutes! In fact, Hot Glue can be used as a substitute for a non-slip surface in a lot of different ways. Add dots or stripes of hot glue to a purse strap that keeps falling off of your shoulder to help keep it in place, similar to the way I will show you how to add hot glue to the bottom of these socks.
This project is part of Craft Lightning Week. You may be familiar with Craft Lightning Weeks in the past – Angie from the Country Chic Cottage and I share crafts on a theme that can be made in 15 minutes or less, and we invite our friends to join in. This week is extra-special as we are also celebrating the launch of our new book, "Hot Glue Hacks and Crafts." All week long we'll be sharing fast and fun crafts that can be made with Hot Glue, and sharing some thoughts about the book! Be sure to scroll all the way down to check out all of this week's fantastic Hot Glue projects, and be sure to buy your copy of Hot Glue Hacks and Crafts from your favorite bookseller!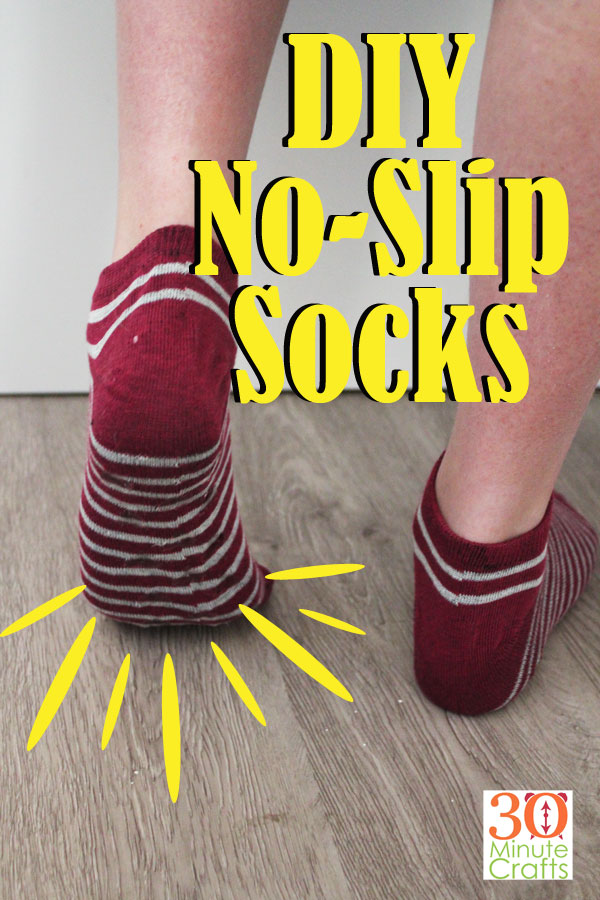 Supplies:
Socks
Hot Glue
Hot Glue Gun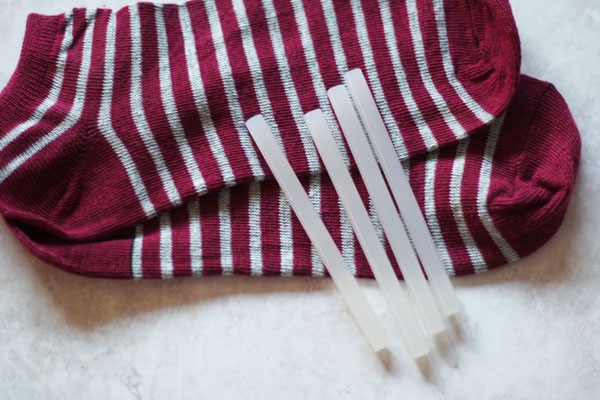 Lay out the sock so that the sole of the sock is facing up. Heat up your hot glue gun. You will most likely want to use standard, or "clear" (sometimes they are slightly white) hot glue sticks. If you want to add some fun, you can use glitter glue sticks. While colored hot glue will work as well, colored hot glue often sets much harder (less flexible) when cool, and may be less comfortable to walk on.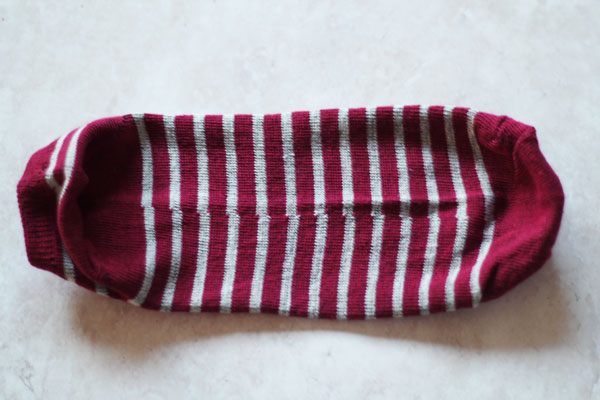 Use the hot glue to draw designs on the bottom of the sock. I used hearts – you can use wavy lines or stars or dots or circles – anything you like. The trick is that you don't want large globs of hot glue. You want to keep your hot glue low-profile (not sticking up too high off of the sock).
Allow the glue to cool. While it cools, repeat this process with the second sock.
Once both socks have cooled, you have finished your oh-so-simple DIY no-slip sock! No-slip socks are great for wearing on slick surfaces like tile. They are perfect for the socks of small children or toddlers just learning to walk. And they are great for elderly or mobility-challenged adults who might lose their balance on a slippery surface.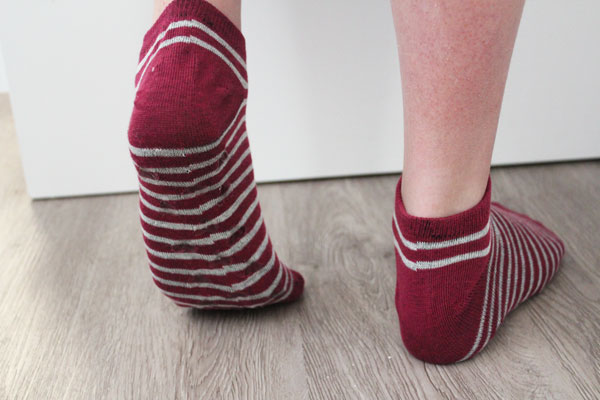 So simple, right? And the book "Hot Glue Hacks and Crafts" has 50 Hot Glue crafts that are original to the book – and none of the details of those crafts will be shared here this week! So order your book or head to the store! And if you need some fun hot glue craft ideas in the meantime, check out all these fun projects: