I'm a big fan of semi-homemade. Sure, in a perfect world we would have all the time in the world to make everything from scratch. But I don't live in a perfect world. So I do the best I can, which often means adding personal touches to store-bought items, like I did with these DIY Cat Face Cupcakes. I made them for my youngest's 6th birthday party, and they were an absolute hit. Crazy easy to make (be sure to check out my tips below), these Cat Face Cupcakes come together in just a few minutes, after swinging by your local grocery store!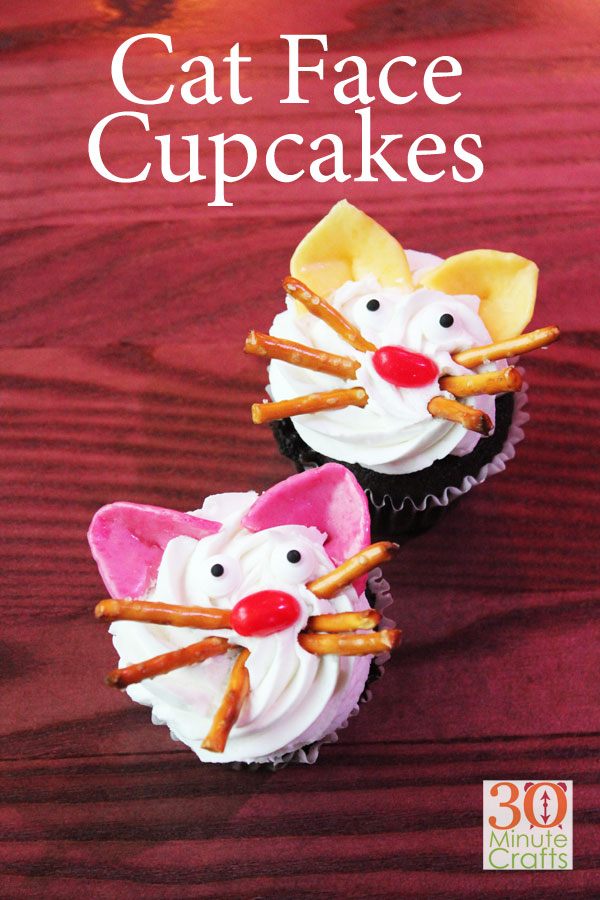 Supplies:
Pre-made, pre-frosted cupcakes
Candy Eyes
Pretzels
Jelly Beans
Starbursts
Zip-top bag (like Ziplock)
Let's start by chatting about the pre-made, pre-frosted cupcakes. You might wander into your grocer's bakery section and see ready-made cupcakes, but they all have sprinkles or decorations already on them. These are not ideal. Ask the person behind the bakery counter if they have any plain cupcakes lying around. Chances are they do! I got 6 chocolate and 6 vanilla cupcakes, all with plain white icing. Easy and done! It took them a few minutes to package them up for me, but that was all the time I needed to take a trip through the store for my other Cat Face Cupcake supplies.
The candy eyes used to be a specialty item, but you can now find them in the baking section by the sprinkles. If your store really doesn't have them for some reason, you can substitute another candy, like M&Ms.
Pretzel sticks will be the whiskers. Easy. And Jelly Bean noses – if you can find a package with lots of pinks and reds, perfect!
The Starbursts are the real star of the show here! One Starburst will become 2 ears, and here is how:
Select all of your Starburst candies (for 12 cupcakes I needed 12 Starbursts). Put them in a zip-top bag, and seal the bag. Try to remove as much air as possible from the bag. Fill a glass with hot water from the tap. Put the zip-top bag of Starbursts into the hot water. The plastic bag will keep them from getting wet, and the hot water will help to soften the candies, which will make them easier to mold.
While the Starburst candies warm up in the water, give each cupcake two eyes, a nose, and whiskers. I broke my pretzel sticks in half for the whiskers, but you can use whole ones.
At this point, the Starbursts should be a little warm. Take one out of the bag and unwrap it. Cut it on the diagonal to make two triangles. Using your fingers, stretch it out and shape it into an ear. Fold it partially in half, then insert into the frosting. Repeat with the other ear. Then repeat the process for the other 11 Cat Face Cupcakes. So simple, and no need to find fancy fondant or other cake decorating special tools!
Once you have made the cupcakes, you can store them in the fridge for up to a day. Be careful if you have a lot of moisture in your fridge, the condensation can collect on the cat ears and make them sticky. If you're worried, just make the ears and add them shortly beforehand.
And that is it! Cute, simple, and semi-homemade cat cupcakes for your cat-loving birthday boy or girl!