I love customizing birthday parties! And one of the easiest ways is by customizing the party decor – including these easy-to-make custom birthday streamers! Yes, the custom birthday streamers are put together with a sewing machine, but sewing on paper is super simple. You don't need to have any sewing experience to make these streamers!
All week long, I'll be sharing party projects you can make with your Cricut, and so are a bunch of my crafty friends! Be sure to scroll down to check out their fabulous Cricut Party Craft Ideas!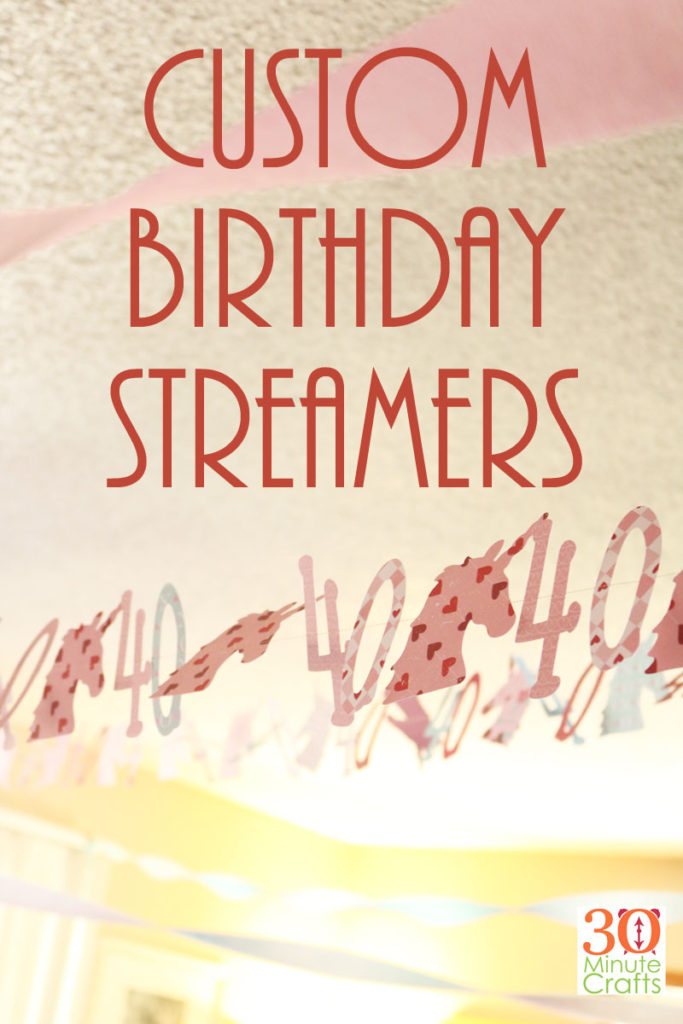 To make these birthday streamers, you'll need:
Scrapbook paper – I went with assorted pinks and aquas to go with the Party Decor
Sewing Machine with thread
Cricut Machine and mat
Cardboard tube (such as a paper towel roll or roll from Cricut Vinyl)
In Cricut Design space, pick your design. I went with the numbers 4 and 0 for this fortieth birthday party. To add interest, I looked through Cricut images and found a unicorn head that matches the unicorn theme. Since the unicorn head is a Cricut Access image, and I have Cricut Access, I get to use this image for free!
Duplicate the image until you've filled an area 11.5″ x 11.5″. That is the largest area you can cut on a 12″ x 12″ cutting mat (and on 12″ x 12″ paper). Then cut out all your pieces. Since I was using assorted papers, I cut out multiple pages of each before I started putting them together.
The easiest way to put them all together is to stitch them on the sewing machine. This is super simple, and you don't need any sewing experience.
One trick is to bump up the stitch length as high as it will go. You don't need the stitches close together on paper.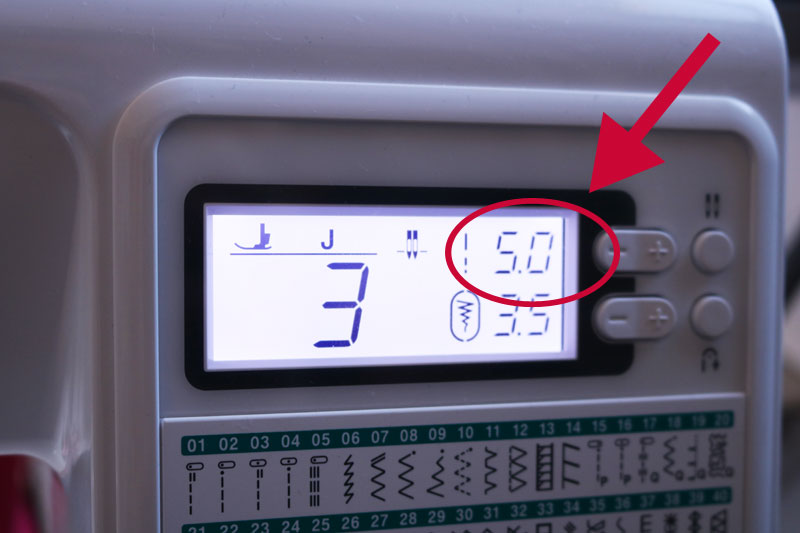 Give yourself several inches of thread to start. You can use this to tie up the streamers after you're done making them.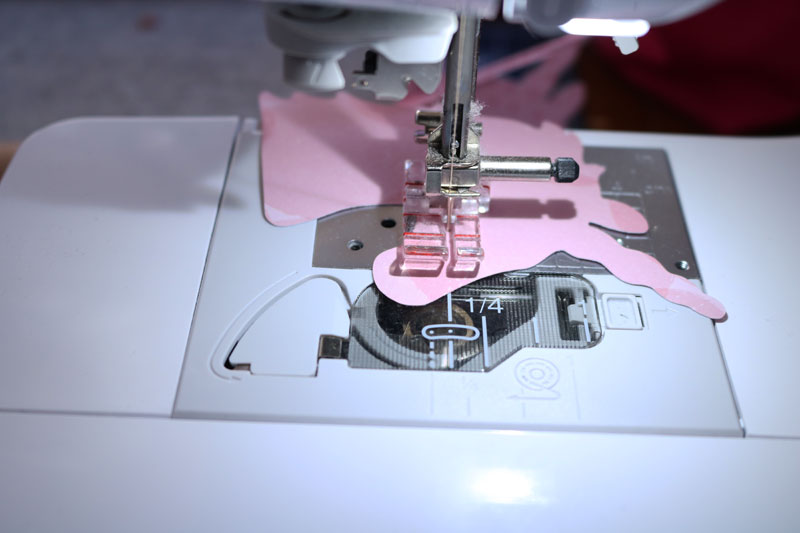 Stitch through the middle of your designs. Between each image, add a couple stitches. This will give you length on your streamers, and also allow them to spin freely.
Once you've started adding pieces, tape the thread ends to your cardboard tube, and start rolling the streamer onto the cardboard tube. This will keep the streamer from getting tangled while making it, and transporting it.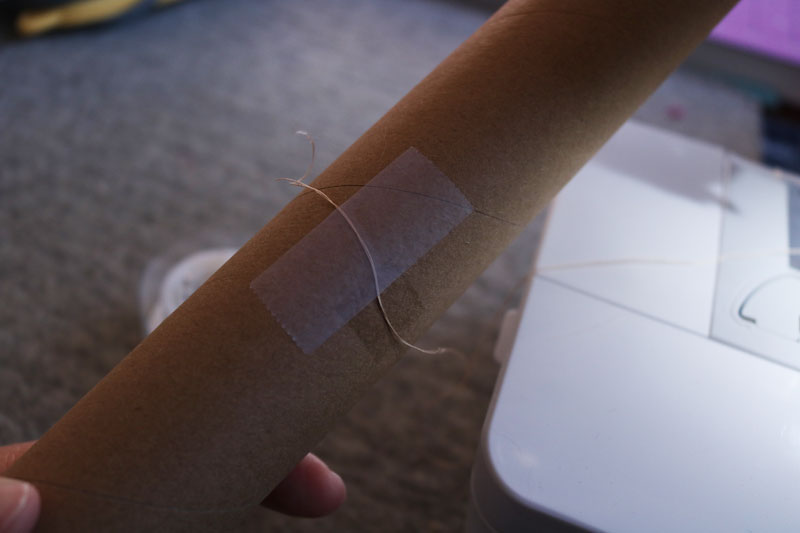 Keep adding more and more images to make your streamer. It will take lots and lots to get a good length! Eventually, your cardboard tube will have a big roll on it.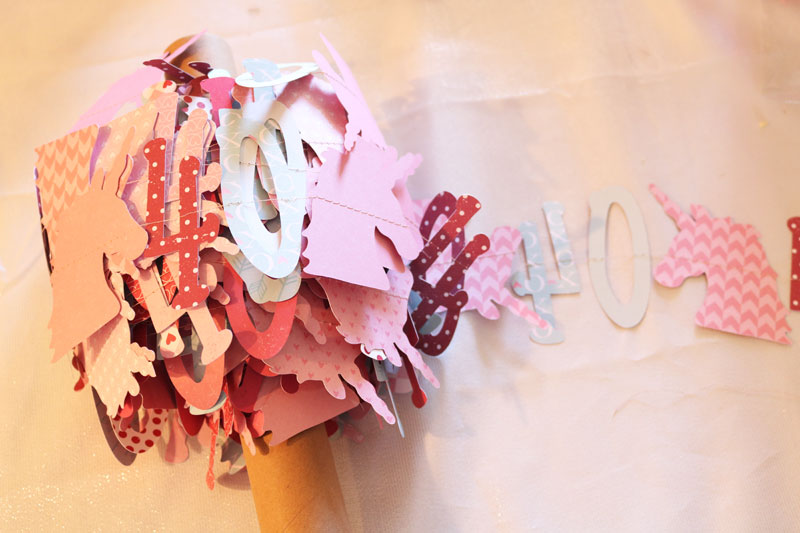 You can hang up these custom party streamers the same way you hang up your crepe paper streamers. In fact, I think it is fun to have both of them up at the party!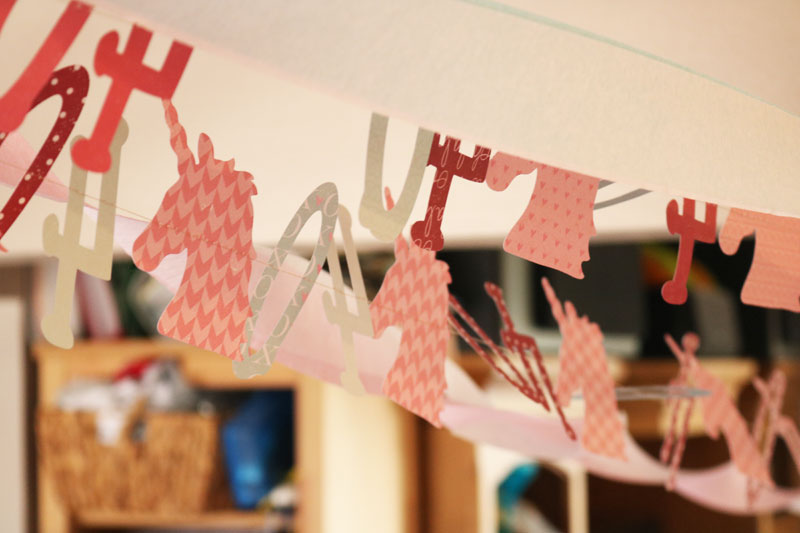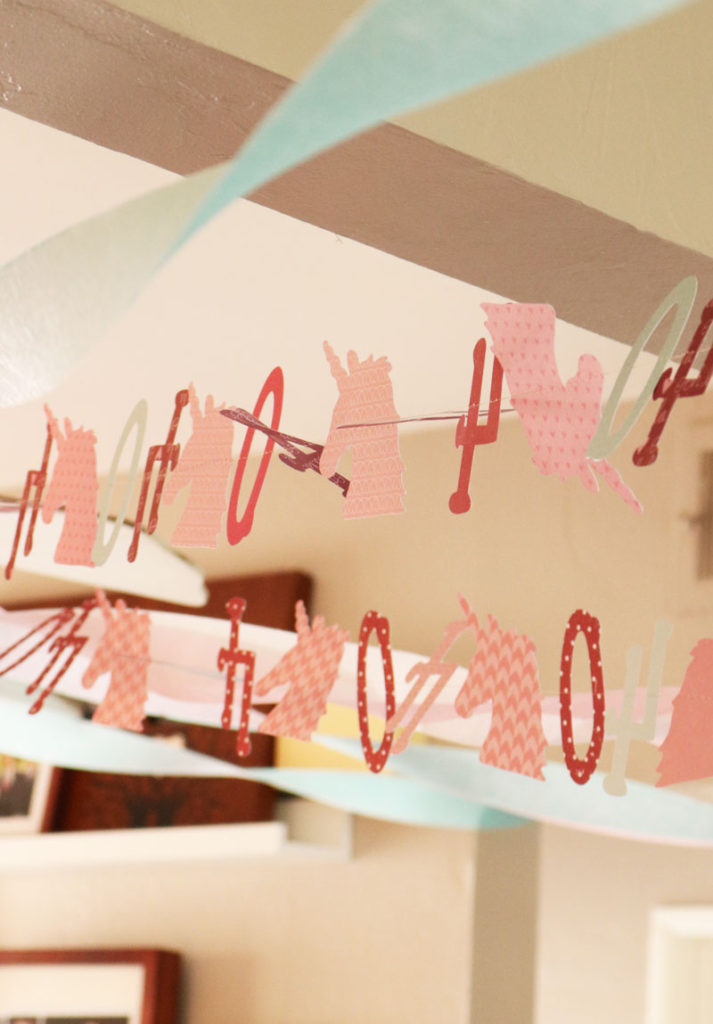 You can make your Custom Birthday Streamers with whatever theme you like – use the images you want, and the letters or numbers you want! You can just use letters – HAPPY BIRTHDAY NAME – or just images (I used blue and red trains for a train party I hosted several years ago). There are so many ways to take this basic technique and make it your own!
Be sure to head to Mad in Crafts, 100 Directions, and The Country Chic Cottage to check out other fabulous crafts you can make with your Cricut Machine!