Have some STEM fun with your kids using these DIY Secret Decoder Rings! While they don't fit on a ring finger, the two rings are put together to help you "unlock" the code and read and write your own secret messages. There is even a blank version so that you can make up your own secret code. And, if you love STEM projects, check out the whole list of STEM printables down below!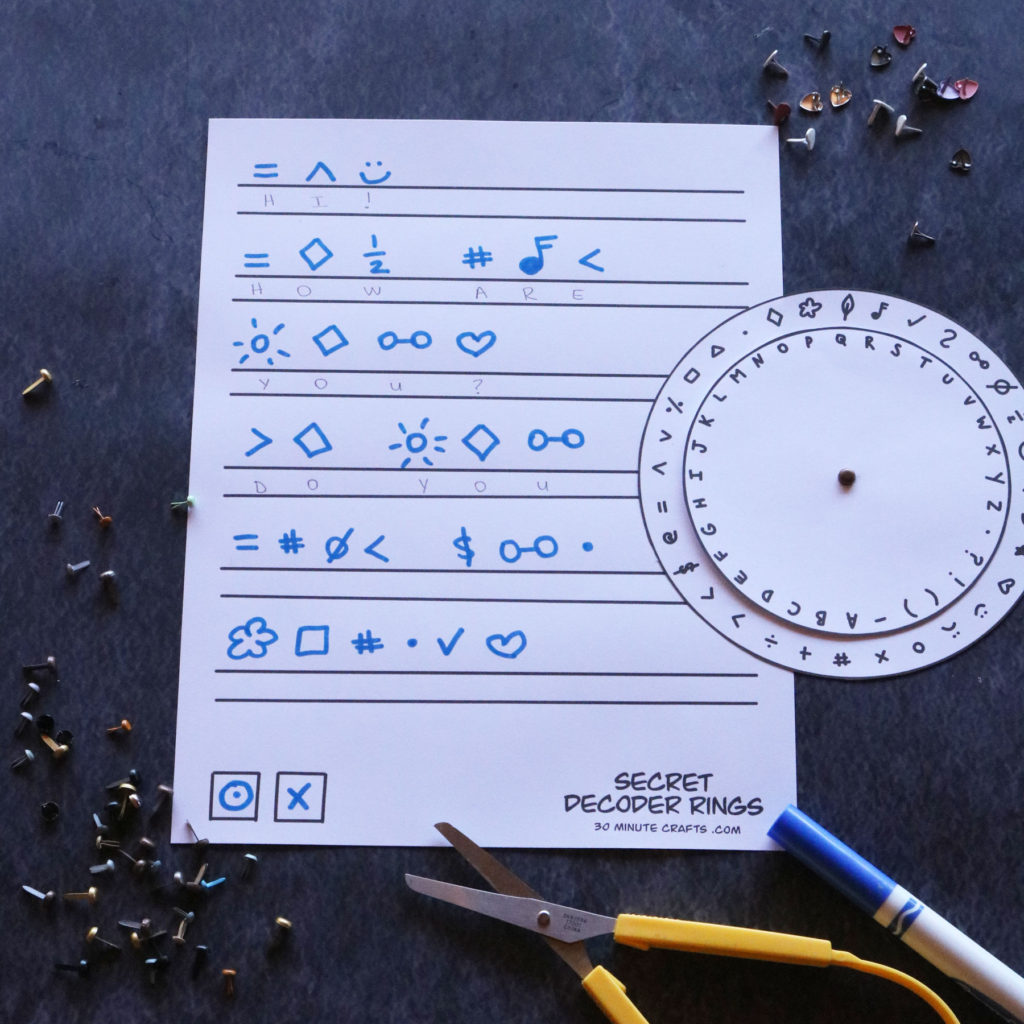 This post contains affiliate links that provide a commission to this site at no extra cost to you.
To get your STEM printable, sign up for our mailing list. You'll get the link to all three files – the secret decoder rings with our code, the blank decoder rings where you can make your own code, and the sheets for writing to make it easy for you to write a code that your fellow secret agent can decode.
If your kids discover that they love playing around with "secret" codes, there are lots of codes they can learn about – Morse Code, which is made with Dots and Dashes, and Semaphore which is done with visual signals like flags. And while it isn't a "code," they may enjoy learning about Braille, which is how many visually impaired are able to read using touch!
These Secret Decoder rings take very few supplies to make. Just download the printables and print them out. You then cut out the circles and put them together with a brad. If you don't have a brad, just line up a letter and a symbol and secure with a paper clip. In a real pinch, you can staple it in place with a stapler, but then you can't change up the code without removing the staple.
To use the Secret Decoder ring to decode a message, you need to know the key. So if you're writing someone a message, make sure that you've put the key in the boxes at the bottom of the page. This key shows how to line up the rings to decode the message. To decode our message, line up the bullseye with the letter X, and you'll be able to decode what we wrote!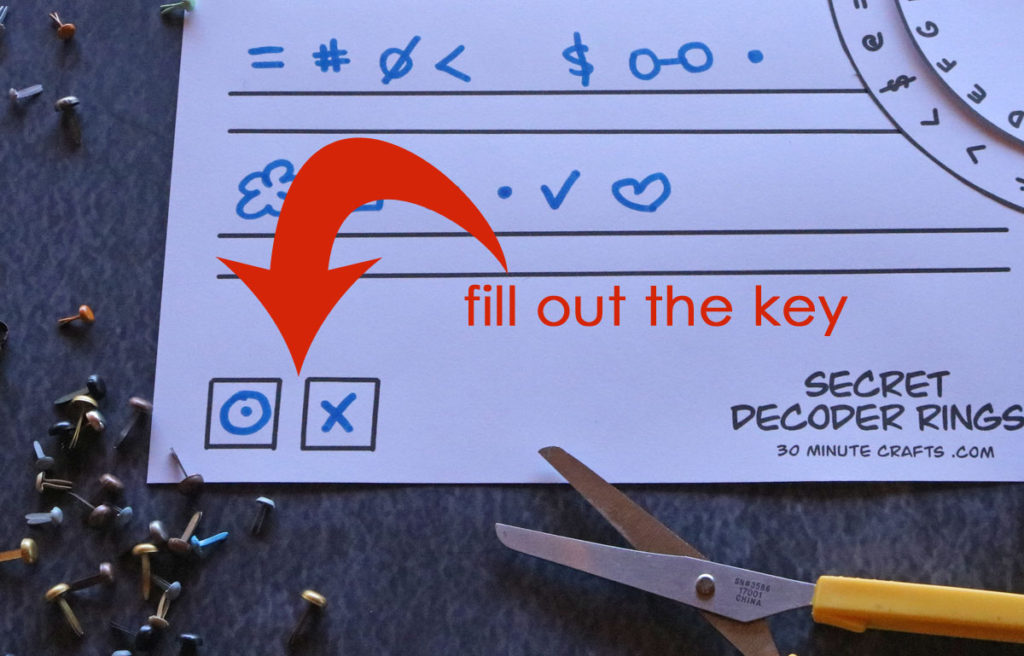 This is a great way to not only get kids interested in the very beginnings of code (that symbols can create new meanings), and in writing, but it also uses some great motor skills. The circles don't need to be perfect at all, so kids can absolutely cut them out themselves. We used these scissors that are great for beginners because they spring back open after cutting, making them ideal for young children learning how to grip and squeeze.
Get your free files by signing up here:
Check out all these other fabulous STEM printables:
Printable Tangram Puzzle – Brooklyn Berry Designs
Steam Maker Space Lists & Observations – Hello Creative Family
Color Wheel & Walking Rainbow – Happiness is Homemade
Science Lab Matching Game – Crafting In The Rain
Straw Rockets – The Country Chic Cottage
Space Activity Sheet – Everyday Party Magazine
STEM Challenge Cards – Happy Go Lucky
Coloring Bugs Printable – 100 Directions
Science is Rad Poster – seeLINDSAY
Secret Decoder Rings – 30 Minute Crafts
28 Day Lego STEM Challenge – Mad in Crafts
Solar System Bingo – Artsy Fartsy Mama
Science Notebook Covers – Pineapple Paper Co.
Robots in Space Coloring Page – Fun For Little Ones
Space Rocket Coloring Page – Liz On Call
Math Coloring Worksheets – Printable Crush