You don't have to get dressed in a costume and go trick or treating to enjoy Halloween fun! I'm not sure who came up with the idea to "Boo" friends and neighbors, but they are a low-key genius and I hope this tradition continues forever.
To create a Boo bag, you just need some kind of bag (a plain gift bag works great), some fabulous treats (I've got a list of ideas for you down below), and some kind of tag to let your unsuspecting neighbors know they have been booed. Cute ribbon to tie the tag in place, and some coordinating tissue paper is a bonus.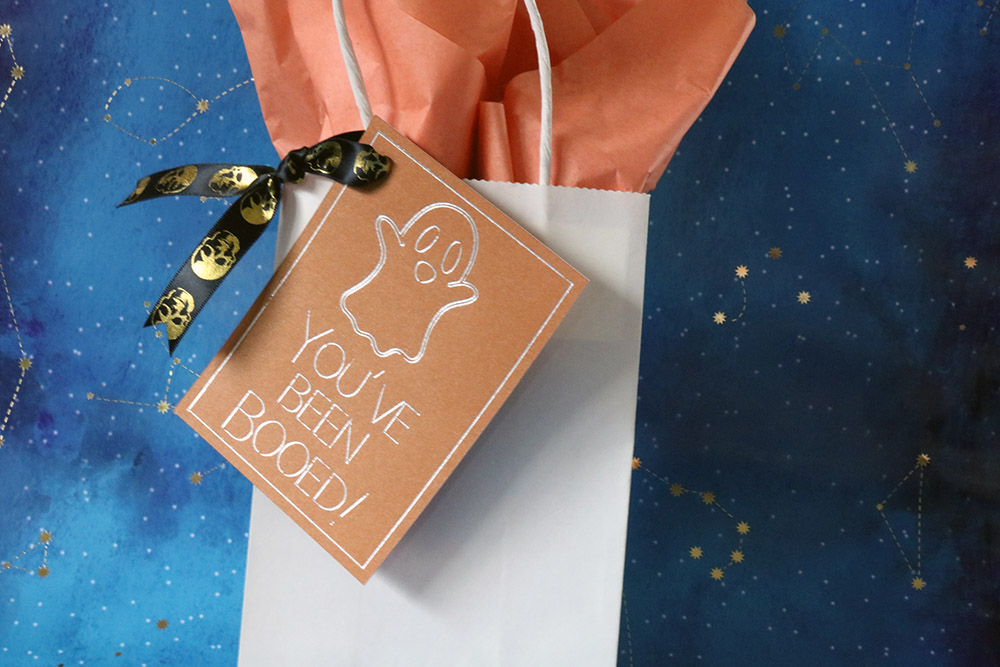 This post contains affiliate links which provide a small commission to this site at no additional cost to you.
I foiled this fun gift tag using my Cricut and Cricut Foil Transfer Tool. If you've used your Cricut before, the Foil Transfer tool is pretty easy to use. There are a couple things you'll want to know:
Currently, the foil transfer tool will only work when operating your Cricut from a computer – not a tablet or phone.
The Foil Transfer Tool doesn't require any heat to operate.
Make sure to tape all edges of your foil well, using the included tape in the foil kit.
If you'd like to make this "You've been Booed" gift tag, which will foil the tag and cut out the tag (and the hole), you can use this Cricut Design Space Link.