Last week, Brandie and I shared a fun treat and summer pack idea for you to do with your kids. This week we're back, and we're sharing a fun movie double feature! I'm sharing TWO fun crafty printables for you to print out for movie night with the kids, and Brandie is sharing some delicious peanut butter and jelly popcorn! That's a double feature I can get on board with! YUM!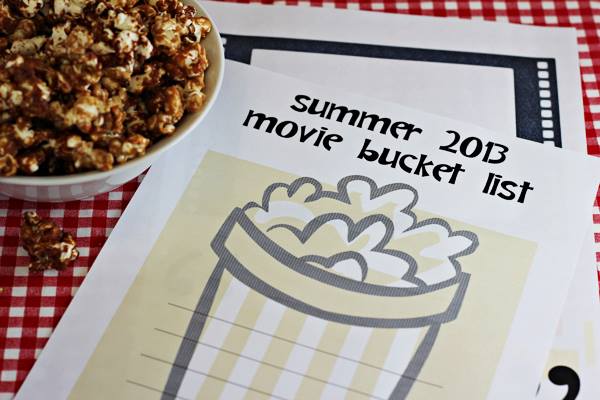 You can print out the Summer Movie Bucket List to make a list of must-see videos. Make your own list based on your Netflix cue, what you want to rent from Redbox, or from your own video collection. Consider making a themed list – all animated movies, all sci-fi, or all Tom Hanks (I'm thinking Forrest Gump, Catch Me if You Can, Apollo 13…). Make your list appropriate for the ages of your kids, of course!
After you've made your movie choices, make sure to make some delicious PB&J popcorn! Brandie has come up with the perfect movie snack!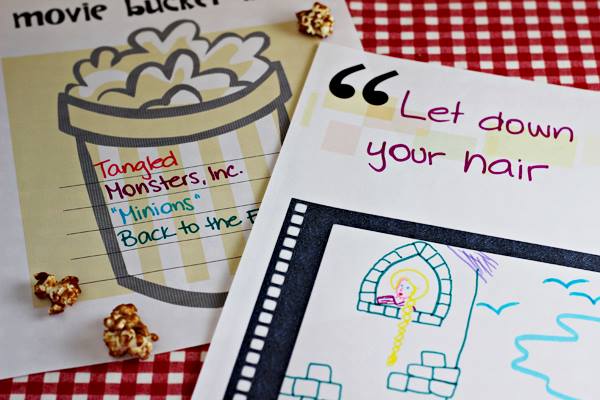 After the movie, sit down with the kids to draw their favorite quote. If you have young kids, write the quote in for them, and then let them illustrate the scene in this fun movie frame printable.
This summer, let movies be more than just a stand-by for a day that you're not going to the pool! Make a plan, make some popcorn, and enjoy the movie long after the credits are over!