I love a little bit of whimsy. Ok, if I'm totally honest – I like a whole lot of whimsy. I even like saying the word whimsy. And these wine glasses add just a little bit of whimsy to any occasion! How fun is it to say… "oh, this wine glass is yours, and that one is mine"? Just to have your partner say… "You're mistaken… see… this one is yours and that one is mine!" So much fun to switch wine glasses back and forth throughout the night… "Mine is empty… looks like yours needs to be refilled too…" And that is how you go through a bottle of wine in no time, and open up another!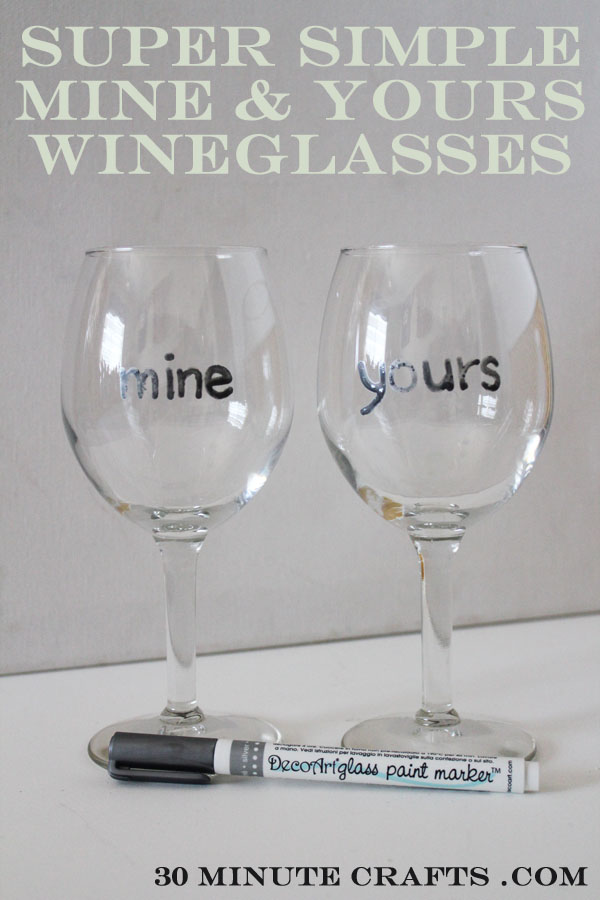 These glasses are super simple to make, they don't really need a tutorial. All you need is a tip on what supply to use. That's right… I said supply, not supplies! You really need four things to make these wine glasses… maybe five. I'll take you through them, and which one is uber important.
You first need wine glasses. I picked small-ish ones, but this would be fun with large glasses or champagne glasses (perfect for a wedding toast, or for the bride and groom to use at a rehearsal dinner). You need alcohol and a paper towel to prep the wine glasses. And you need an oven to bake the glasses in according to the instructions on the package so that the writing is dishwasher safe. So the oven might count as a fifth supply. But the fourth… the fourth is a DecoArt Glass Paint Pen.
These paint pens are genius. Glass paint is tricky to use. It is hard to get a smooth, even look from it. It works best with a sponge and stencil, and not every design can be created with a sponge and stencil. These glass paint pens come in a full array of colors (I used silver here), and you get smooth, even coverage. I'm in serious love with these! Plus, like glass paint, they work on glass, ceramic, mirrors… and are dishwasher safe one you cure them according to the directions!
So… run out and get yourself some glass paint markers, and start writing on all your dishware. It is addictive!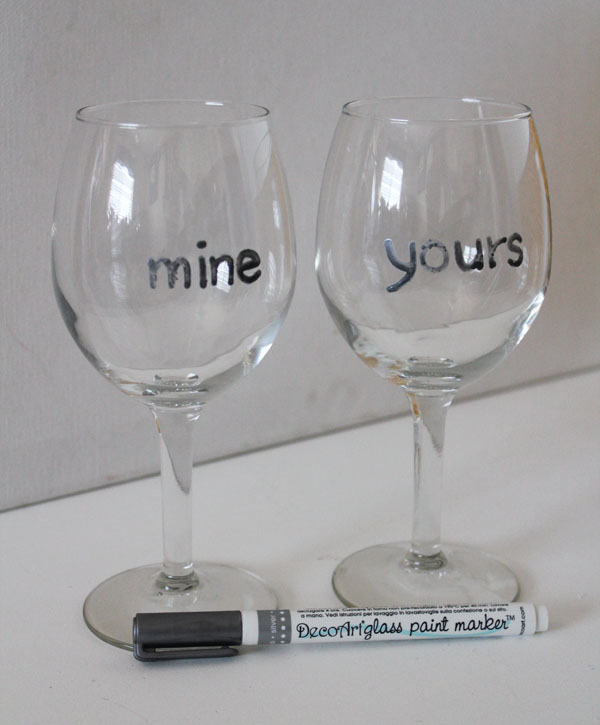 This project took less than 10 minutes to make, and is part of a week-long series I'm doing with Angie from The Country Chic Cottage called Craft Lightning. Each day we share with you an original tutorial that takes 15 minutes or less… and a roundup of quick craft tutorials from our friends around blogland. If you want to catch up, you can see the Craft Lightning Day 1 Roundup and Craft Lightning Day 2 Roundup. Make sure to come back tonight for yet another roundup, and keep coming back all week long…
See you soon!