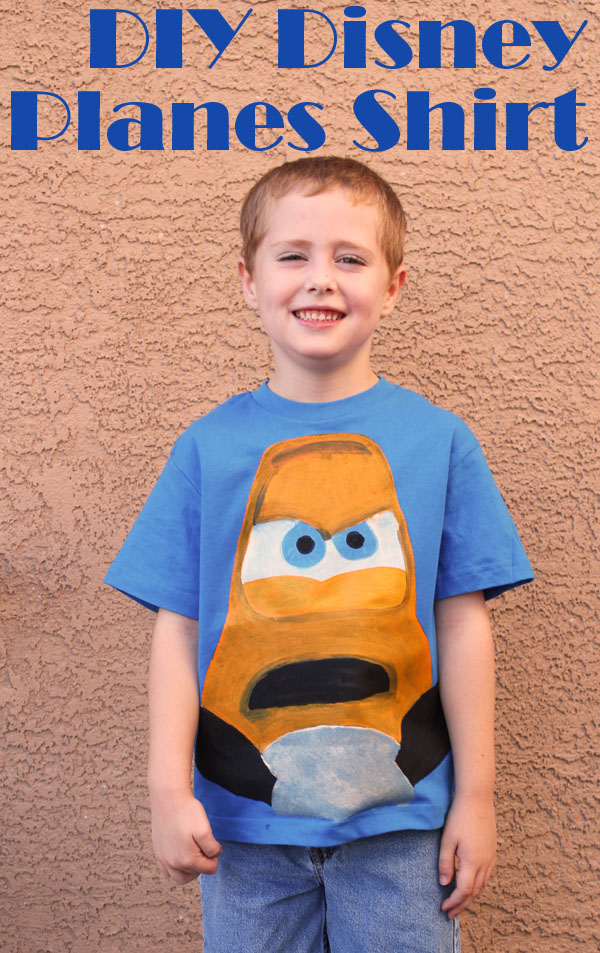 It has become something of a tradition for me to make a shirt for my son each time we go see a movie. I made him a Mike Wazowski Shirt when we went to see Monsters U, and a Gru-Logo Shirt when we went to see Despicable Me II. We saw a pre-screening of Disney's newest movie, Planes, earlier this week, and I made my son a special shirt to go to the movie… and yes, I whipped it up in just 30 minutes!
My son is a HUGE fan of the original Cars movie, and loves the second Cars movie almost as much. He is a big fan of "Mater's Tall Tales" as well. There was no question that he was going to love Disney's "Planes". Even before the movie started, he was telling the moviegoers in the seats behind us that "this movie is going to be awesome!" At the end, he wanted to see it again. So did I. I really loved this movie.
In a nutshell, Disney's Planes is about a small-town plane, Dusty Crophopper, who has big dreams. He overcomes a lot, and meets many fun characters, as he strives to achieve his goals. At the end, you're so in love with the characters and the entire story that Disney weaves for you that you almost don't care if Dusty makes it… almost. The movie is fun all the way through, with almost no "boring" or "dead" spots that fail to keep the kids entertained. My son was riveted throughout the whole movie. The only thing I might have liked to see more of was cameos from the original movies. For a movie that billed itself as "From the World of Cars", I would have liked to see more of the original Cars characters.
The movie opens this weekend, and if you'd like to take the little one in your life to go see it, with their own special Dusty Crophopper shirt, this is how it was done:
Supplies:
Blue shirt
Paintbrushes
Paints: I used 2 colors of orange, black, white, blue (for the eyes) and silver.
Freezer Paper
Chalk pencil
Start by ironing the freezer paper to the inside of the shirt, with the shiny side facing the front. There is a lot of paint on this shirt, and if it seeps through without something between the two layers, you might find yourself with a stuck-together shirt!
Then sketch out a quick outline of the character – in this case, Dusty – with the chalk pencil. You can find chalk pencils in the quilting section of your local fabric or craft store. The white chalk stands out on dark colors like this blue, but wipes or washes away cleanly after you are done. There are lots of other pens you can use – in my experience, the chalk pencil is the best in this situation.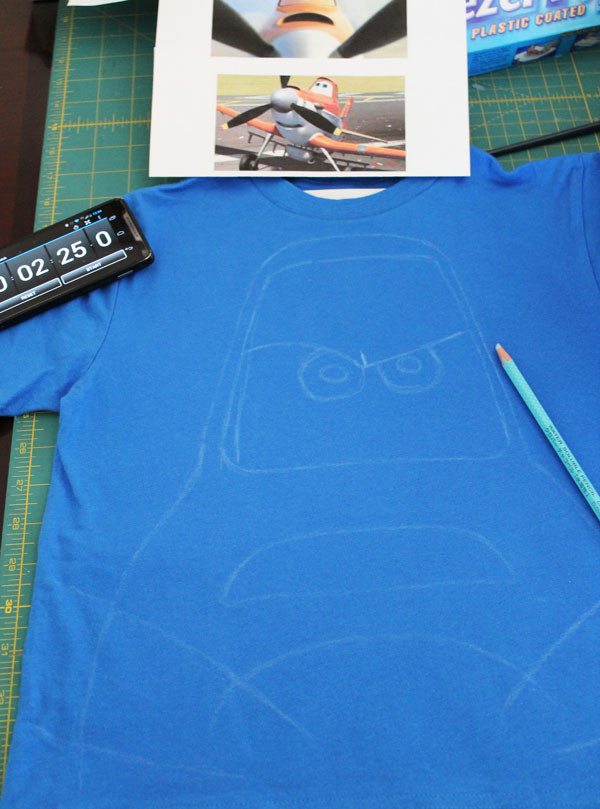 Start filling in areas with paint. I moved quickly, painting in large strokes. You can see I used the stopwatch app on my phone to keep track of how long it took me to paint everything in.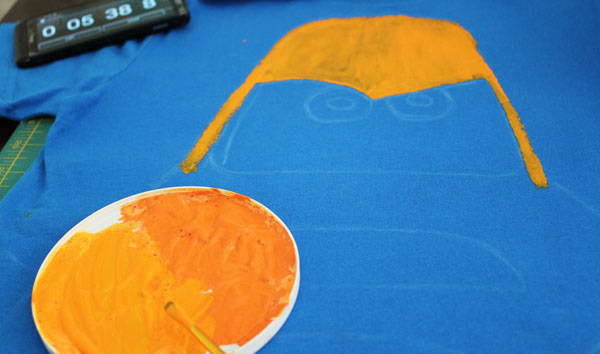 Once you've painted everything in, you can add some highlights if you like, or go over any thin areas of paint with a second coat.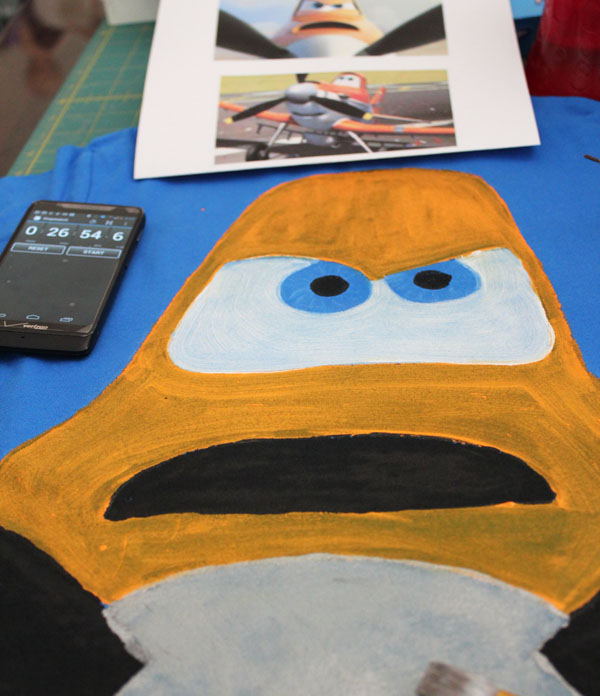 You don't want the paint too thick because it will make the shirt very stiff. I used very thin fabric paint, and though the shirt was still a little stiff, it will be fine after a couple cycles through the wash.