This week's Crafty Hangouts are being sponsored by my favorite source for ribbon, The Ribbon Retreat! They are offering my readers 10% off if you use this code: CH10 code expires 6/30/14.
In today's video, I'm sharing how to make pinwheels out of ribbon. These pinwheels make great cupcake toppers or party picks, and with the awesome 4th of July ribbons from the Ribbon Retreat, they will add some fun and festive flair to your next patriotic gathering! Whether you're bringing over your favorite dish to a of July Potluck, or you're having a BBQ at your place, these cute little 4th of July pinwheels made using ribbon are such an adorable way to celebrate! And in the same video, Angie is sharing how to make cute 4th of July firecrackers using Rollo candies! A mini version of the big candy fireworks I made last year.
After making my super simple ribbon pinwheels, I added some sprinkles to store-bought cupcakes, and put the pinwheels on top. Just a couple minutes makes these plain cupcakes party-ready!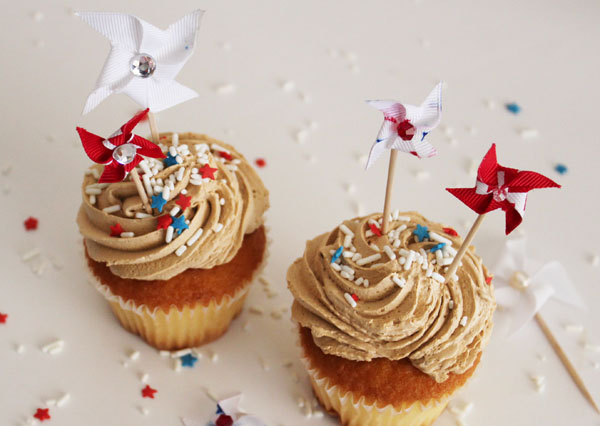 Check out CraftyHangouts.com for more fun patriotic ribbon crafts all week long – there is a whole team of bloggers posting all different kinds of ribbon crafts! You can also follow the #ribbonhoa tag on Google+
And check out all the awesome ribbon – and fabric! – over at The Ribbon Retreat, use the discount code CH10  to get 10% off! Code expires 6/30/14.