This week I'm sharing lots and lots of fun Donut Party Printables! I whipped up about 200 mini doughnuts – Chocolate Doughnuts, Vanilla Chocolate Chip Doughnuts, and Banana Spice Doughnuts, and paired with these fun printables, I had a fast and fun party whipped up in the time it took to bake and frost! You could even cut down the time it takes to make this party by buying your doughnuts from a local bakery.
You can print out these simple Donut party invitation printables onto cardstock, cut in half, and fold. I also have a generic invitation inside that you can fill out by hand, or you can create your own.
When I was in school, Doughnut parties were often given to a class that achieved a goal – a number of books read or money raised or some other educational goal. If you're creating a school doughnut party or classroom doughnut party, I have a sign for you to use: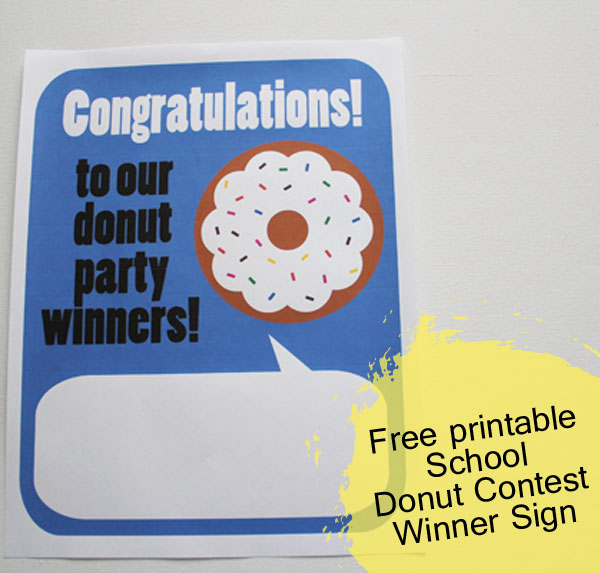 You can print out the School Donut Contest sign, and fill out the winning class information in the speech bubble.
I'll have lots more printables and party projects for you this week, so be sure to check them all out – and if you missed it, yesterday I shared my Donut Bouquet that works great as a Donut Party Centerpiece!