I love making quick and easy jewelry, like this Sea Glass Necklace and Earrings for under $10. When Consumer Crafts challenged me to make jewelry for $10 or less, I jumped at the chance! Jewelry is quick and easy to make, doesn't take a lot of supplies, and you can make really pretty pieces for not a lot of money! This necklace and earring set uses less than $4 of materials. I spent about $12 on supplies, and with that I can make 2 similar sets, as well as the dangle earrings I made yesterday, and have leftover supplies for more projects!
Oh! and be sure to sign up for the giveaway below… a giant prize package is up for grabs!
To make this set, you need:
Silver Findings Set (we want eye pins, head pins, jump rings, and a necklace clasp)
Blue Beads Set (we want the seed beads and the large sea-glass looking beads)
Necklace chain
Jewelry pliers (one round-nosed and one flat-nosed)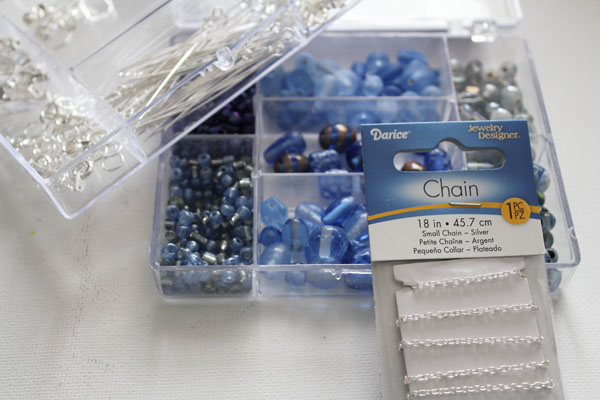 I love the variations of blue in the sea glass beads used for this sea glass jewelry. It was so simple to make – just watch the video below, as I show you how to put it together!

So simple, so pretty – it would make a great gift for a friend if you're willing to part with it!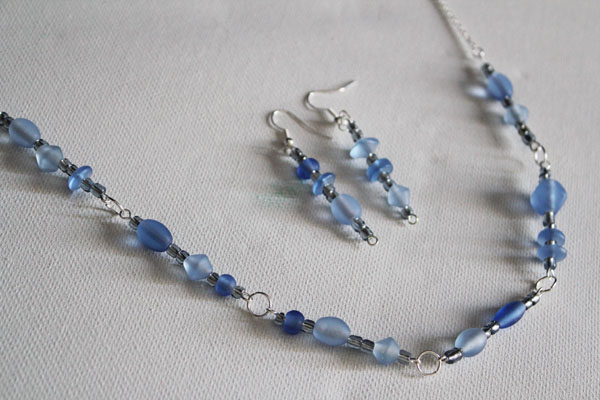 Be sure to enter this giveaway – so many awesome prizes, they couldn't fit them all into one basket!