The new Minions movie came out in theaters today. I had the opportunity to see an early screening with my family earlier this week. We wore our Minion Goggles over our 3D glasses – be sure to get your own Minion Goggles printable here. Minions is a cute film taking you back to the origin of the Minions, and following them on their journey to find a villainous boss. Much of the movie is devoted to the journey Stuart, Kevin, and Bob take, and you get to know these three Minions much better. My 6 year old loved the movie. He was giggling throughout the film, and I loved seeing him happy, though the movie wasn't quite as roll-in-the-aisles funny for me. Though, I'm sure we'll be adding it to our video collection… I have two young boys, and this film was made for kids like mine!
To celebrate the opening of Minions, I created these No Sew Minions Finger Puppets. They are super simple to make, and I whipped up all three in about 30 minutes. I made my three look like Kevin, Stuart, and Bob… but you can make more generic Minions if you like, they are easy to customize.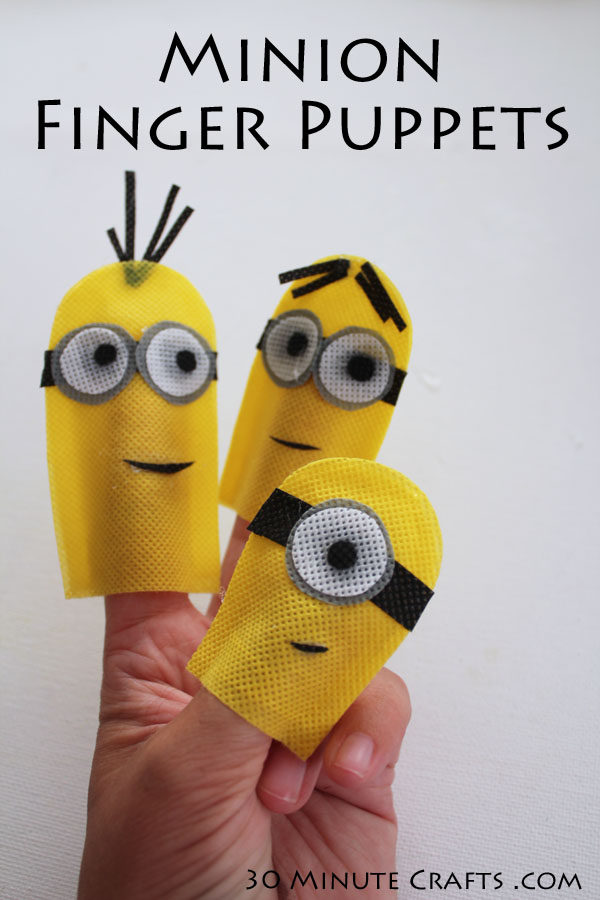 To make these finger puppets I used Oly*Fun. You can find it in crafts stores like JoAnns and Michael's, and in any WalMart that carries by-the-yard fabric. It is as thin as regular fabric, but acts like felt – it doesn't fray and is awesome for crafting.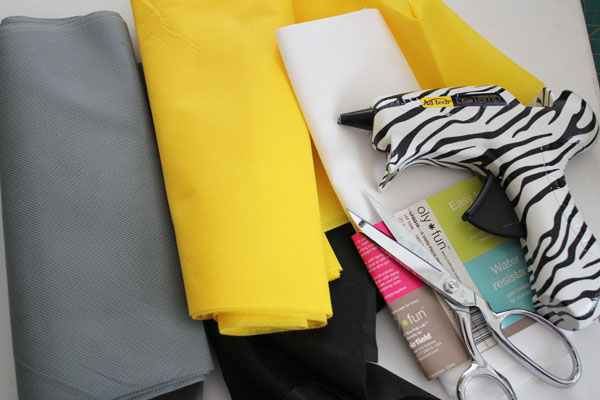 You'll need:
Oly*fun in Yellow, Black, Grey, and White
Hot Glue
Scissors
Start by cutting out your pieces. For each Minion you'll need:
Two body pieces the same size – a rectangle with one end rounded off
A black strip for the goggle strap
1-2 Grey circles for goggle eye pieces
the same number white circles, a little smaller
the same number small black circles
small black curve for the mouth
optional – skinny black strips for hair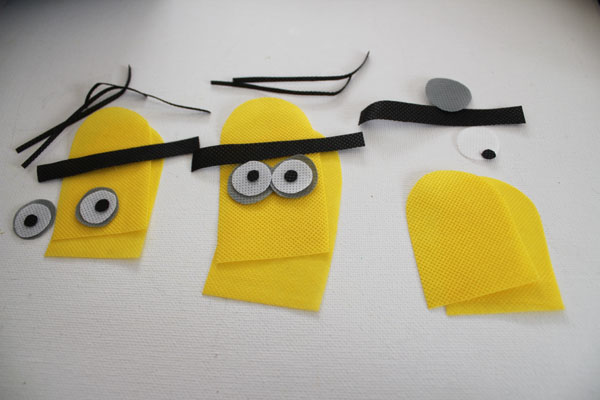 Glue the two yellow pieces together.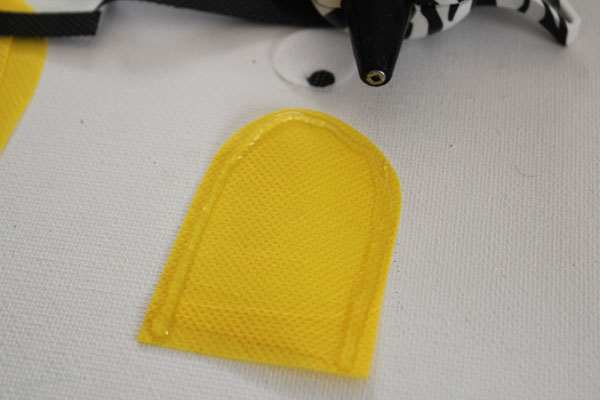 Glue on the black strap – don't worry about the ends sticking out.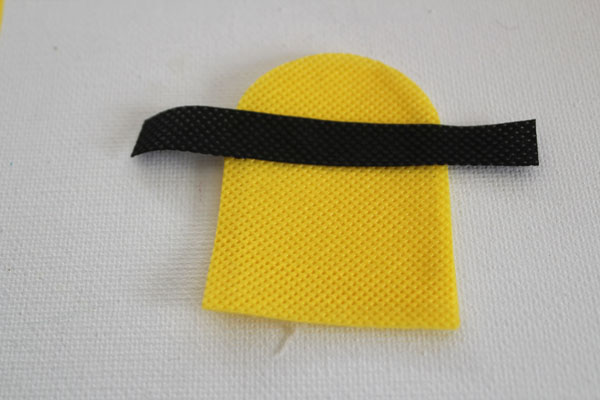 Glue on the Grey circle, the white circle, and the black circle.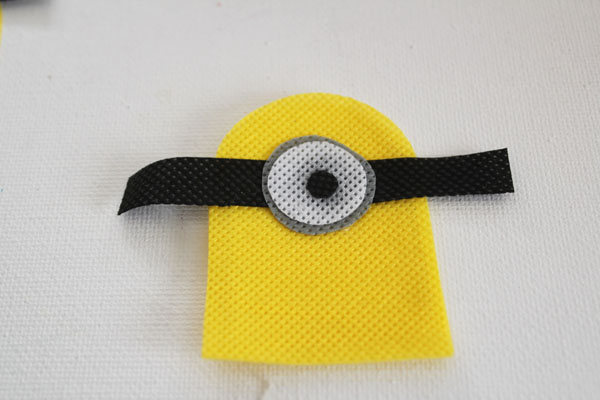 Cut off the strap pieces. Then glue down the mouth.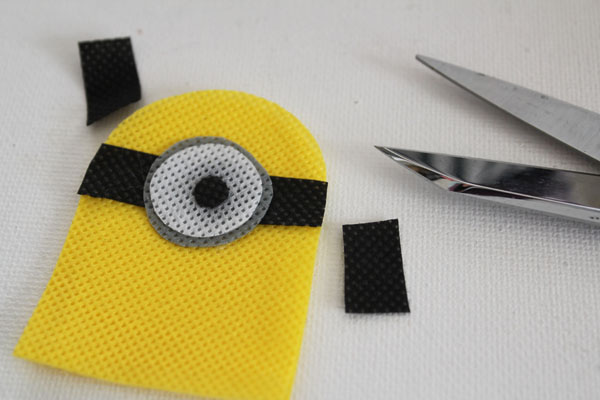 To add hair, you can add it in the first step when you're gluing the pieces together…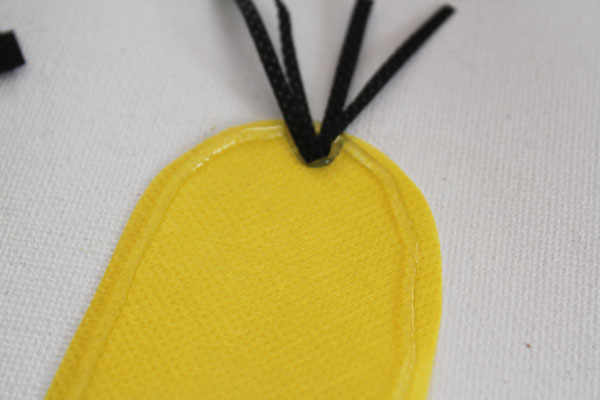 Or you can add it afterwards, by adding a dab of glue to secure the pieces in place.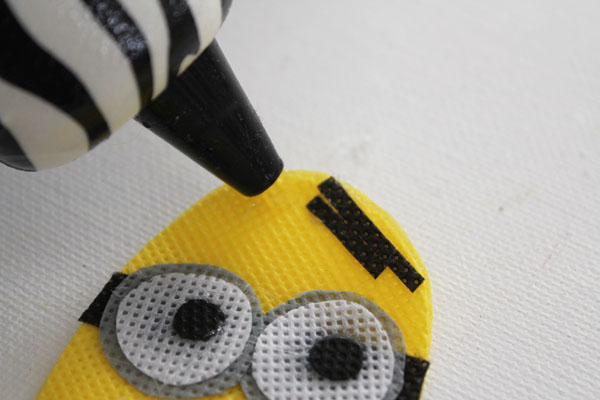 These Minions are so fun to make, you might find yourself making handfuls!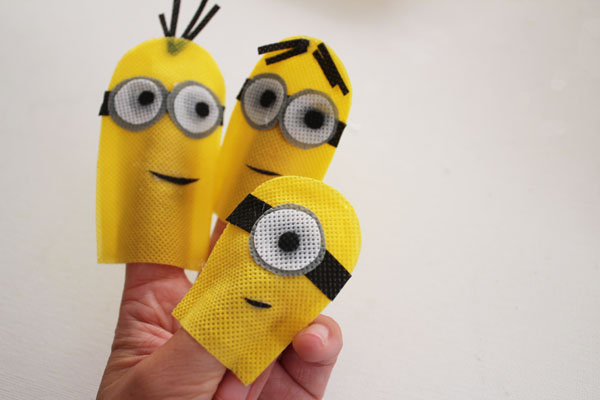 Enjoy making your own Minions! If you like this Minion Craft, you'll also enjoy my Video on making a Minion Necklace Charm, and my Minion Goggles.