Whether your Valentine has a spicy personality, or likes it hot, this is the perfect way to let them know how you feel! I found these mini Tabasco bottles, knowing they were just the right size for a sizzling Valentine! Here is how to make your own Tabasco Valentine for the hot folks in your life!
You can absolutely include a full-size bottle of tabasco sauce (or another favorite hot sauce if that is more your style). These mini tabasco bottles were just too cute to pass up, though! And of course the "You set my heart on fire" pun is just perfect! Who doesn't love a punny valentine?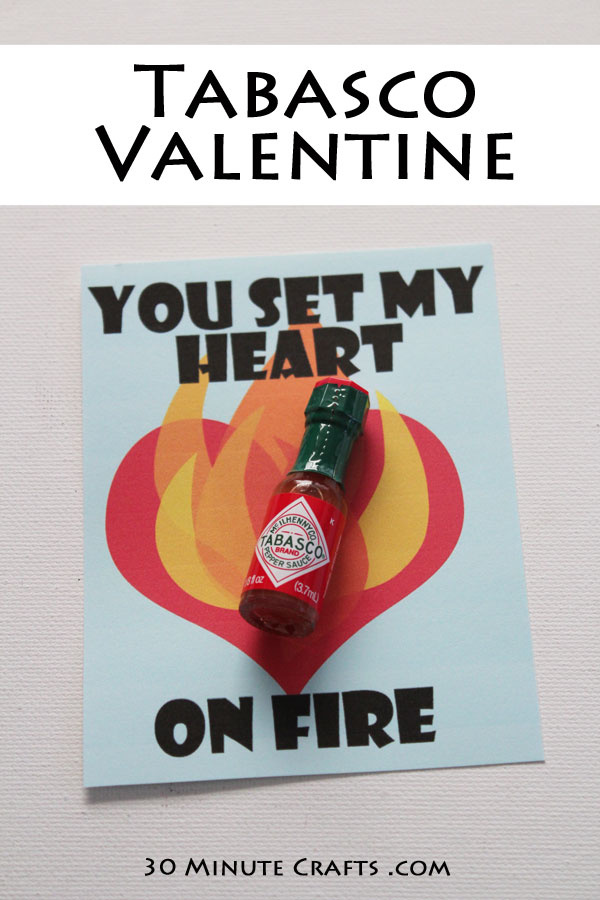 You'll be making this Valentine's card yourself – but it is super easy! Just a few steps and you'll be ready to go!
To make this Valentine, you'll need:
Fire Valentine Printable
Mini Tabasco Sauce bottles (I found mine at World Market)
Hot Glue
Scissors or paper cutter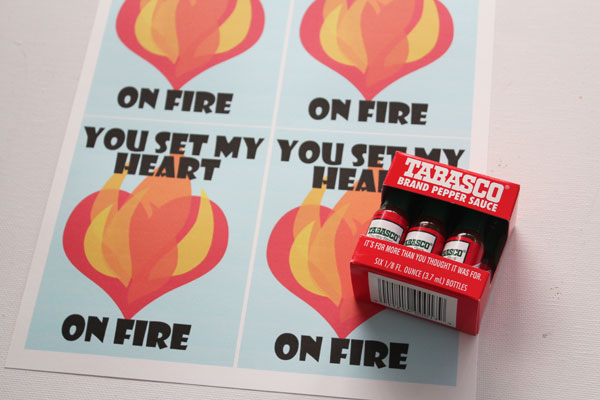 Cut apart the Valentines. Put a little hot glue on each bottle, then glue in place on the valentine.
If you don't have hot glue, you can cut two small slits and use a piece of string or ribbon to tie the bottle in place. Be careful when making your cuts – and remember that they don't have to be very big. Just a quarter inch slit on each side of the bottle is plenty. You may want to add some tape to the back of the card to reinforce the area that you cut, so that the ribbon does not rip through. It depends how gentle you are going to be with the card, and if you used cardstock or just printer paper.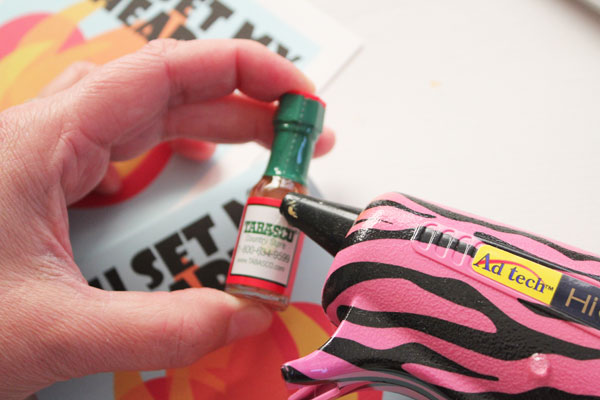 Done! Gift to your favorite spicy guy or gal!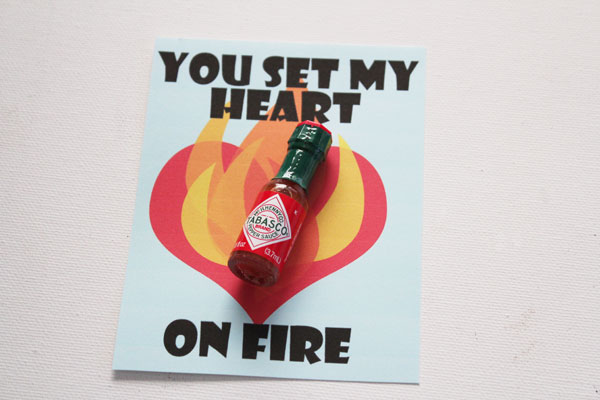 These tabasco valentines are so much fun. If you're looking for another simple foodie valentine, try the olive valentine or the nutella valentine.
Valentine's printables like this one are so easy, and you'll get to say that you made it yourself! Putting in that little bit of effort means so much! And this valentine is as easy as printing, cutting, and adding a little bit of glue.
To get the fire valentine printable, as well as all our Valentine's Printables, join our email list below:
Here are some other fun valentines to check out: