If you're looking for a Valentine Chocolate Wrapper, than this is perfect for you! This Valentine's Chocolate wrapper is made to re-wrap a Christmas Chocolate bar. Which is perfect because these Christmas Chocolate bars are still perfectly good in February, and are on sale every January! Stock up on these chocolate bars, and you'll have a fabulous Valentine's Day gift at a fraction of the retail cost! All you have to do is print out this Valentine Chocolate Wrapper to re-wrap the chocolate with. 
To make this Valentine's Chocolate, you'll need:
Russel Stover Santa Chocolate
Valentine's Chocolate Printable
Scissors
Double-Sided Tape
note: If you can't find these Santa Chocolates, check out my Valentine's Chocolate Bar craft instead.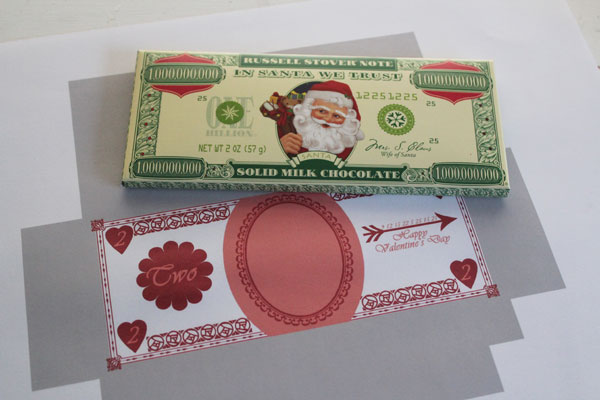 Cut out the printed shape.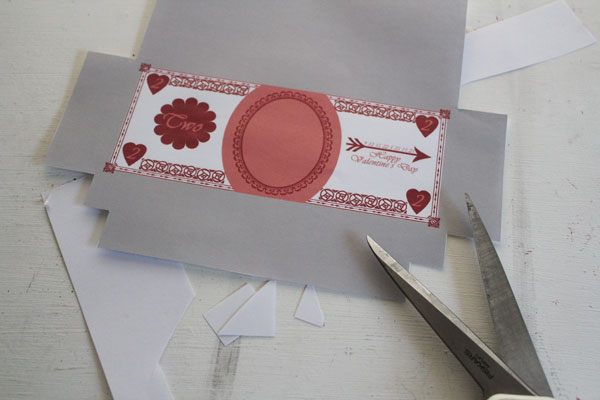 Remove the paper wrapper from the chocolate (leave on the foil). Then wrap in the new paper.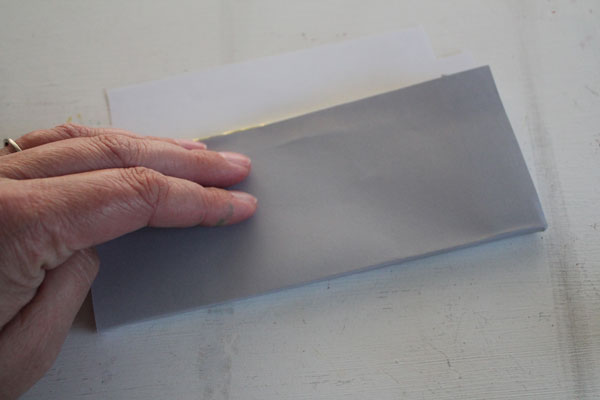 Tape flap down with double-sided tape. Your Christmas chocolate has been converted to Valentine's Chocolate!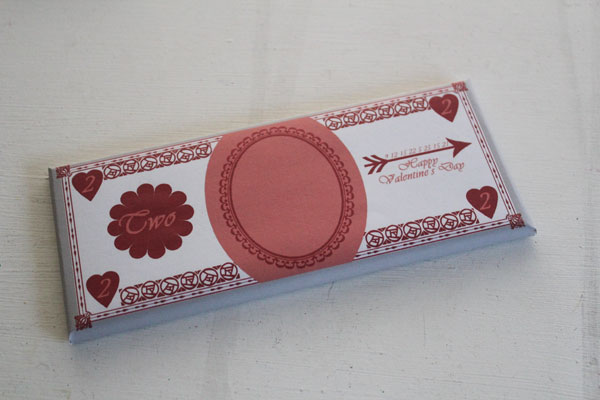 I made it a two dollar bill because Valentine's Day isn't about big sums of money – it is about two people getting together. Which is also why I left the center of the wrapper blank. You can add a picture of you and your sweetie, write in your names, or do anything you like to make this chocolate bar extra special for the two of you.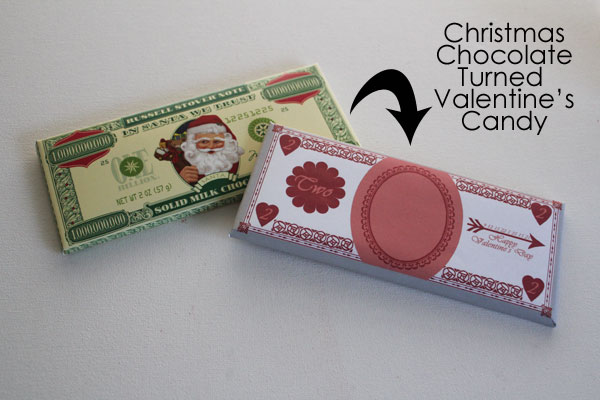 If you're looking for more fast Valentine's Day crafts, you'll want to check out these great projects:
Over at Creative Cynchronicity, you'll learn all about making these Air Dry Valentine's Ornaments.
My Mom Made That whipped up these Conversation Heart bookmarks.
Find out how to whip up some heart stamped tea towels with Sparkle Living.
You'll want to hang one of these chocolate cones from Busy Mom's Helper on every doorknob in your house (good thing each door has two doorknobs)!
Why should Christmas be the only holiday with a countdown calendar – check out this Valentine's Countdown Calendar from Gingersnap Crafts.
Our crafty guest host, Laura from Make Life Lovely, made these great Valentine's treat boxes.
Angie from The Country Chic Cottage made this adorable Valentine's pallet art that made me squeal from the cuteness!
To get the file for this Valentine's Chocolate, as well as all our other Valentine's Printables, sign up for our email list here: