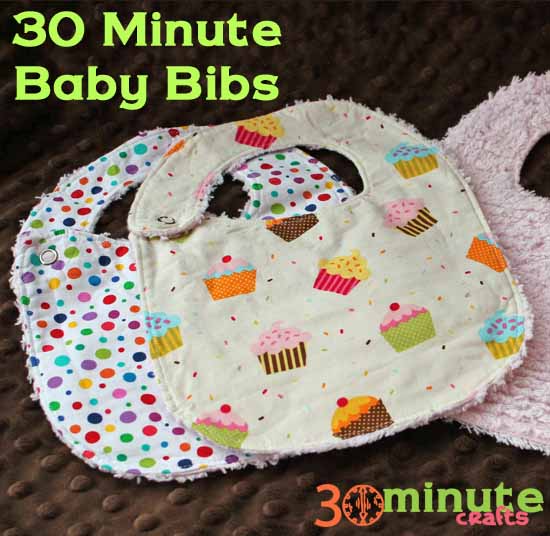 Bibs are an all-time handy must-have for every baby. And handmade bibs are a perfect baby shower gift. This is an easy baby bib that is simple to make, with no fancy applique or stitching. But it is still cute because of the printed fabric! And, they are  reversible with the chenille side being extra-absorbent! If you want, you can use terrycloth instead of chenille for the backside of your easy baby bib. Your local fabric shop should have terrycloth you can use… but if they don't, you can buy a towel. You'll get several easy baby bibs out of a single towel.
Supplies for 30 Minute Easy Baby Bib:
2 fabrics (I used a cotton print and a chenille)
freezer paper
marker or pen
a couple pins
your iron and sewing machine
Snaps and snap tool (if you want to use velcro, check out the 30 Minute velcro bib)
Next, put the cotton fabric onto the chenille, with the right sides together (the print side and the fuzzy side towards the middle). Pin the bib template in place through both layers of fabric. Stitch around, right next to the line. If you are careful and stay right next to the line, you can re-use the stencil on another bib. Don't stitch along the side between the two little marks so that you have a hole for turning.
Pull off the freezer paper, and cut around the bib with pinking shears (that's the "official name" for the sewing scissors that cut a zig-zag). Cut close to the stitching, but not so close that you risk cutting the stitches you just made. Also, cut carefully in the gap between the bib and the strap, and cut some extra "room" next to the turning hole to make it easier to tuck it in when stitching it closed.
Using pinking shears instead of regular scissors means that you don't have to clip the corners before turning it. Yay for time-saving steps!
The next step is to turn the bib right side out through the hole you left for this purpose. If you have a turning tool or some long pointy object (but not too pointy!), use it to help poke out the curves and corners, and to turn the strap.
Once you have the whole bib turned right-side out, tuck in the fabric at the turning hole, and press everything down with an iron.
Once pressed, bring it back to the sewing machine and top-stitch close to the edge. This gives the bib a nice finished look, and closes the turning hole at the same time.
All stitched together, the bib looks like this:
Who knew that making a bib could be this easy? You can whip up an easy baby bib or two on the morning of a baby shower, and still have time to do hair and makeup before you go!
Save
Save