I'm teaming up with Angie from the Country Chic Cottage again, rounding up an awesome group of bloggers, and dedicating an entire week to super-fast crafts. Crafts that take 15 minutes or less. Angie and I will be sharing a simple 15-minute craft each morning, and each evening we'll round up all the other fun bloggers who are also sharing fast crafts!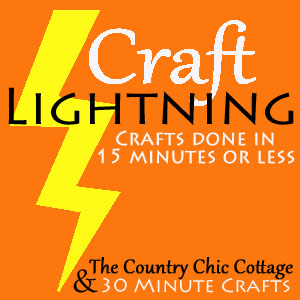 Often we have a theme, like our teacher appreciation crafts and Dr. Seuss crafts Craft Lightning series… but this week we've opened it up to anything. Any kind of crafts at all (as long as they are fast)! So, I came up with my own fun theme for the week… I can't wait to share it with you tomorrow!
Oh, and if you have a fast craft of your own you'd like to share, please add it to the linky below!