We all have those moments where we need chocolate. Okay, maybe we don't all have them, but I do. So it is handy to have some chocolate stowed away for this kind of occasion. You can make this Emergency Chocolate craft for yourself, or make one for a friend who is going through a rough patch. Because when the going gets tough… friends bring chocolate. This craft is super easy and super inexpensive to make, so while you're whipping up your Emergency Chocolate frame, go ahead and make some extras. They're sure to come in handy.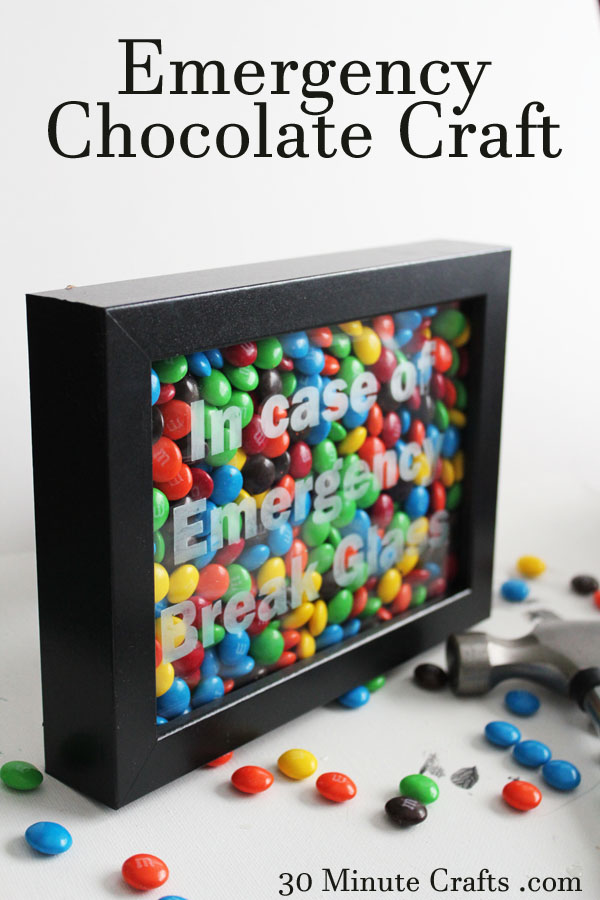 You can use whatever chocolate you like, but I used M&Ms.  They have great color, plus they're my go-to chocolate. If you or your friend are allergic to chocolate (which is like being allergic to air, in my opinion, and for which you have my deepest sympathies), you can fill the frame with whatever candies you like. Whatever your go-to guilty pleasure is that doesn't need to be refrigerated or in an air-tight container. Use your best judgement here.
Here are the supplies needed to make the Emergency Chocolate craft… I've added affiliate links to help support the site if you purchase materials through the links.
Simple DEEP frame (mine came from Ikea)
Glass Etching Kit

Silhouette Machine
(or an Xacto Knife and some patience)
Vinyl

Candy of your choice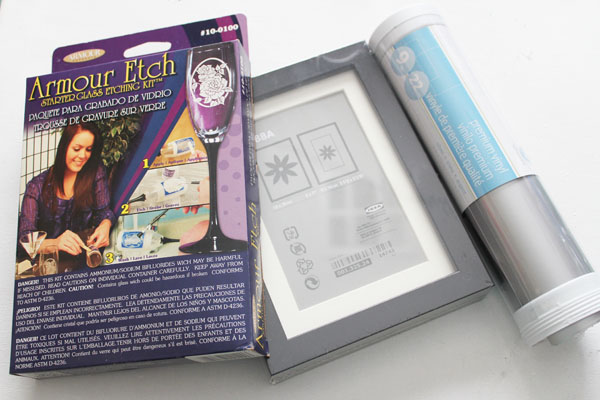 Start by opening the frame and cleaning the glass. While you're doing that, you can have your Silhouette cut out the vinyl. Here is a link to my In case of emergency break glass Silhouette cut file.
Apply the vinyl to the clean glass. Try for as few wrinkles as possible. You'll probably get a few, just smooth out the ones that go into the lettering. You want the border around each letter to be smooth so none of the etching cream leaks under the vinyl. Also, use a pin or stylus to carefully place all the centers of letters like the e, o, and a.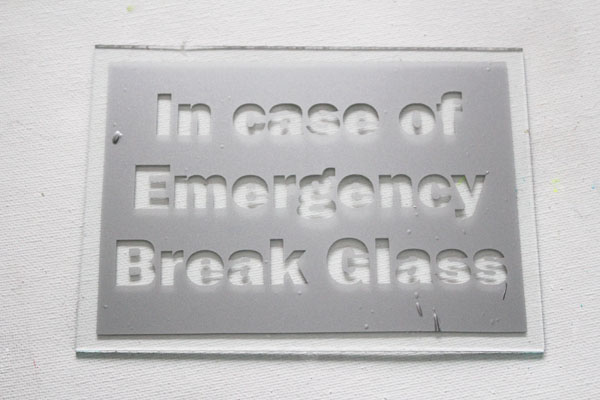 Follow the instructions to apply the etching cream, and wait the appropriate time.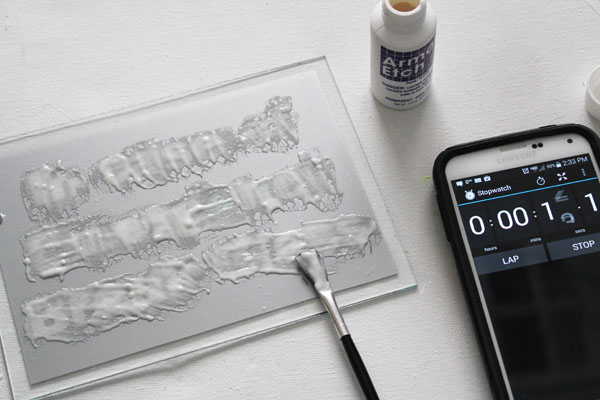 Rinse off. It is going to look like nothing happened.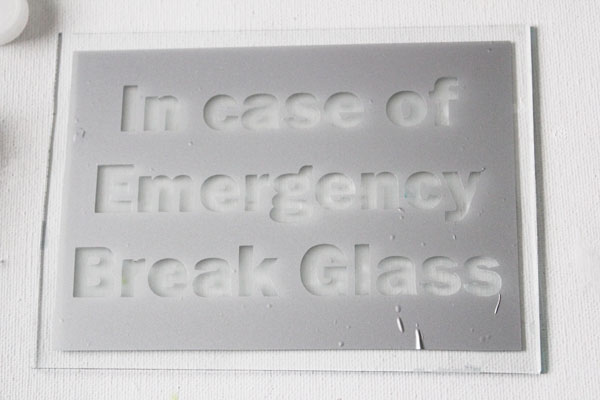 Peel off the vinyl to find that yes! The etching cream totally worked! Oh my goodness, this was so super easy!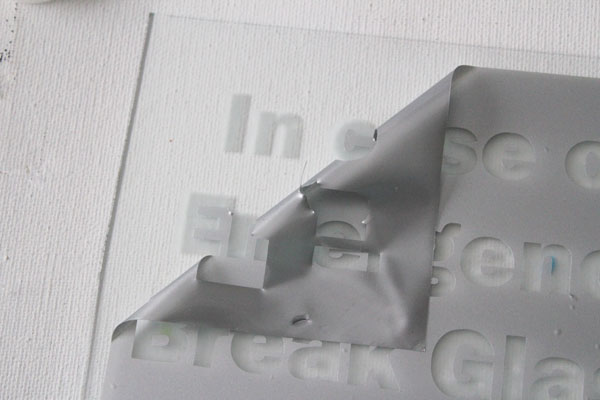 Start putting the frame back together.. Insert the glass, fill with M&Ms.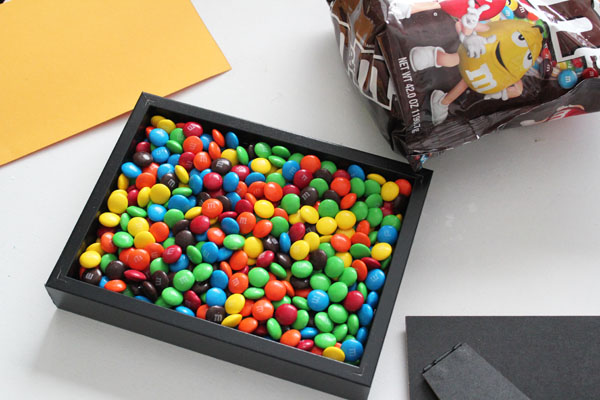 Cut a piece of colored scrapbooking paper for the back, just in case the back ever shows through. Put the back on.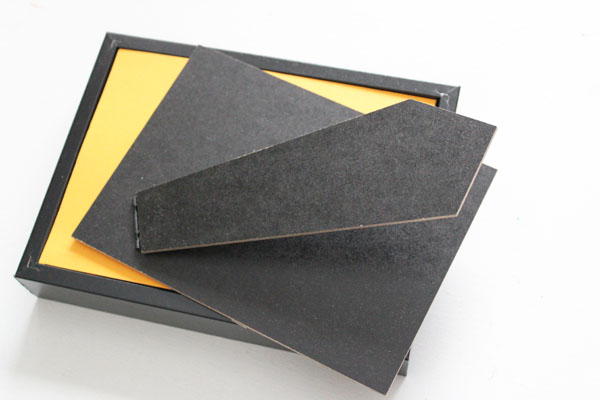 This frame wasn't originally meant to be a shadowbox type frame, so I faked it. I used Duck Tape to hold the back on. Duck Tape all 4 sides, and cut if needed to allow the stand to be used.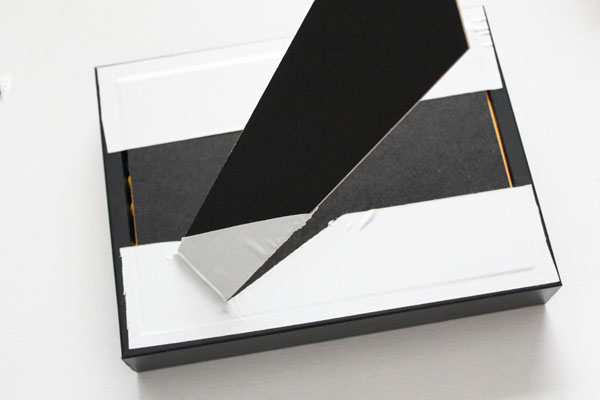 That's it! This Emergency Chocolate craft is so simple to make!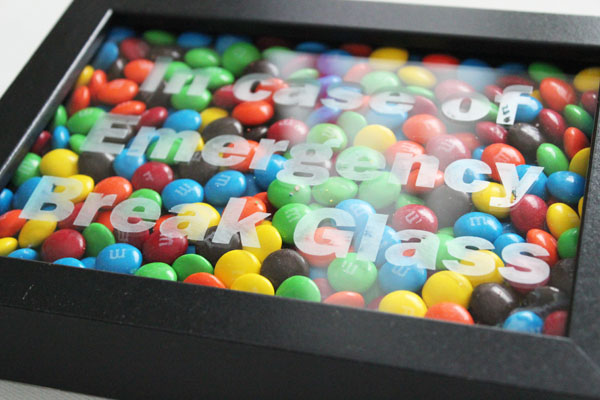 I should add that if you need to get to the chocolate, you shouldn't actually break the glass. Peel off the duck tape and take off the back. You now have a handy rectangular bowl filled with stress-killing chocolate. Yum.