If you're looking for a fun doormat with a little personality, this no soliciting doormat is perfect! If you're like me, getting a knock at the door is a disruption to your day. And while I respect people who are spending their days trying to make a living by selling solar panels, landscaping services, and subscription meat deliveries, I'm not in the market for what they're selling. A quirky no soliciting sign saves their time and mine.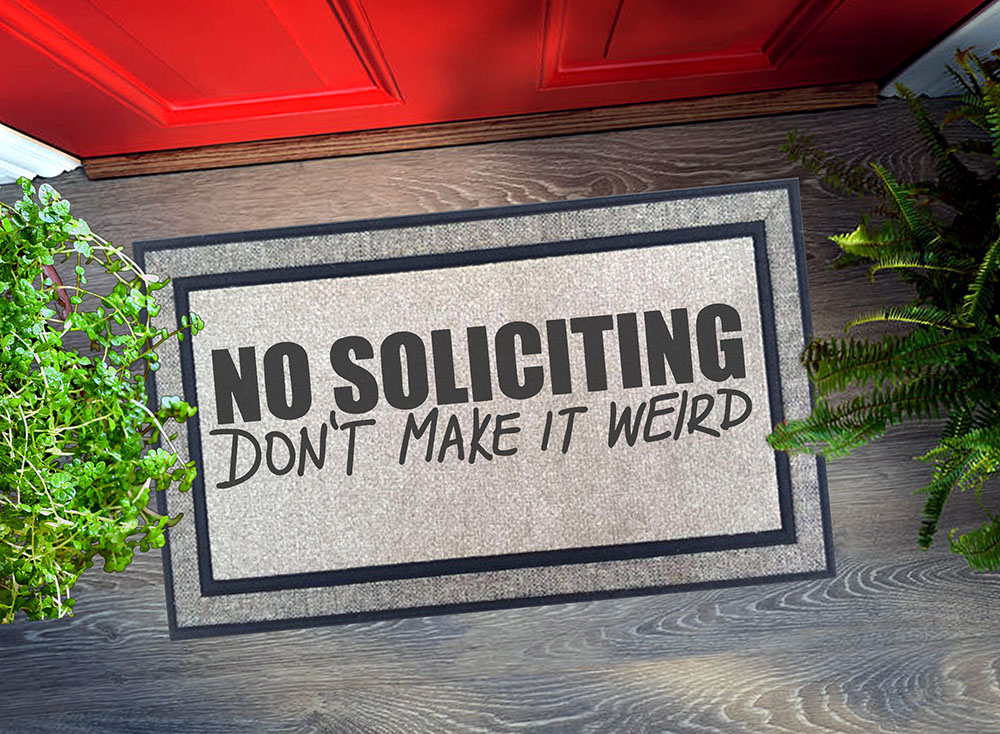 How to stencil your No Soliciting Doormat
You can make your own No Soliciting doormat using this free SVG file! Use the SVG file with your favorite digital cutting machine. Cut the file out of parchment paper or stencil vinyl. Adhere the parchment paper stencil to your doormat with a hot iron (not so hot that you melt any acrylic fibers in your doormat), or secure the stencil vinyl with the adhesive on the back. Using a stencil brush or sponge, paint in the stencil.
When you stencil a design on your doormat, you want to use very thin coats of paint. Put your stencil brush or sponge in the paint, then daub it on a paper plate to remove most of the paint before dabbing the paint on the stencil. This will keep your design crisp and clean. Use multiple thin layers, and then carefully remove the stencil while the paint is still wet. If you wait to remove the stencil, the paint will harden. That glues the edges of the stencil down and makes it hard to remove. If this happens, use a craft knife to cut the paint at the edges of the stencil design to help release the stencil.
Get your Doormat Stencil SVG below by signing up for our newsletter!
Looking for more great doormat and welcome mat designs? Check out all these great (free!) SVG files: