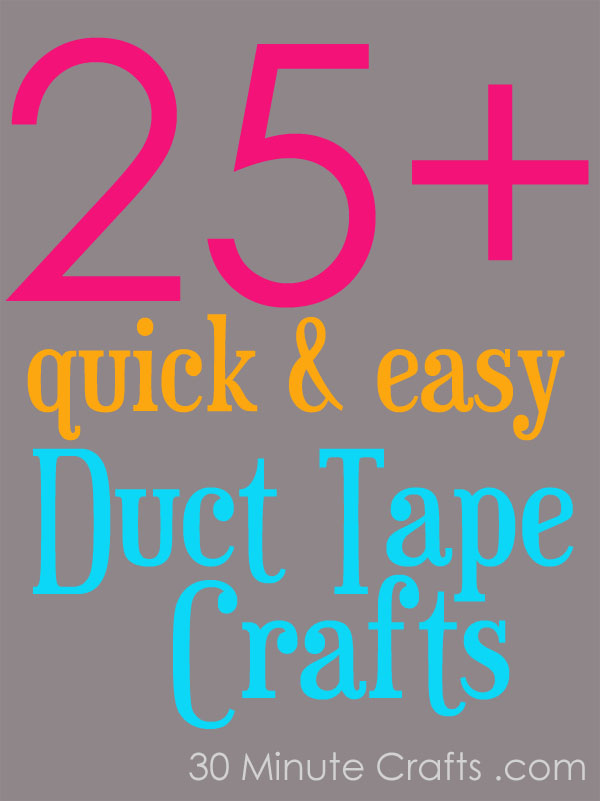 Have you crafted with Duct tape? Duct Tape is awesome stuff, both in the workshop and in the craft room. Growing up, I was once told that you only really need 2 tools… Duck Tape and WD40. If it moves and it shouldn't – duck tape. If it doesn't move, but it should – WD40. Those words of wisdom got me very far! But now, Duck Tape comes in so many amazing colors and patterns (there is even Hello Kitty Duck Tape!), it is just begging to be crafted with! And since it has adhesive and design all in one right there… it is perfect for quick crafting!
Here are over 25 quick and easy Duck Tape crafts to get you started… enjoy!
This Duck Tape and Paperclip Charm doesn't need any fancy supplies – watch the video to show you how it is made.
At Easter, these Duck Tape Bunny Ears are easy to make and fun to wear!
Did you know that you can make roses out of duck tape?
You can even make a stocking out of duck tape!
For Halloween, these duck tape masks are super fun!
Go out on the town with these duck tape shoes!
Nobody will believe what you used to make this duck tape bracelet.
If you want something simpler, these duck tape bangle bracelets are super simple!
A great kids craft is these duck tape dandelions.
This duck tape pillow proves that you can make home decor using Duck Tape!
Duck Tape is perfect for costumes, like this duck tape sword and shield.
A duck tape Cat in the Hat hat is another great costume idea!
For kids, this duck tape mailbox is a fun toy you can make.
A duck tape Christmas garland makes festive holiday decor.
This Duck Tape Pencil Pouch is super handy!
You can make your own iPad stand using Duck Tape.
If you're stuck on Halloween, a Duck Tape Pumpkin is perfect.
How great is this Duck Tape Clipboard!?
You can make this Duck Tape Christmas sign to celebrate the holidays
Decorate your binder with Duck Tape.
Give a gift card in a Duck Tape Gift Card Holder.
Create a home decor arrow using Duck Tape.
Make a Duck Tape Marquee sign, that actually lights up!
You can use Duck Tape to make a Zippered Pouch.
Make a planter for succulents with Duck Tape.
Use transparent Duck Tape to decorate a binder.
Create a Duck Tape sun hat for your doll.